LONDON, UK: British Airways jets line up under dramatic skies at Heathrow Airport.
At Home At First — Our Services are the steps necessary to accomplish our mission.
Mission Statement
Helping create global citizens through international travel is our mission.
Home At First has adopted this short standard as the guiding motto of our business: "International Travel for the Global Citizen." While we do not intend its use to be especially evangelical or political, we do wish to tell you a little about the concept.
We still get excited the moment we start packing our bags for our next trip overseas. Despite the travel complications of added health & security protocols, we agree with George Bailey (Jimmy Stewart) in Frank Capra's classic movie It's A Wonderful Life:
"You know what the three most exciting sounds in the world are?
Anchor chains, plane motors & train whistles."
Who is a Global Citizen? Someone unafraid of international travel' someone who welcomes the newness of international travel and its unrelenting teaching. The Global Citizen brings back newly-learned lessons in alternative realities and often applies them to their own realities at home We have the option to choose to become citizens of Planet Earth. We know some will choose not to.
We here at Home At First have chosen to become Global Citizens. So, in the spirit of our guiding principle, we promise to help make international travel an affordable place to learn, to enable others to become Global Citizens, too.
— Judi Taussig Fahnestock & Ron Fahnestock
Co-Owners of Home At First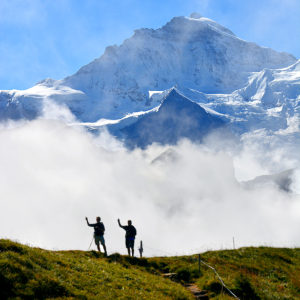 Independence, Freedom,
Self-Discovery, Serendipity
Home At First — Our Services:
Our Travel Style
At Home At First we love the individual freedom and serendipity possible with independent international travel. Bus tours, guided group travel, multi-day cruises, and structured single-activity vacations (like golf, cycling, trekking, or culinary itineraries) just aren't our thing. We prefer exploring the world on our own terms.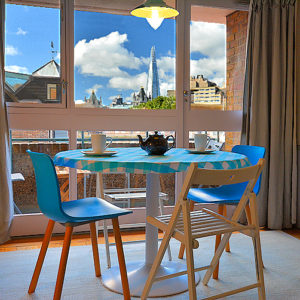 Location, comfort, style, space,
and often a memorable view
Home At First — Our Services:
Personalized
Lodgings
Whenever possible, we select lodgings that let you feel at home at your destination. For most Home At First destinations we use apartments, cottages, chalets, villas, estates, even some farmhouses. For our few "moving itinerary" destinations (New Zealand, Iceland, Scandinavia) we use upscale B&B's, small inns, and boutique hotels.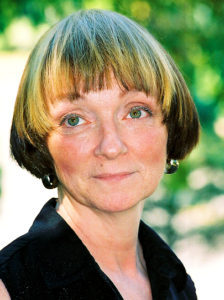 Judi Taussig Fahnestock, founder &
very-active leader at Home At First
Home At First — Our Services:
We help you before you travel.
We research, book, and ticket the best flights at the lowest fares. We help you choose the right lodging locations, and the correct ground transport for your trip. Need help planning activities? Unsure how to accomplish your trip goals? We have decades of experience researching international travel. Maybe you'll stump us. Probably not.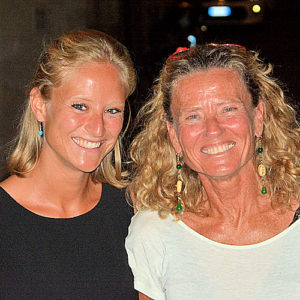 Co-Hostesses at Home At First's
Tuscan Estate in Siena, Italy
Home At First — Our Services:
English-speaking hosts help you on-site.
All Home At First lodgings come equipped with English-speaking hosts. They welcome you, show you the workings of your accommodations, tell you a little about your neighborhood, suggest where to shop, make restaurant recommendations, and inform you of any local events that might interest you.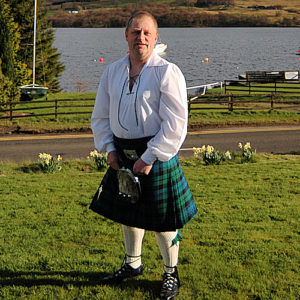 Iain Campbell, Home At First's
representative in Central Scotland
Home At First — Our Services:
On-Site Support
• Don't want to drive on the left? We offer qualified driver/guides in the British Isles as an extra-cost option.
• Illness, Accident, & Emergency: we help if you fall ill, have an accident, or are needed back home. Your hosts help find doctors, dentists, even hospitals. We help rearrange flights, car rentals, & hotel bookings, and advise you with insurance claims. You're traveling independently, but you're not traveling alone.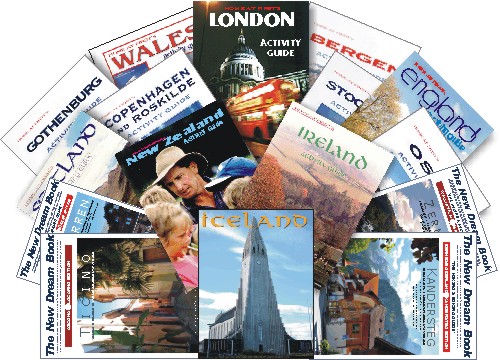 Several Home At First Activity
Guides from its extensive library.
Home At First — Our Services:
Our On-Site Guidebooks
For most Home At First destinations we produce guidebooks keyed specifically for our independent travelers. Topics covered include touring, walking & hiking, shopping, museums, restaurants, churches & cathedrals, rail trips & boat excursions, pubs, golf, fishing, festivals and local customs & traditions.
(Note: guests at a few destinations get excellent commercial guidebooks.)