COVID-19 Status: Switzerland open WITHOUT COVID RESTRICTIONS to ALL visitors.
REAL PEOPLE PROVIDING REAL HELP IN REAL TIME: Home At First continuously monitors all the steps necessary to officially enter, efficiently move about, & properly return home from their international destinations. If conditions change during your travels, our support staff remains on-call to answer your questions & provide any assistance needed.
THE MATTERHORN — ALPINE ICON OF SWITZERLAND
Photo copyright Home At First
SWITZERLAND — ALPINE PLAYGROUND & CULTURAL CROSSROADS
Explore Switzerland: Independent Travel using Quality Vacation Chalets & Apartments
Explore Switzerland — Discover Mountain Pinnacles on the Grandest Scale plus Cultural Differences from Valley to Valley
The Swiss Alps have been both barrier and connection between Europe's industrious, chilly, rainy Atlantic North and its laid-back, sunny, dry Mediterranean South, and between oft-subjugated Eastern Europe and the relatively free and prosperous West. For centuries Switzerland has been the crossroads of whatever commercial and cultural commerce has managed to get through or over the Alps.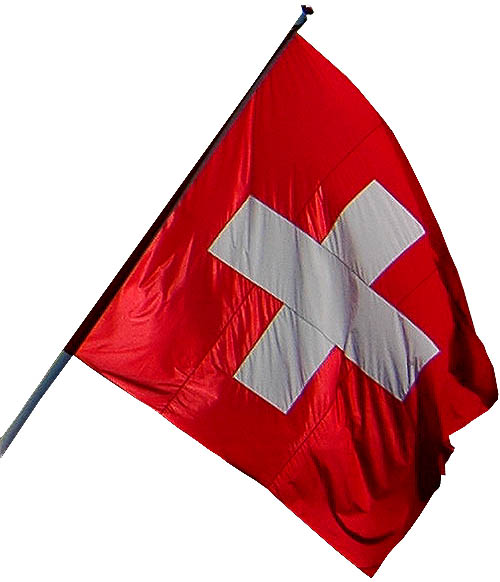 Until railways first arrived in Switzerland about 150 years ago, those hardy peoples who had migrated into the Alps lived largely isolated — not just from other Europeans, but often from their closest neighbors just across the steep ridges that separate valleys. Shut off from the outside, alpine populations developed their own micro-cultures: their own language dialects, their own customs, dress, cuisine, superstitions, and ways of farming and producing goods.
These numerous micro-cultures continue throughout Switzerland today. Switzerland recognizes four official languages — Swiss-German, French, Italian, and Rhaeto-Romansh — with dozens of local dialects spoken. From valley to valley visitors hear different speech, taste different cuisines, hear different music, and see different customs and folk costumes.
In 1291 several small Swiss localities first bound together for mutual defense against outsiders, and to pool their efforts for trade with those same outsiders. Instilled in the Swiss Confederation were three basic principles of Swissness: the importance of maintaining local identity, the importance of not permitting interference from the outside, and the importance of developing and protecting international trade.
The Swiss Alps are symbols of these principles. They guard local and regional identities. They protect the nation from invasion and interference. They brand Swiss products as having the highest quality and value.
Home At First offers you the opportunity to explore Switzerland's great variety from locations in three regions: chalet apartments in two Swiss-German-speaking alpine villages in the Bernese Oberland in the heart of Switzerland; in apartments in Italian-speaking towns in Ticino, Italian Switzerland; and in the famed Swiss-German-speaking alpine adventure town of Zermatt at the foot of the iconic Matterhorn.
Explore Switzerland by the remarkably efficient, comfortable, reliable, frequent, Swiss transport network, which goes almost everywhere in Switzerland via railway, lake and river steamer, postal buses, city trams and buses, and cableways. Tour, sight-see, cruise, shop, dine, hike, bike. See and sample chocolate, cheese, and wine at the source. Get to know your home town or village. Find new favorite restaurants. Hear the music of alphorns echoing across the valleys. Relax in the midst of unparalleled Nature. Have a picnic along a mountain trail. Drink perfect water from an alpine spring. Breathe mountain air that cures the ills of modernity. We tell you how best to explore Switzerland in our New Swiss Dream Book activity guides. Come once. Then come back again. You are sure to find each experience unique, instructive, impressive, fascinating, unforgettable, and splendid.
Home At First's Explore SWITZERLAND Travel Program in a Nutshell:
INCLUDES:
• Round-trip transatlantic
FLIGHTS
JFK/EWR to Zürich
(all other USA & Canada airports available at extra fare)
• 7 Nights of
LODGINGS
in a Swiss chalet or apartment in your choice destination
• Ground
TRANSPORT:
1-week Swiss Travel Pass or regional pass.
Already have Flights?
We have good-value Ground-only
& Lodging-only options available.
Basic Itinerary Character
Independent 1-Week Travel in
SWITZERLAND
Experience Switzerland like a native Swiss in your
apartment or chalet in a village or town,
in any of four Swiss regions. Explore Switzerland
independently at your own pace using the
comprehensive Swiss transport network.
Tip: Add a low-cost 2nd week in the same lodging
to intensify your experience.
Lodgings
Weekly Rentals
Choose from Apartments & Chalets in:
• Kandersteg & Mürren, 2 Central Swiss alpine
villages in the Bernese Oberland
• 4 Towns (Ascona, Locarno, Minusio, & Muralto)
on Lake Maggiore in Italian Switzerland
• Zermatt, resort town by the Matterhorn
Tip: take a week in 2 or more different locations
to enrich your experience.
On-Site Costs:
Food & Activities Range from:
$—$$$$$
With your Swiss pass covering most of your transportation
costs and discounting entries to many attractions,
independent travel in Switzerland can be done on a
manageable budget.
Tip: Restaurants can be pricey. Grocery stores are reasonable.
Using your well-equipped kitchen can really help save.
$$$
Excellent Value, thanks to Home At First's low Full-
Package prices that include the best available airfares.
Combinable!
with Home At First destinations throughout
the British Isles, Continental Europe,
and Scandinavia.
Tip: Visit multiple destinations for
just one transatlantic airfare.
Languages Spoken:
English
is commonly spoken in restaurants, public transport, tourist
offices, stores, and by your lodging host/hostess.
(M)OTHER TONGUES
• Swiss-German is spoken in the north, the east,
& parts of the south
• French in the west
• Italian in the southern Canton of Ticino
• Romansh in portions of the eastern Canton of Graubünden.
Flight Length to Switzerland
(ZRH or GVA) from North America
8 hrs from the
East Coast
11+ hrs from the
West Coast
Connecting Flights May Not Be Necessary!
Non-stop flights to Switzerland originate from many North
American cities, including: ATL, BOS, EWR, DIA, IAD JFK,
LAS, LAX, MCO, MIA, ORD, PHL, SAN, SFO, TPA, YUL, YVR, YYC
Family Friendly?
♥♥♥♥♥
Kids love outdoor adventures (hiking, biking, zip lines,
tree-top challenge courses), much of the food (chocolate,
French fries & pizza: yes; sausages & cheese: maybe),
and really like riding trains, buses, boats, and especially
cablecars & chairlifts. Expect to meet friendly cows
& goats when hiking.
Tip: save trips to waterfalls, lakes &
swimming holes for hot days!
Foodie Friendly?
♥♥♥♥♥
Sample national, regional, and local Swiss cuisine at
restaurants and at outdoor festivals. Swiss food is
much more than cheese and potatoes.
Experiencing a variety of foods adds
authenticity to your exploration of Switzerland.
Tip: Visit outdoor markets and visit
cheesemakers or local dairy stores to get fresh
local specialties!
Hike-able, Bike-able,
very Like-able

Respect the Alps, but don't be intimidated! Hiking & biking
are the best ways to see Switzerland's glorious scenery.
Swiss hiking & biking infrastructure is world-class and
user-friendliest. Clearly marked signs are everywhere
noting times, destinations, and difficulty.
Tip: Walks & rides of all types are detailed in
our "New Swiss Dream Book" activity guide.
Activities

• Climbing the mountains — by train, postal bus,
& cableways
• Scenic Day-trips by train & post bus
• Cruising the Swiss lakes
• Exploring historic sites & cities: castles,
cathedrals, & museums
• Hiking
• Biking
• Shopping
• Eating!
• Visiting the Cheese Maker
• Attending folk festivals ("Chilbi")
• Canyoning, zip lining, tree coursing,
via ferrata, & parasailing.
The Best Times to Go:
Italian Switzerland: April, May, June, September, October
Kandersteg: Late-May thru mid-October
Mürren & Zermatt: mid-June thru September.
Tip: Switzerland is busiest during July & August
when the weather is warmest.
Tip: Prime above-treeline hiking season extends 3rd
week of June into October. Best months: Sept./Oct.
Where we go to
Explore Switzerland
SWITZERLAND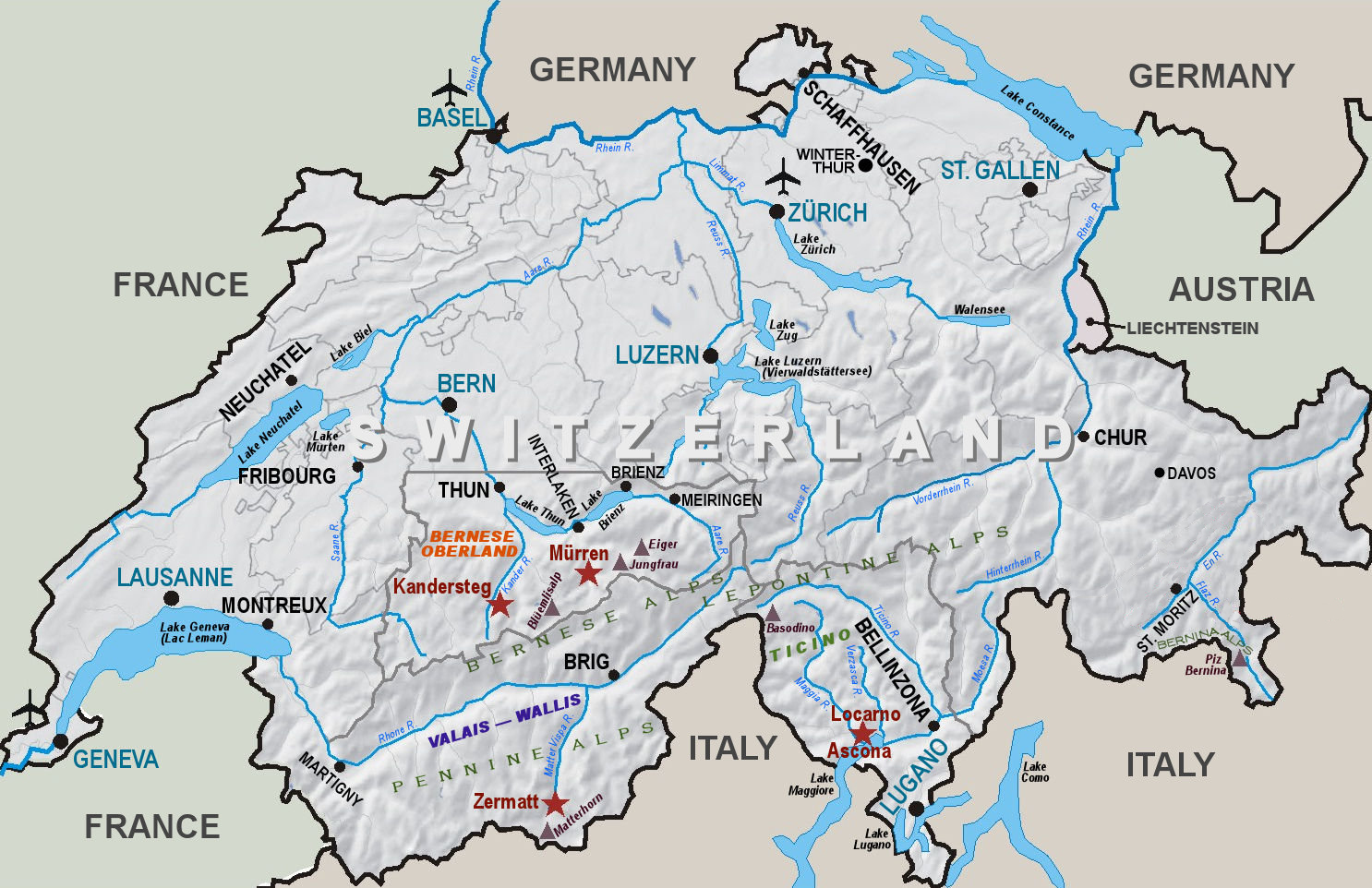 WHAT COMES WITH HOME AT FIRST'S
EXPLORE SWITZERLAND TRAVEL PROGRAM
Home At First custom-builds independent travel packages to Switzerland that include:
• Quality Lodgings: Fixed Package Price lodgings are available in 3 distinctly different regions of Switzerland. Choose weeks in :
• The Bernese Oberland — "The Heart of Switzerland" — German-speaking, central Swiss, alpine region. Lodgings are chalet apartments in two super-scenic alpine villages: Mürren, and Kandersteg. Home of cheese, chocolate, cablecars, cowbells, hiking, yodeling, and alphorns and ideal for the broadest range of Swiss experiences. Excellent touring possibilities throughout Switzerland's central alpine region and beyond — even as far as Northern Italy and throughout western and north-central Switzerland.
• Ticino — Italian Switzerland: Italian-speaking southern Swiss region. Lakeside apartment locations in the historic small city of Locarno and its attractive satellite communities of Ascona, Minusio, and Muralto; sunny Mediterranean climate & quick access to the Swiss Alps and into Italy. Ticino offers the best of Switzerland & Italy, including cuisine, fashions, & climate,
• The Matterhorn & Zermatt in Canton Wallis/Valais — Apartments in the famed alpine resort village of Zermatt in German-speaking southern Switzerland, surrounded by dozens of the highest Swiss Alps. Zermatt is oxymoronic: remote & fashionable, outdoorsy & glitzy, rural & urban. Zermatt offers the challenges of the rugged alpine outdoor with no sacrifice of creature comforts. Ideal for outdoor-enthusiasts. Touring possibilities throughout southwestern Switzerland and across the border into northern Italy.
• Round-trip Flights: Our airline experts plan your round-trip flights to Switzerland (usually to Zurich, but sometimes into Geneva or into Milan, Italy, whichever of these is the best choice for your needs) from your home airport. Our price chart includes round-trip fares based on flights from New York (JFK) or Newark (EWR) to Zurich (ZRH). Flights from/to all other airports are available for applicable fare supplements or reductions.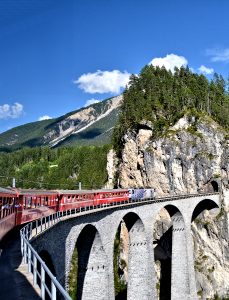 • Ground Transport: We recommend and arrange the appropriate ground transportation for your trip. Most guests travel throughout Switzerland using the Swiss Transport Pass or a regional transport pass. While car rental is possible, it is an expensive and often impractical option, as Swiss public transport (trains, buses, boats, and cableways) travel everywhere safely, frequently, punctually, and comfortably, while many places in Switzerland are not reached easily — of at all — by car. Tell us your goals and travel preferences; we will propose the right ground transportation for your visit.
PICTURED ABOVE: THE LANDWASSER VIADUCT — JUST ONE OF many EYE-POPPING ENGINEERING FEaTS OF SWITZERLAND'S WORLD HERITAGE SITE ALBULA LINE.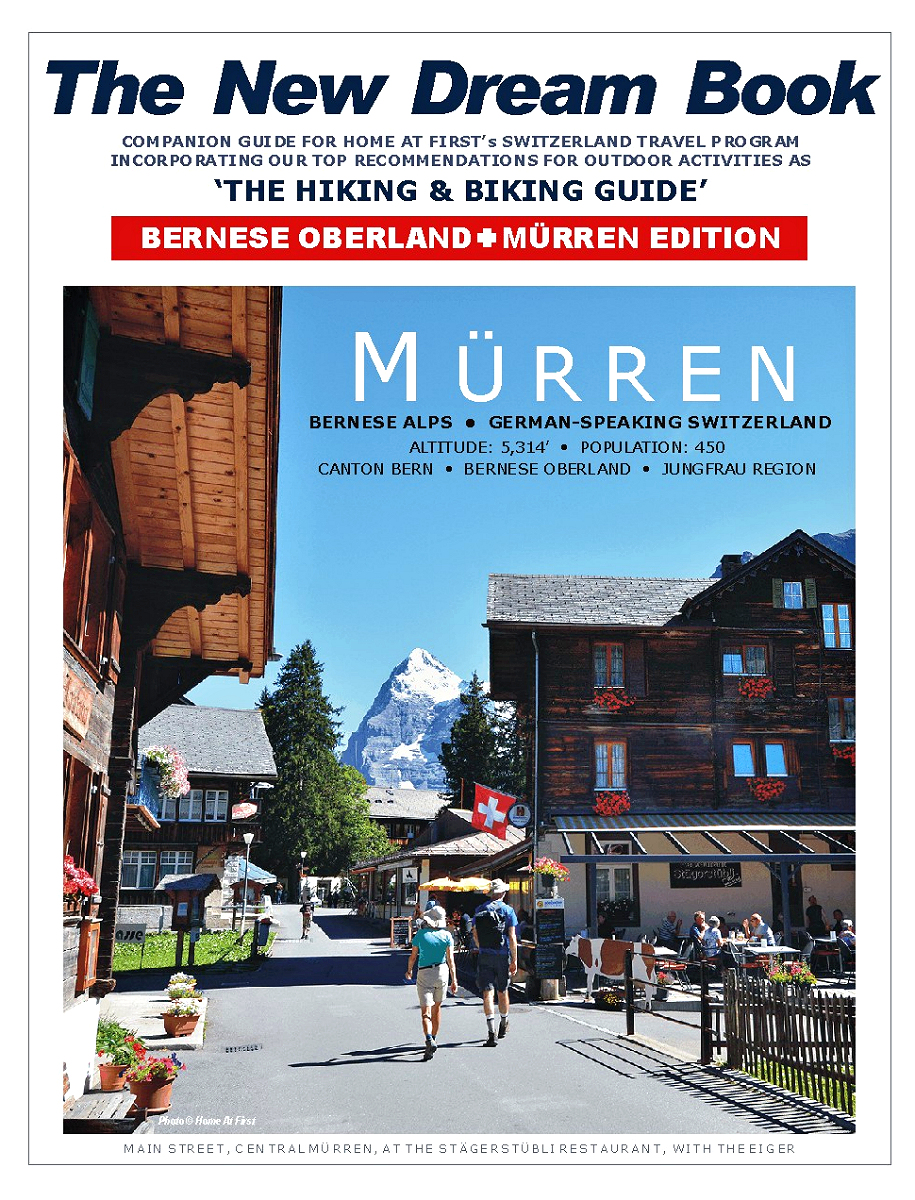 • Our 'New Swiss Dream Book' Activity Guide Keyed for Your Swiss Destination to help you make the most out of your visit. Includes suggestions for touring, hiking, biking, adventure activities, restaurants, shopping, museums, galleries, much more. The 'New Swiss Dream Book" is available in 4 editions: two for the Bernese Oberland (Mürren and Kandersteg), one for Ticino — Italian Switzerland, and one for the Matterhorn & Zermatt.
pictured — THE MÜRREN EDITION OF HOME AT FIRST'S "NEW SWISS DREAM BOOK" ACTIVITY GUIDE.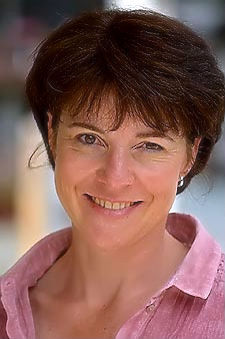 • Our English-speaking Swiss hosts are dedicated to helping their guests get to know Switzerland confidently, while providing on-call back-up assistance, and a friendly presence close to home.

pictured: BARBARA, FRIENDLY, KNOWLEDGEABLE OWNER & HOSTESS OF TWO HOME AT FIRST APARTMENTS IN ZERMATT.
Two Alpine Villages in the
EXPLORE SWITZERLAND
from either of two locations in the central alpine region:
the ALPINE VILLAGES of
Lodging Type:
CHALET APARTMENTS
DISCOVER SWITZERLAND'S ALPINE HEARTLAND
The Bernese Oberland: Amazing Alpine Scenery; Home to Pampered Cows, the Music of Cowbells, and the Swiss Cheese Culture.
THE BERNESE OBERLAND — the "Highlands of Bern" — are just west of the center point of Switzerland. The region is bordered on the south by a range of mountain walls fronting famous climbing peaks including Eiger, Mönch, Jungfrau, and Blüemlisalp. This line of glaciated Alps comprises the Jungfrau-Aletsch World Heritage Site: the formidable 4,000-meter-high Bernese Alps.
SWISS CHEESE — The Bernese Alps are cheese alps. Their grassy slopes are grazed by herds of cows that fill the meadows with the music of cowbells. Their rich milk becomes richly-flavored cheese. The cheese, potatoes, pork, veal, beef, and vegetables of many small alpine farms make up the staple cuisine of the Bernese Oberland and the hearty, delicious fare found on restaurant menus through the region.
Two Alpine Villages Ideal for Discovering the Cheese Alps of the Bernese Oberland and Exploring Much of Switzerland.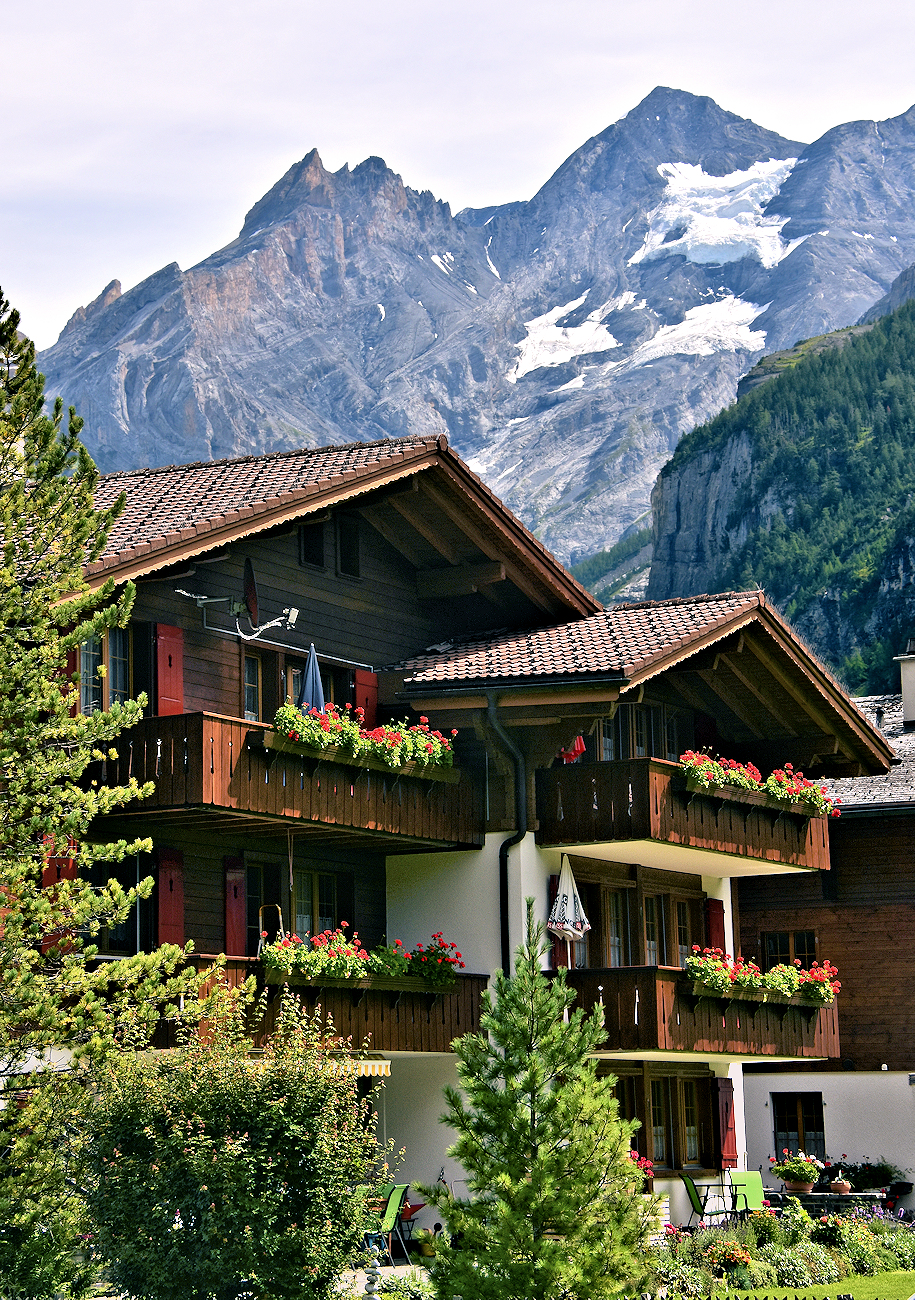 HOME AT FIRST CHALET APARTMENTS IN KANDERSTEG IN THE BERNESE OBERLAND.
OUR CHALET APARTMENT LODGINGS in the BERNESE OBERLAND are set in two picture postcard alpine villages away from tourist throngs: Kandersteg and Mürren.
(Click the links to learn more, and to see sample chalet apartments.)
  Both locations are outdoorsy: popular with skiers, hikers, and climbers. Both villages are also cheese producing, their alpine meadows home to small cheese farms where you can see cheese made traditionally, and buy cheese from the producers.
  All Home At First Bernese Oberland apartments have friendly English-speaking hosts available for questions, information, recommendations, and help should a problem or emergency arise.
MÜRREN — Mile-high, chocolate box Mürren — set on along a steep cliff face a vertical half-mile above the valley floor below — is reachable only by aerial cablecars, a car-free village of alpine chalets offering fantastic views of the peaks and glaciers and superb walking and hiking possibilities. Despite Mürren's remote eagle's nest setting, the village is a fine base for exploring the Bernese Oberland and its alpine core, the Jungfrau Region.
KANDERSTEG — Deep in the Bernese Alps, Kandersteg village sits on a high (3,852′), flat plain in an alpine valley surrounded on three sides by snow-capped peaks. Kandersteg lies on a major railway that connects Germany to the north with Italy to the south. Hourly modern trains provide passenger service to destinations on both sides of the Alps and throughout much of Switzerland, making Kandersteg our top lodging location for exploring Switzerland.
Activities and Attractions in the Bernese Oberland.
 Home At First guests in Kandersteg & Mürren receive the exclusive Bernese Oberland edition of our "New Swiss Dream Book" activity guide, full of suggestions for visitor attractions and and activities along with recommended day trips and other activities, including our Hiking & Biking Guide. Here is a brief sampling of the entries listed in our comprehensive guidebook: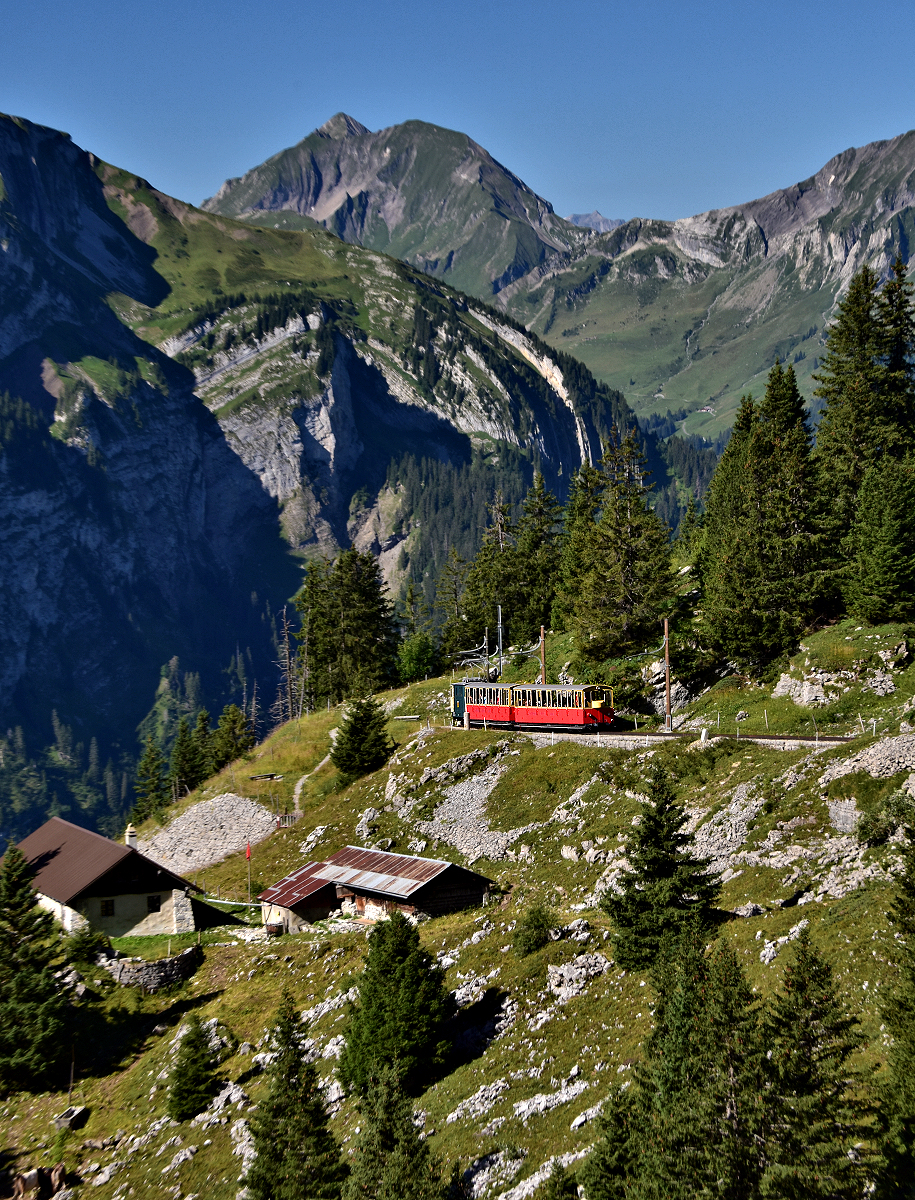 I THINK I CAN! VICTORIAN-ERA TRAIN ASCENDING STEEPLY TO ALPINE SCHYNIGE PLATTE.
ATTRACTIONS —
 Several great alpine vistas and 3 panoramic mountain lakes are located in the Bernese Oberland:
• Piz Gloria: revolving restaurant with a James Bond heritage at the summit of the 10,000′ Schilthorn reached by cablecar from Mürren.
• Jungfraujoch: the "Top of Europe" is the continent's highest train station (11,333′), and a glacial remnant of the Ice Age. Expect winter!
• Schynige Platte: an hour's slow climb in a tiny Victorian age train only reaches treeline (about 7,000′), but provides a restaurant with alphorns and yodeling, an alpine garden, fantastic views, and easy to challenging walking. Still exciting after 125 years.
• Brienz Rothorn: an hour's journey by an antique steam-powered, narrow-gauge, rack railway improbably ascends grades of 25% on its way to 7,362′, Summit restaurant, 360° views, & challenging walking.
• Niesen: a steep (67°) funicular reaches the 7,664′) pinnacle of this solitary pyramidal mountain. Great views, hiking, open heights, and, as always, an alpine restaurant.
• Lake Brienz: passenger boats including the venerable steamboat Lötschberg ply this deep glacial lake in the shadows of high mountains north and south. Stops include the fishing village of Iseltwald & thundering Giessbach Falls.
• Lake Thun: passenger boats including the historic paddle-wheeler Blümlisalp cruise this lake west of Interlaken. Boats stop at several towns, 3 castles, 1 winery, & holy caverns.
• Lake Oeschinen: reachable by aerial cableway and a 20-minute walk, this mile-high alpine lake above Kandersteg at the foot of Blüemlisalp is a great hidden gem of the Alps. Restaurants and rental rowboats, plus some superb walking.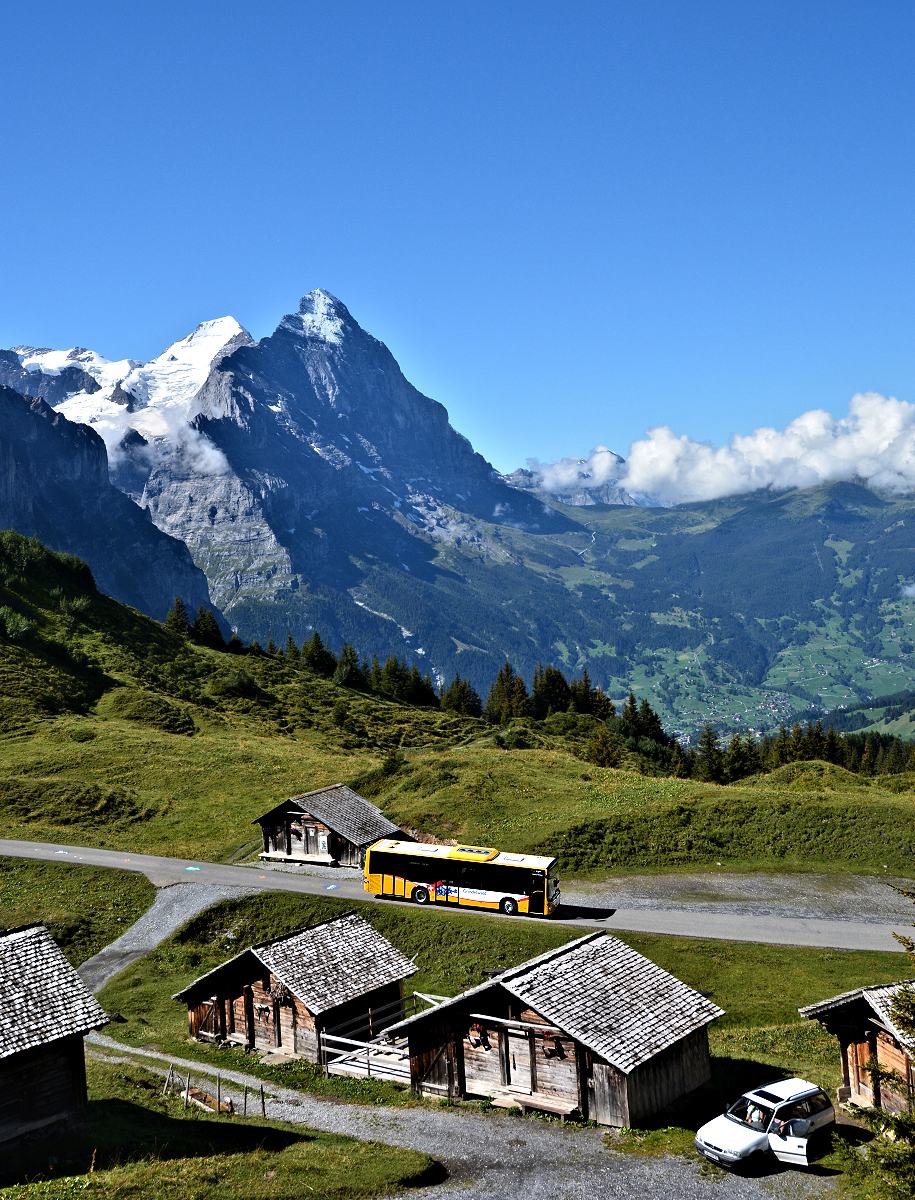 swiss postal bus descending the alpine pass at grosse scheidegg with the eiger north face looming.
ACTIVITIES —
 There is much more to do in the Bernese Oberland: touring near & far, hiking, biking, adrenaline adventures, cruising, seeing cheese made, seeing chocolate made. Shopping, too.
• Ride the Swiss Postal Bus: take a dramatic day trip over alpine passes.
• Visit Bern, the Swiss capital, one of Europe's great medieval old cities.
• Cycle downhill 1 to 2 hours — very little pedaling required.
• A Day in Italy! Take a rainy day train trip south to sunny Italy for lunch and shopping.
• Hike behind an arching waterfall in a hidden alpine canyon.
• Jump off a mountain: paraglide as a paying passenger.
• Zip it! Scream down a zip line.
• Risk everything… Climb (or descend) a via ferrata — carefully.
• Rock & Roll downhill from alpine heights by scooter, mountain bike, big-wheel trike, or wheeled toboggan.
• Smooth Sailing: take a romantic evening cruise or Sunday Swiss brunch cruise on Lake Thun and Lake Brienz.
• Say Cheese! Buy mountain cheese at the source from the alpine cheesemaker.
• Wine & Dine: discover & enjoy fine restaurants in your village and throughout the Bernese Oberland.
LEARN MORE HERE:
Four Lakeside Towns in
EXPLORE SWITZERLAND:
the Italian-Swiss Region from your vacation apartment in:
LOCARNO
or its satellite towns:
ASCONA, MINUSIO,
& MURALTO
Lodging Type:
CITY & TOWN
APARTMENTS
SURPRISING ITALIAN SWITZERLAND:

Ticino: The Best of Switzerland & Italy Combine in this Extraordinarily Scenic Southern Swiss Region, both Alpine & Mediterranean.
TICINO — "Italian Switzerland" — Worlds collide in Ticino, Switzerland's surprising Italian region on the south side of the Alps. Here, the mountains rise from the plains of Italy, climbing more than 10,000 feet from just 200 meters above sea level at Lake Maggiore — Switzerland's lowest point — to the highest peaks of Italian Switzerland. Mediterranean weather systems hit this alpine wall separating northern Europe from the south. From the high Lepontine Alps in the north of Ticino, tributary valleys carry glacier meltwater from the rugged, alpine wilderness south to the palm-lined shores of Maggiore.
THE RUGGED RIVER VALLEYS — The scenery changes quickly along the rushing, descending Ticinese rivers, from the lonely starkness of the highest alpine pinnacles to the subsistence, small-plot farms and the sometimes electrified rustic, stone villages maintaining cultural toeholds in the narrow, plunging valleys, to the fertile, gentle, modern la dolce vita of the deltas along the lake.
A Small City & its Neighboring Towns in Central Ticino Are Perfect Bases for Exploring Italian Switzerland.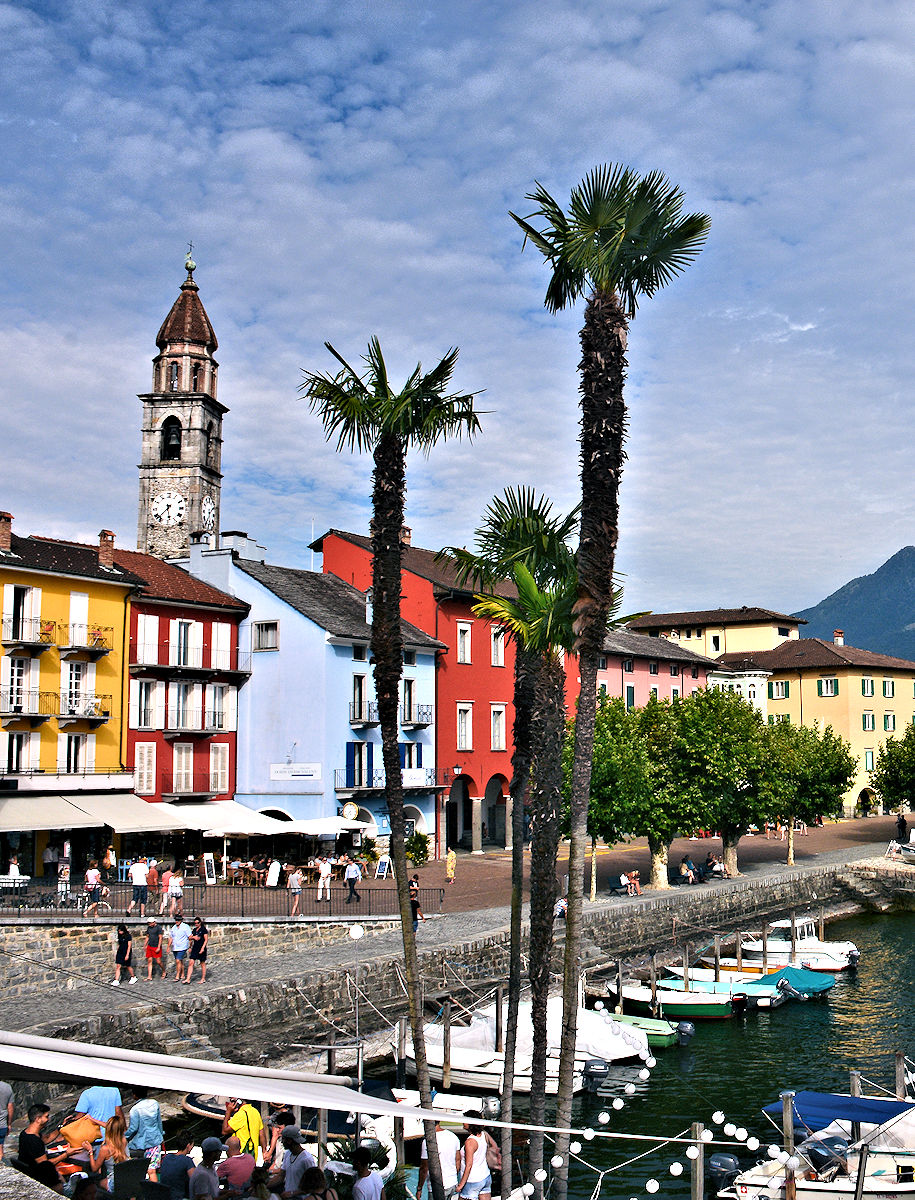 Ascona's Borgo old town with its attractive harborside promenade.
LOCARNO & ITS SATELLITES — It is here in the semi-urban lowlands of central Ticino where we have our delightful guest apartments: in the Old Town and New Town of lakeside Locarno — a stylish, historic, small city with a delightfully preserved medieval core — and in central, convenient settings in three neighboring satellite towns along the lake: Minusio, Muralto, and jet-set Ascona.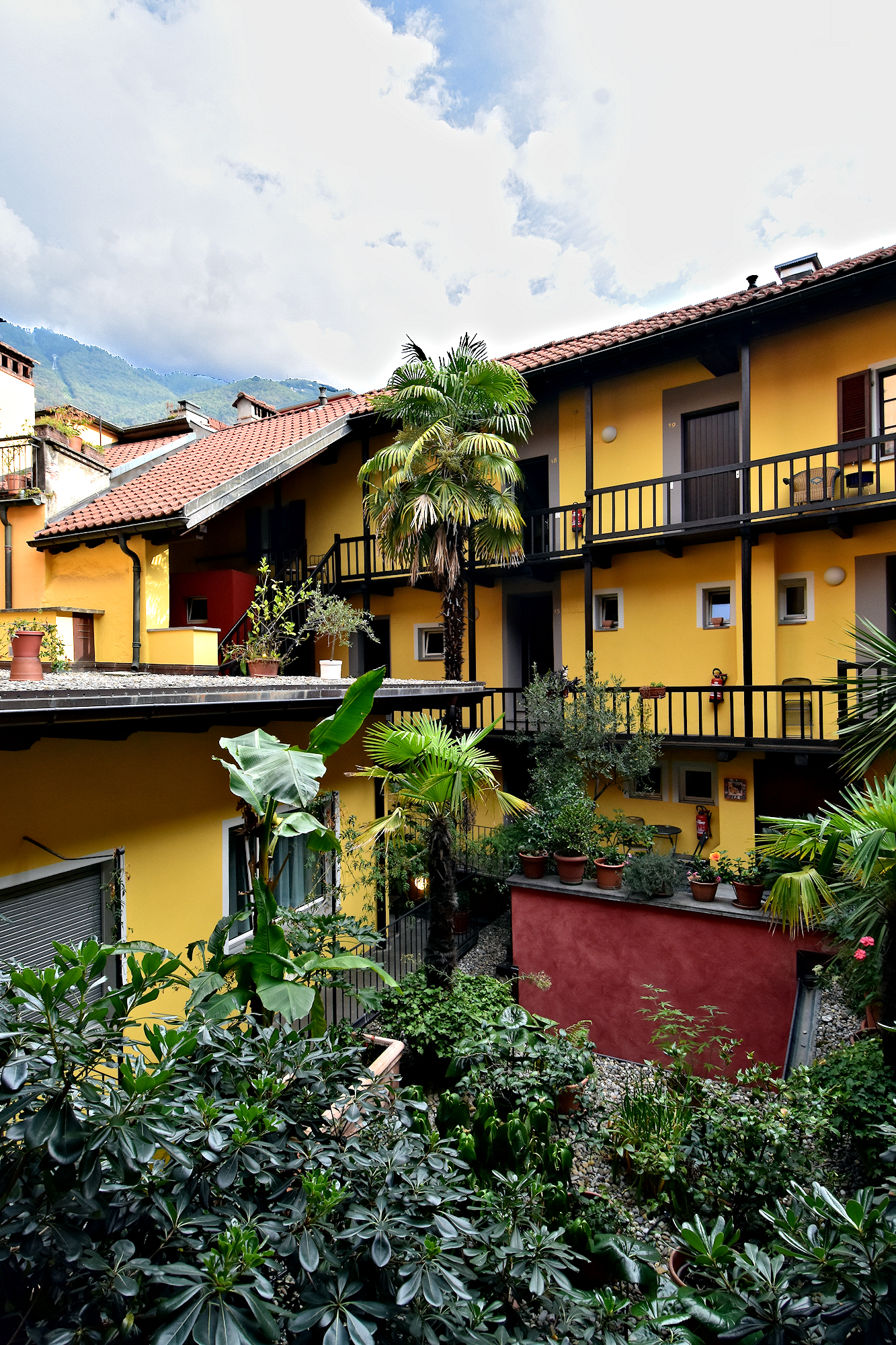 HOME AT FIRST APARTMENTS IN LOCARNO'S CITTÁ VECCHIA OLD CITY.
THE APARTMENTS — Our comfortable, quality Ticino apartments are all unique, with capacities sleeping up to 6 persons. All share close proximity — easy walking distance — to stores, shops, the lake shore, and especially to public transport: the trains, buses, and boats of the coordinated Ticino transport network. All Home At First Ticino apartments have English-speaking hosts either on-site or available nearby for questions, information, recommendations, and help should a problem or emergency arise.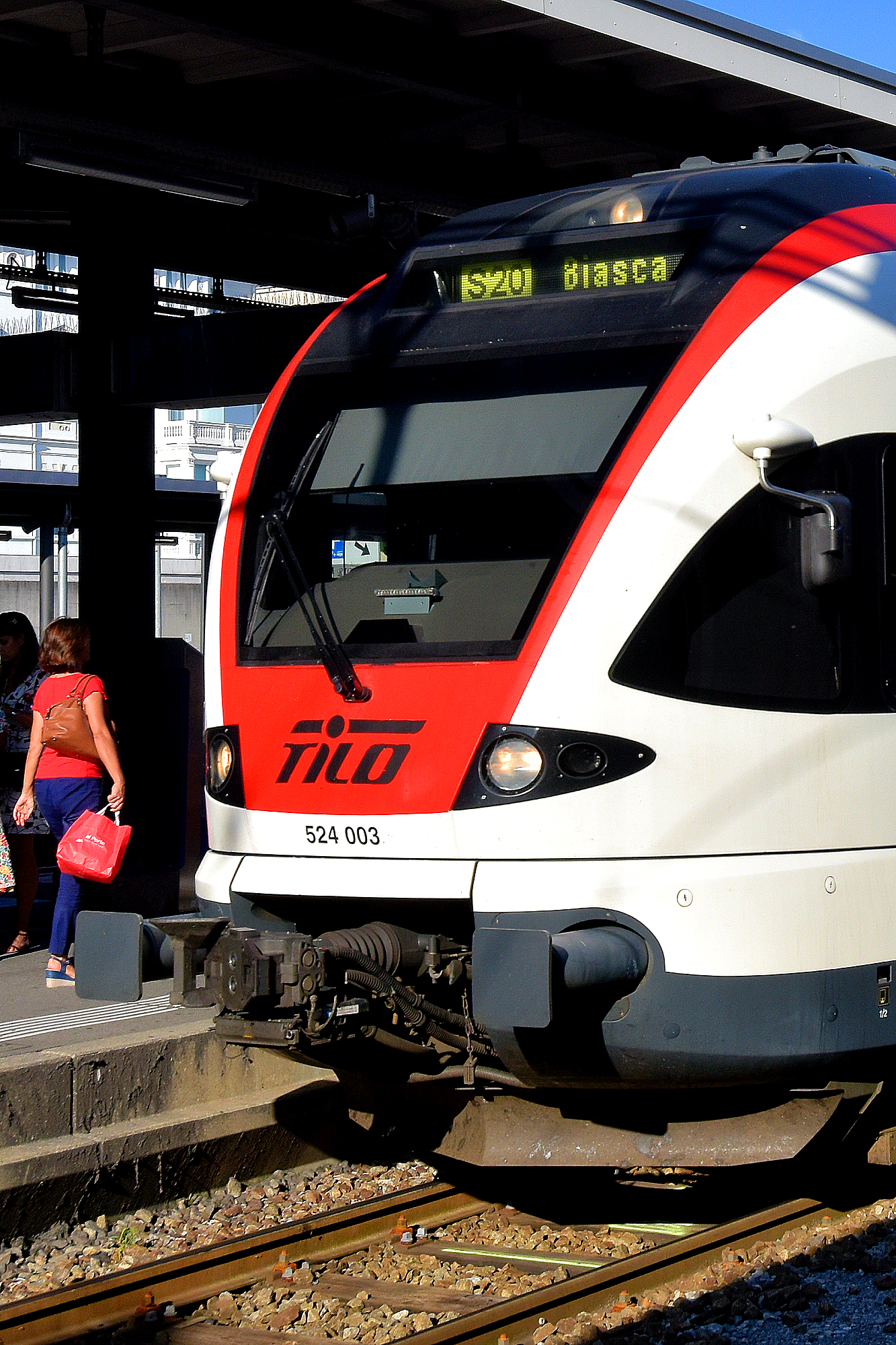 TILO REGIONAL TRAIN departing the Locarno area transportation center in Muralto.
EXPLORING TICINO & BEYOND — The best way to explore Italian Switzerland is via Ticino's comprehensive public transport network. The convenience of exploring Ticino — and beyond into adjoining parts of Switzerland and Italy — by train, boat, and bus eliminates fighting traffic congestion, finding parking, negotiating treacherous alpine roads, and the risks of crossing international borders with rental cars.
Activities and Attractions in Italian Switzerland.
 Home At First guests in Italian Switzerland receive the exclusive Ticino edition of our "New Swiss Dream Book" activity guide, full of suggestions for visitor attractions and and activities along with recommended day trips and other activities, including our Hiking & Biking Guide. Here is a brief sampling of the entries listed in our comprehensive guidebook: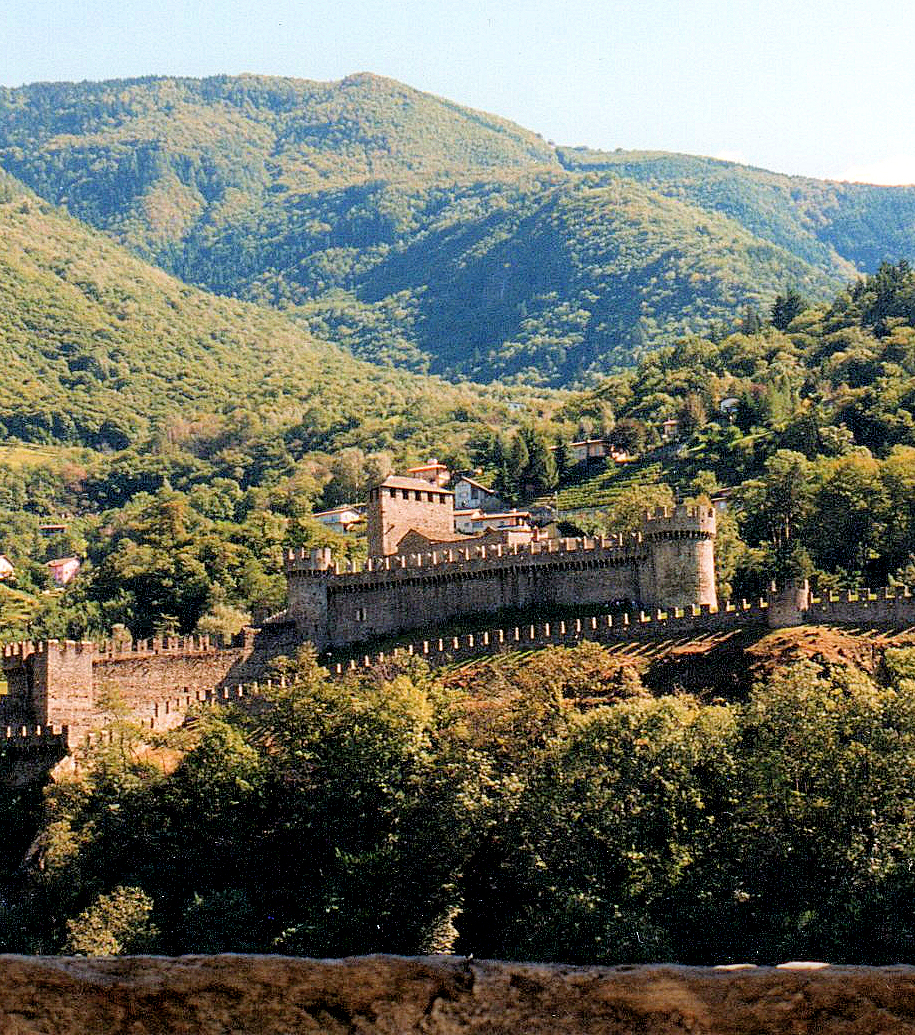 Bellinzona – Castello Montebello VIEWED from Castello Grande.
ATTRACTIONS —
 Ticino's landscape varies from high alpine to sub-tropical. There are two large lakes along the border with Italy: Maggiore and Lugano. There are 3 small cities with unique characters: Locarno, Bellinzona, & Lugano. Vineyards produce fine wines, especially Merlot del Ticino. Everywhere are grottos — rustic tavern-cafés serving local wine, cheese, bread, and meats in informal, traditional settings. There are 10,000′ high mountains to climb, and hundreds of miles of hiking trails of all levels of challenge.
• Visconteo Castle in Locarno: the 13th century, the medieval castle at the foot of Locarno's Old City features a distinctive half-round battlement that may have been designed by Leonardo da Vinci.
• Bellinzona's 3 Castles: built to defend the international trade route across the Gotthard Pass — a World Heritage Site. Historic Bellinzona is the cantonal capital of Ticino. Its Saturday morning old-city outdoor market is a colorful, centuries-old tradition.
• The Valleys: bus & train trips into upper Ticino's ruggedly scenic river valleys that feature rustic stone villages with grottos serving local cheese, salami, and wine. The villages are connected by riverside walking paths through fabulous scenery.
• Lugano: southernmost city of Switzerland, fashionable, walkable, & very shoppable. Set on Lake Lugano between 2 "Sugar Loaf" like peaks with birds-eye views over the city, the lake, and into Italy.
• Neighboring Italy: boat, bus & train trips from Locarno into Italy: the Wednesday open-air market at Luino on Lake Maggiore; Stresa resort town & the Borromean Isles at Maggiore's western end; Milan, Italy's great northern city, under 2.5 hours by train.
ACTIVITIES —
 Touring near & far, swimming, hiking, biking, cruising, golf, prowling museums, attending concerts and film festivals, visiting vineyards & wineries, buying cheese at the farm, seeing chocolate made at the factory, and shopping at open-air markets.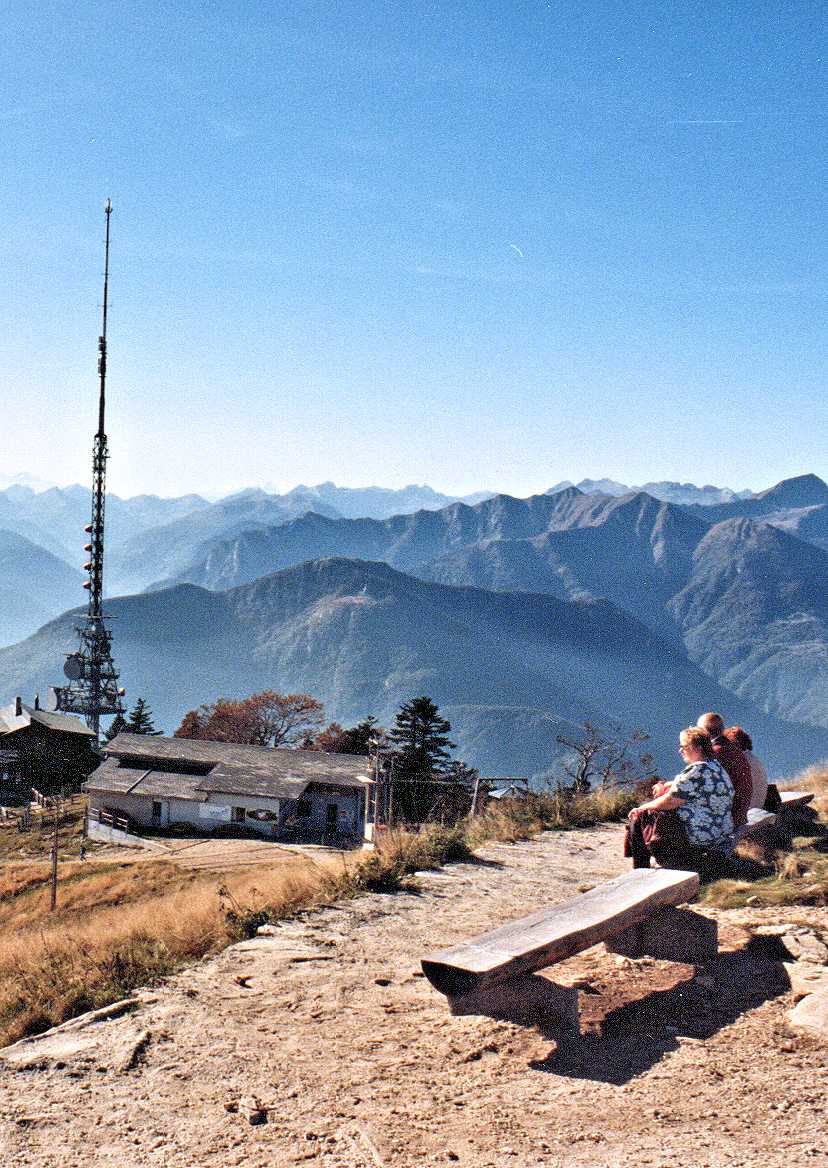 View from Cimetta high above Locarno.
• Cablecar up Locarno's own mountain: climb from central Locarno to Orselina by funicular, on to Cardada by gondola, and further by chairlift to the mountaintop: Cimetta (5,404′). Restaurants, viewing, & walking available at each station stop.
• Ride the Swiss Postal Bus: take dramatic day trips up alpine valleys to rustic, remote villages: Sonogno, Fusio, San Carlo, and Bosco Gurin.
• Smooth Swiss Sailing: take a short Lake Maggiore cruise to the garden island Brissago, or a longer cruise on Lake Lugano to the award-winning villages of Morcote and Gandria.
• Shop at Authentic Outdoor Markets in Locarno, Ascona, & Bellinzona, and in nearby Italian towns of Luino and Canobbio. Clothing, art, jewelry, regional foods, wines, leather goods, antiques, crafts.
• Swiss Chocolate! Learn about, sample, and buy Swiss chocolate at the small factory near Lake Lugano.
• Public Transportation High Point in Northern Ticino: Bus to San Carlo, then large cablecar up to Robiei (6,204′). Restaurant and hiking options at the top in alpine moonscape.
• Public Transportation High Point in Southern Ticino: Boat or rail to Capolago then narrow gauge train steeply up to mile-high Monte Generoso. Restaurant and hiking options at the top.
• Cycle downhill .6mi drop in 2 hours. Rail north to Airolo (3,855′) and bike south down to Biasca or further to Bellinzona (742′).
• A Super Scenic Circle Trip Day to Italy! Take the fast boat on Lake Maggiore to Stresa, then return by slow express train across the Centovalli Railway.
• Visit Vineyards & Wineries in Bellinzona, Biasca, and Mendrisio. Closest winery tour with sales & samples: Tenero 10 minutes from Locarno.
• Wine & Dine: discover & enjoy fine restaurants in your neighborhood and throughout Ticino.
LEARN MORE HERE:
The Alpine Resort Town of
EXPLORE SWITZERLAND:
where Alpine Giants dominate the landscape, from your vacation apartment in the
ALPINE RESORT TOWN
of
ZERMATT
WALLIS/VALAIS
Lodging Type:
TOWN APARTMENTS
THE MATTERHORN IS AMAZING.

Zermatt, the Busy Swiss Town at the Foot of the Matterhorn, Gives You Many Options for Enjoying the Amazing Landscape.
THE MATTERHORN & Switzerland's Highest Mountains — At least thirty-eight 4,000-meter-high peaks belonging to the Pennine Alps range are visible from the Swiss alpine town of Zermatt. Several of them form a nearly impassable natural border wall with Italy. While a few of these peaks are higher than the Matterhorn, none is as well known. Its twisted pyramid is perhaps the world's most recognizable mountain silhouette, the ultimate Swiss icon that draws many tens of thousands of visitors to Zermatt every year.
ZERMATT: TOWN AT THE BASE OF THE MATTERHORN.
Switzerland offers many spectacular alpine towns and villages with world-class skiing, hiking, and climbing. But only in Zermatt can you ski, hike, or climb in sight of the Matterhorn.
  Zermatt is car-free, and needs to be. Squeezed by steep alpine slopes on three sides — it's only practical land access is from the north — Zermatt has enough room for thousands of visitors, but not for their cars. Visitors traveling by car leave their vehicles in the next town to the north and commute the last few miles by train, joining the vast majority of visitors who use the railway exclusively to get to Zermatt.
GETTING AROUND ZERMATT — During the height of the ski season (December—April) and the summer tourism (hiking, climbing, & selfies) season (mid-June—September), Zermatt is densely populated. Visitors to Zermatt arrive by train, and get around by walking, or by using the town's electric buses and electric taxis.
Zermatt's core is small, not too hilly, and (for most visitors) very walkable. The town center — radiating from the Bahnhofstrasse Zermatt's north-south main street — is full of shops, restaurants, bars, boutiques, banks, hotels, and many apartment buildings that provide housing for residents and vacation rentals for visitors. The original village core has become modernized and gentrified, surrounded with newly-built neighborhoods of apartment buildings full of vacation & ski rentals, almost all with balcony views of the Matterhorn.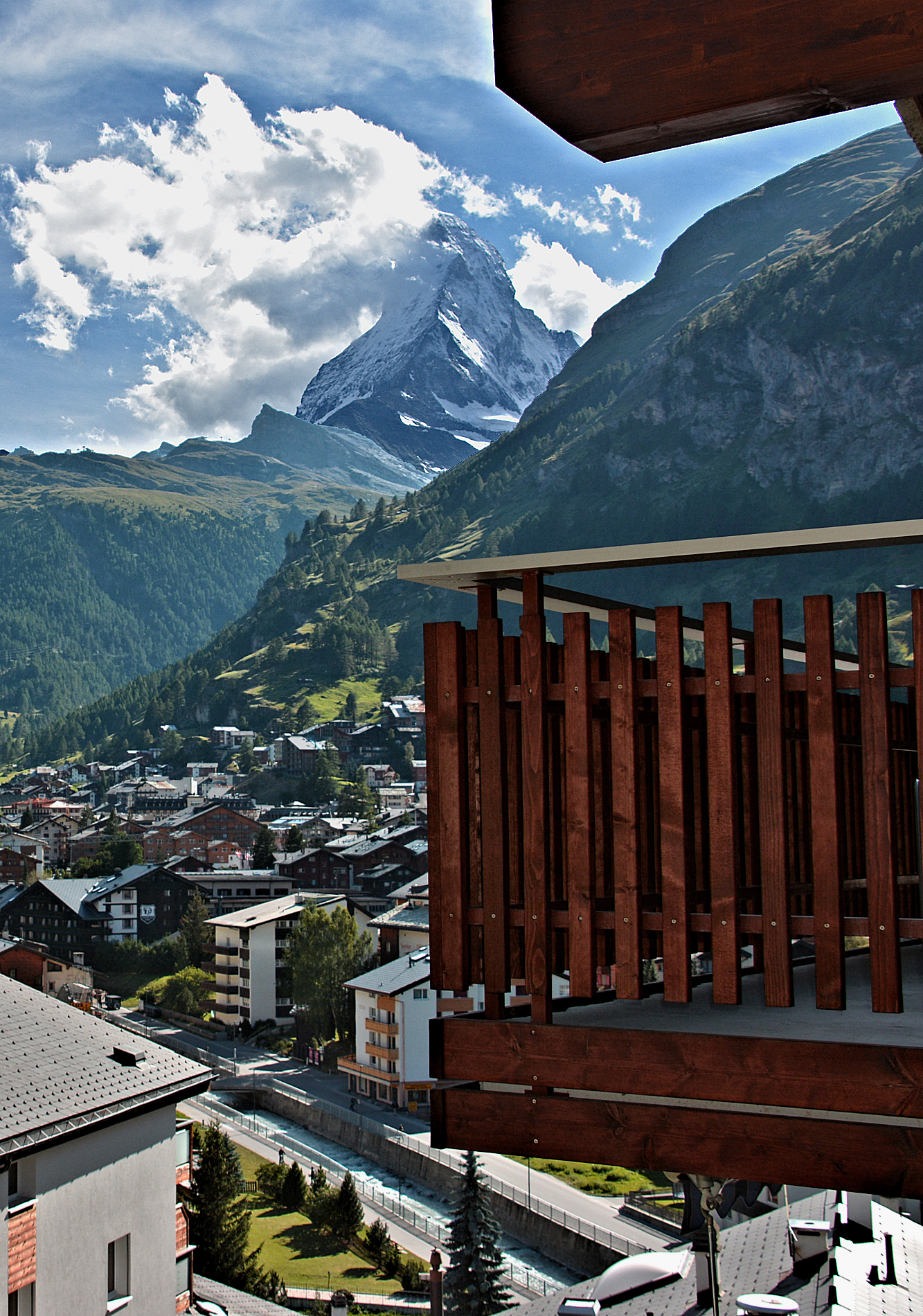 the view from a HOME AT FIRST ZERMATT APARTMENT balcony.
THE APARTMENTS — Our comfortable, quality Zermatt apartments are all unique, with capacities for up to 8 persons. Several are located in Zermatt's central core, within 5-minutes easy walking distance of stores, shops, and trains, electric buses and taxis. A few are in newer neighborhoods uphill from Zermatt's core and feature excellent alpine views, less congestion, noise and bustle, but are longer walks (or bus & taxi rides) from the shopping, restaurants, and train stations of central Zermatt.
All Home At First Zermatt apartments have English-speaking hosts either on-site or available nearby for questions, information, recommendations, and help should a problem or emergency arise.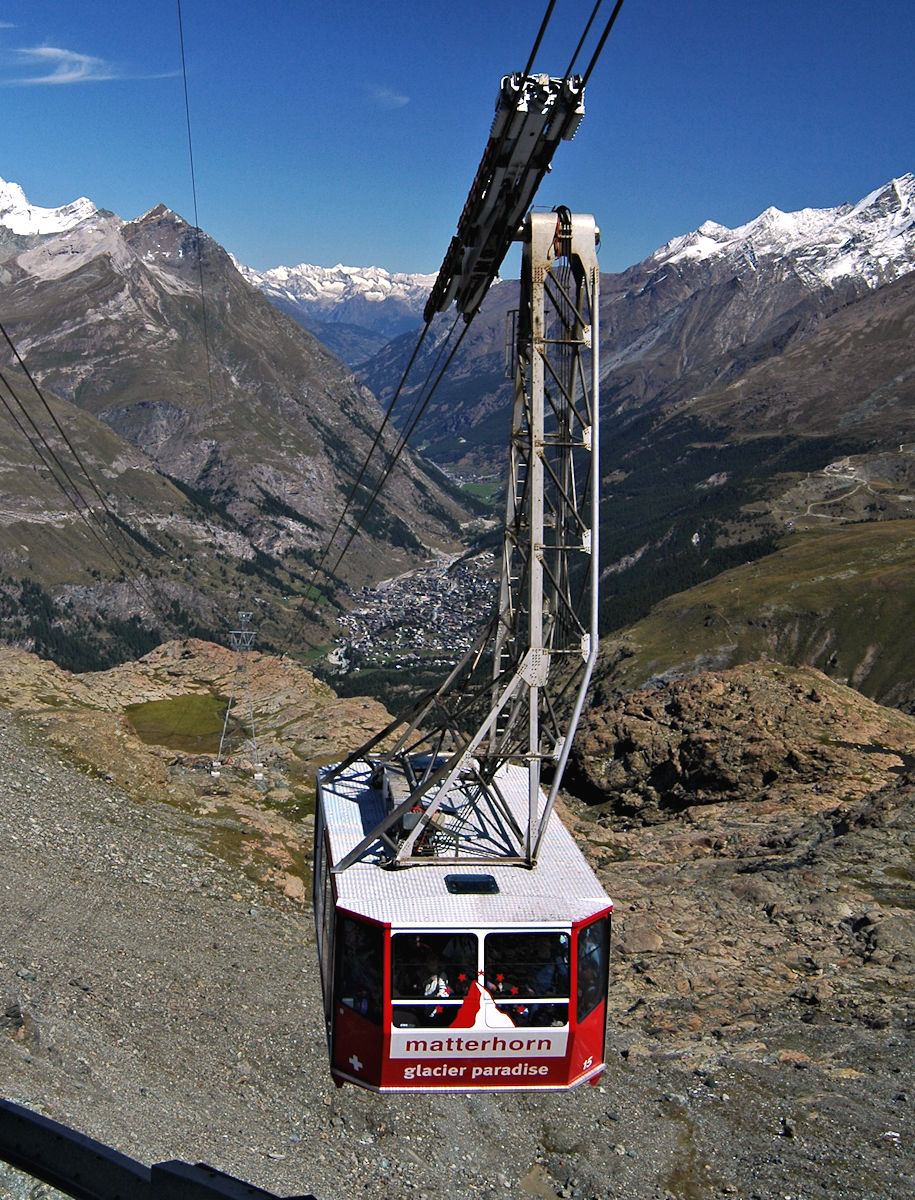 Matterhorn glacier paradise cablecar arriving at Trockener Steg intermediate station. ZERMATT FILLS MUCH OF THE VALLEY FAR BELOW.
EXPLORING ZERMATT & BEYOND — The best ways to explore Zermatt and its arena of magnificent mountain peaks include walking, mountain-biking, skiing, and using the trains, funicular, gondolas, and chairlifts of the town's 3 mountain transport systems.
Traveling away from Zermatt to visit other parts of Switzerland (and northern Italy) is best done using the railway north to major railway junction towns at Visp and Brig.
Activities and Attractions in Zermatt and Beyond.
 Home At First guests in Zermatt receive the exclusive Zermatt & Matterhorn edition of our "New Swiss Dream Book" activity guide, full of suggestions for visitor attractions and and activities along with recommended day trips and other activities, including our Hiking & Biking Guide. Here is a brief sampling of the entries listed in our comprehensive guidebook: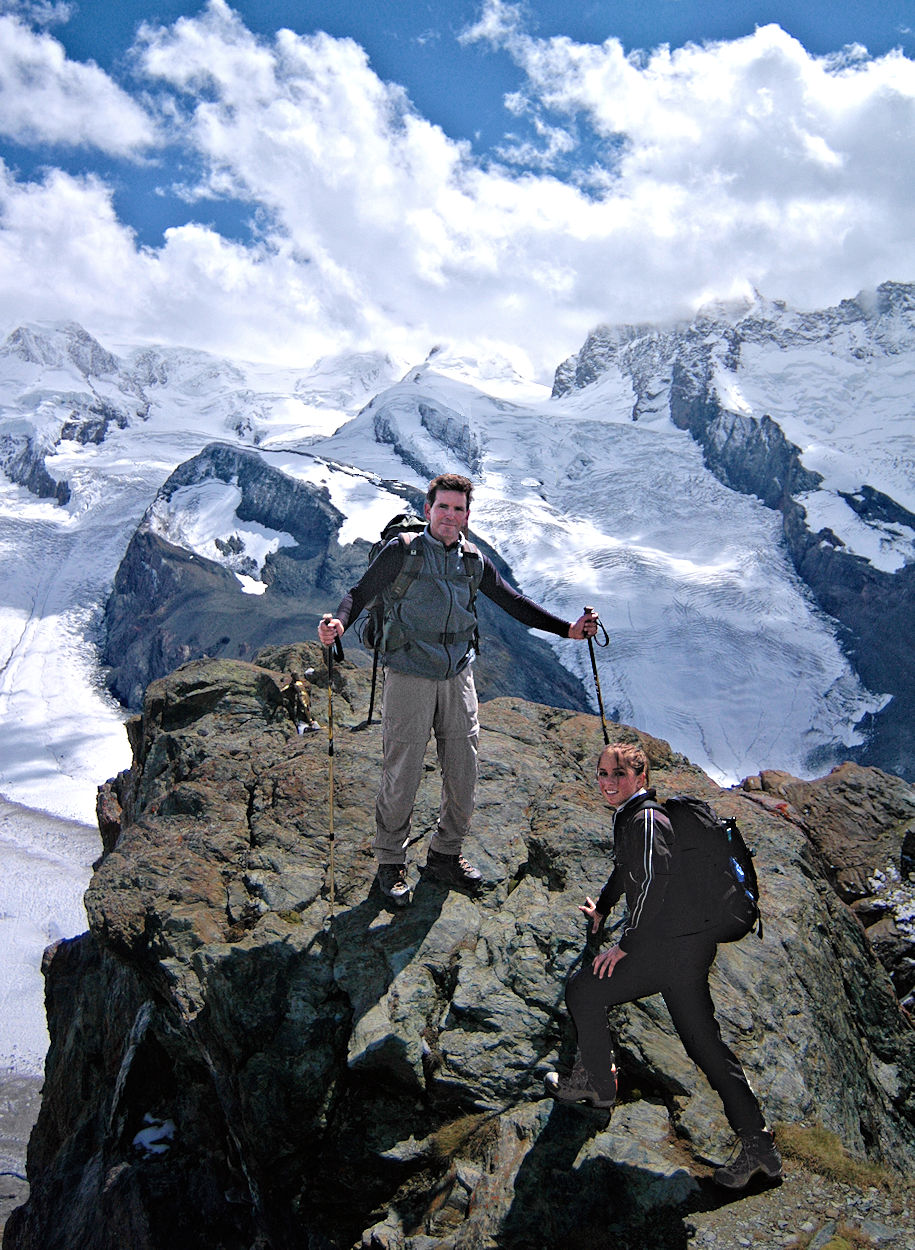 Hiking above Zermatt at 10000 feet near Gornergrat station.
ATTRACTIONS —
 Zermatt's location is the reason to come. No other town or village in the Alps has access to so many great peaks. Zermatt's primary attractions, not surprisingly, center on the mountains: cableways, trains, and trams to high viewpoints, and, for the well-heeled, helicopter excursions to places only mountaineers and ibex can reach.
• The Bahnhofstrasse: Rainy days in Zermatt are made for the Bahnhofstrasse, the town's main street, lined with shops, stores, restaurants, cafés, and hotels.Near the southern end of the Bahnhofstrasse, are the Mountaineers' Cemetery and Zermatt's underground Matterhorn Museum, Zermatlantis, presenting the history of Zermatt and mountaineering.
• Mountain Transport: Zermatt has 3 transport systems into the alpine heights:
+ The Sunnegga Express system: a fast "subway" train whisks visitors from the east side of the river in central Zermatt up nearly a half-mile to Sunnegga, a lovely perch with the classic view of the Matterhorn. From Sunnegga, 2 more cableways lead further up the mountain to 10,178 feet high. Café-restaurants and excellent hiking & mountain-biking await at all stations.
+ The Matterhorn Glacier Paradise system: a mix of small 6-person gondolas and large (up to 100-person) aerial cablecars ply 3 main routes in summer (plus several more in winter for skiers), including the big cabin to the Klein Matterhorn pinnacle station, at 12,740 feet the highest cablecar station in Europe. Restaurants, hiking & mountain-biking trails en route at all levels, plus climbing, year-round skiing, glacier discovery, and shopping (!) at the top.
+ The Gornergrat Railway: as many as 3 venerable (opened in 1898), slow (33-minute journey) trains hourly depart the modern station on Zermatt's Bahnhofstrasse, reaching 10,138 feet on a Gornergrat's rocky ridge-top terminus. Restaurants at the top and several stations en route. Hiking and biking trails galore and major skiing trails in winter.
ACTIVITIES —
 In town Zermatt has plenty to do: swimming, tennis, shopping, dining, and several spas & fitness centers. Zermatt's small, historic Old Town invites strolling.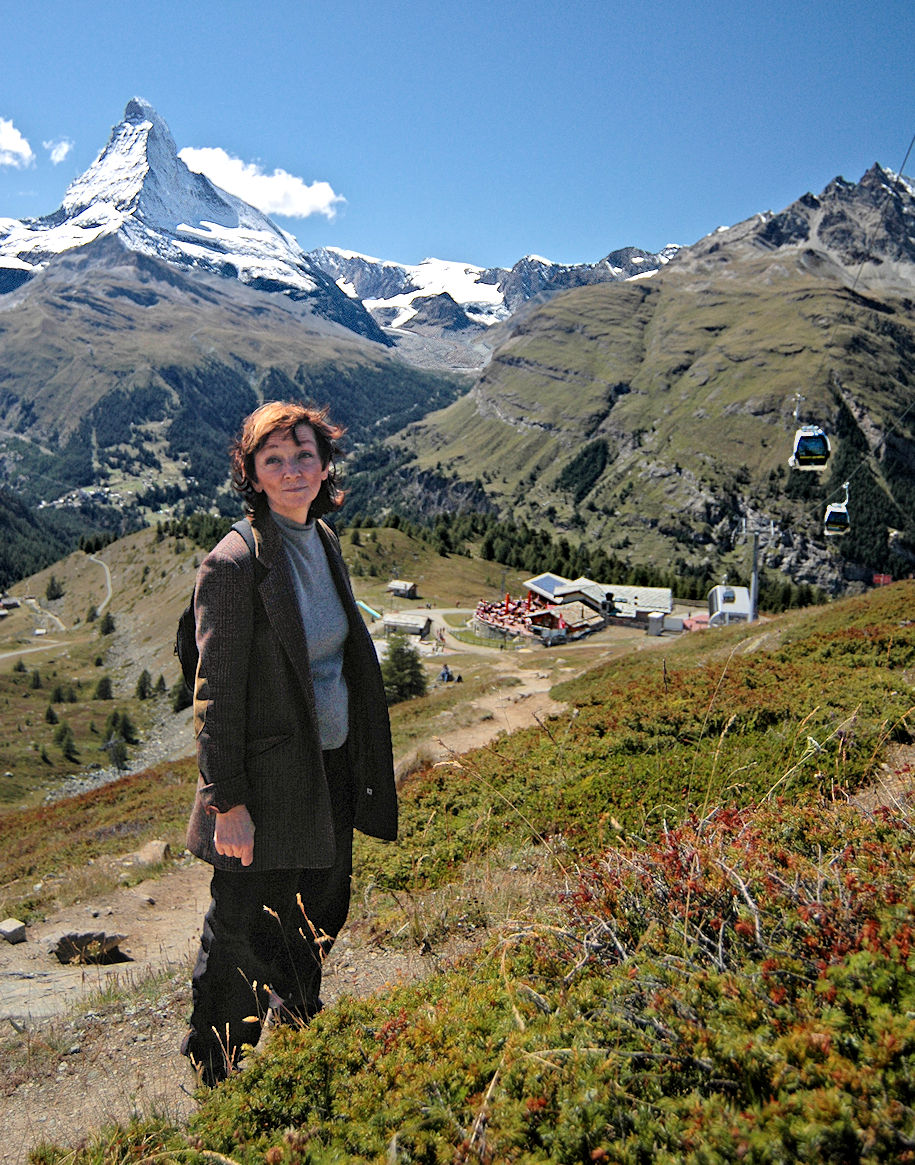 HIKING ABOVE SUNNEGGA
AT ABOUT 7,500′.
  Activities locally and regionally include: family fun in a forest adventure rope park and a scenic walk through the Gorner Gorge south of Schluhmatten, picnicking, hiking, biking, skiing, and climbing in the surrounding Alps, buying cheese at the farm in Zmutt, Biel, or Ober Stafel alpine hamlets.
  Activities further afield include:
• Day Trip to a Top Wine Village: Train Zermatt to Visp. Local train from Visp 20min to Salgesch, a Valaisian wine-producing town with 40+ wineries, many with open caves and testing rooms. Excellent pinot noir wines plus some delightful whites.
• Brig's Great Castle: built at the intersection of key trans-alpine routes, the huge 17th century Stockalper Palace was built by a wealthy merchant who prospered from Brig's strategic location, The castle is partially furnished and has a museum.
• A Scenic Circle Trip Day to Italy: Take the postal bus south from Brig across the Simplon Pass to Domodossola, Italy. Have lunch in the old city, then return by train through the Simplon Tunnel to Brig and back to Zermatt.
• A Leisurely Cruise on Lake Thun: Express train north from Visp to Thun city in the Bernese Oberland. Catch the lake boat at Thun for the to Interlaken. Rail from Interlaken back to Zermatt via Spiez and Visp.
LEARN MORE HERE:
HOW TO BUILD, PRICE, AND BOOK YOUR TRIP —
Contact HOME AT FIRST: (800) 523-5842 (toll-free USA & Canada) • +1 610 543 4348 (worldwide) • info@homeatfirst.com