THE MATTERHORN — ALPINE ICON OF SWITZERLAND
Photo © Home At First
touring SWITZERLAND — ALPINE PLAYGROUND & CULTURAL CROSSROADS
Independent Switzerland Using
Quality Vacation Chalets & Apartments
Independent Switzerlan

d

Touring — Discover Mountain Pinnacles on the Grandest Scale plus Cultural Differences from Valley to Valley
The Swiss Alps have been both barrier and connection between Europe's industrious, chilly, rainy Atlantic North and its laid-back, sunny, dry Mediterranean South, and between oft-subjugated Eastern Europe and the relatively free and prosperous West. For centuries Switzerland has been the crossroads of whatever commercial and cultural commerce has managed to get through or over the Alps.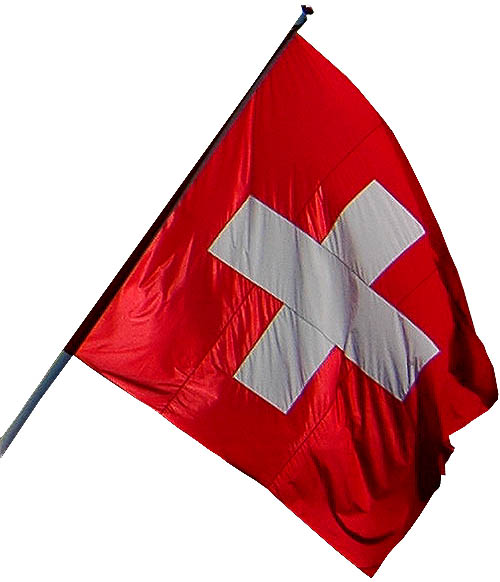 Until railways first arrived in Switzerland about 150 years ago, those hardy peoples who had migrated into the Alps lived largely isolated — not just from other Europeans, but often from their closest neighbors just across the steep ridges that separate valleys. Shut off from the outside, alpine populations developed their own micro-cultures: their own language dialects, their own customs, dress, cuisine, superstitions, and ways of farming and producing goods.
These numerous micro-cultures continue throughout Switzerland today. Switzerland recognizes four official languages — Swiss-German, French, Italian, and Rhaeto-Romansh — with dozens of local dialects spoken. From valley to valley visitors hear different speech, taste different cuisines, hear different music, and see different customs and folk costumes.
In 1291 several small Swiss localities first bound together for mutual defense against outsiders, and to pool their efforts for trade with those same outsiders. Instilled in the Swiss Confederation were three basic principles of Swissness: the importance of maintaining local identity, the importance of not permitting interference from the outside, and the importance of developing and protecting international trade.
The Swiss Alps are symbols of these principles. They guard local and regional identities. They protect the nation from invasion and interference. They brand Swiss products as having the highest quality and value.
Home At First offers you the opportunity to explore Switzerland's great variety from locations in three regions: chalet apartments in two Swiss-German-speaking alpine villages in the Bernese Oberland in the heart of Switzerland; in apartments in Italian-speaking towns in Ticino, Italian Switzerland; and in the famed Swiss-German-speaking alpine adventure town of Zermatt at the foot of the iconic Matterhorn.
Independent Switzerland touring is best using the remarkably efficient, comfortable, reliable, frequent, Swiss transport network, which goes almost everywhere in Switzerland via railway, lake and river steamer, postal buses, city trams and buses, and cableways.
Tour, sight-see, cruise, shop, dine, hike, bike. See and sample chocolate, cheese, and wine at the source. Get to know your home town or village. Find new favorite restaurants. Hear the music of alphorns echoing across the valleys. Relax in the midst of unparalleled Nature. Have a picnic along a mountain trail. Drink perfect water from an alpine spring. Breathe mountain air that cures the ills of modernity. We tell you how best to explore Switzerland in our New Swiss Dream Book activity guides. Come once. Then come back again. You are sure to find each experience unique, instructive, impressive, fascinating, unforgettable, and splendid.
Home At First's Independent SWITZERLAND Travel Program in

a

Nutshell:
INCLUDES:
• Round-trip transatlantic
FLIGHTS
JFK/EWR to Zürich
(all other USA & Canada airports available at extra fare)
• 7 Nights of
LODGINGS
in a Swiss chalet or apartment in your choice destination
• Ground
TRANSPORT:
1-week Swiss Travel Pass or regional pass.
Already have Flights?
We have good-value Ground-only
& Lodging-only options available.
Basic Itinerary Character
Independent Switzerland 1-Week Travel Package
Experience Switzerland like a native Swiss in your
apartment or chalet in a village or town,
in any of four Swiss regions. Independent Switzerland touring at your own pace using the
comprehensive Swiss transport network.
Tip: Add a low-cost 2nd week in the same lodging
to intensify your experience.
Lodgings
Weekly Rentals
Choose from Apartments & Chalets in:
• Kandersteg & Mürren, 2 Central Swiss alpine
villages in the Bernese Oberland
• 4 Towns (Ascona, Locarno, Minusio, & Muralto)
on Lake Maggiore in Italian Switzerland
• Zermatt, resort town by the Matterhorn
Tip: take a week in 2 or more different locations
to enrich your experience.
On-Site Costs:
Food & Activities Range from:
$—$$$$$
With your Swiss pass covering most of your transportation
costs and discounting entries to many attractions,
Independent Switzerland touring can be done on a
manageable budget.
Tip: Restaurants can be pricey. Grocery stores are reasonable.
Using your well-equipped kitchen can really help save.
$$$
Excellent Value, thanks to Home At First's low Full-
Package prices that include the best available airfares.
with Home At First destinations throughout
the British Isles, Continental Europe,
and Scandinavia.
Tip: Visit multiple destinations for
just one transatlantic airfare.
Languages Spoken:
English
is commonly spoken in restaurants, public transport, tourist
offices, stores, and by your lodging host/hostess.
(M)OTHER TONGUES
• Swiss-German is spoken in the north, the east,
& parts of the south
• French in the west
• Italian in the southern Canton of Ticino
• Romansh in portions of the eastern Canton of Graubünden.
Flight Length to Switzerland
(ZRH or GVA) from North America
8 hrs from the
East Coast
11+ hrs from the
West Coast
Connecting Flights May Not Be Necessary!
Non-stop flights to Switzerland originate from many North
American cities, including: ATL, BOS, EWR, DIA, IAD JFK,
LAS, LAX, MCO, MIA, ORD, PHL, SAN, SFO, TPA, YUL, YVR, YYC
Family Friendly?
♥♥♥♥♥
Kids love outdoor adventures (hiking, biking, zip lines,
tree-top challenge courses), much of the food (chocolate,
French fries & pizza: yes; sausages & cheese: maybe),
and really like riding trains, buses, boats, and especially
cablecars & chairlifts. Expect to meet friendly cows
& goats when hiking.
Tip: save trips to waterfalls, lakes &
swimming holes for hot days!
Foodie Friendly?
♥♥♥♥♥
Sample national, regional, and local Swiss cuisine at
restaurants and at outdoor festivals. Swiss food is
much more than cheese and potatoes.
Experiencing a variety of foods adds
authenticity to your Independent Switzerland touring.
Tip: Visit outdoor markets and visit
cheesemakers or local dairy stores to get fresh
local specialties!
Hike-able, Bike-able,
very Like-able

Respect the Alps, but don't be intimidated! Hiking & biking
are the best ways to see Switzerland's glorious scenery.
Swiss hiking & biking infrastructure is world-class and
user-friendliest. Clearly marked signs are everywhere
noting times, destinations, and difficulty.
Tip: Walks & rides of all types are detailed in
our "New Swiss Dream Book" activity guide.
Activities

• Climbing the mountains — by train, postal bus,
& cableways
• Scenic Day-trips by train & post bus
• Cruising the Swiss lakes
• Exploring historic sites & cities: castles,
cathedrals, & museums
• Hiking
• Biking
• Shopping
• Eating!
• Visiting the Cheese Maker
• Attending folk festivals ("Chilbi")
• Canyoning, zip lining, tree coursing,
via ferrata, & parasailing.
The Best Times to Go:
Italian Switzerland: April, May, June, September, October
Kandersteg: Late-May thru mid-October
Mürren & Zermatt: mid-June thru September.
Tip: Switzerland is busiest during July & August
when the weather is warmest.
Tip: Prime above-treeline hiking season extends 3rd
week of June into October. Best months: Sept./Oct.
Independent Switzerland Touring Regional Bases
HOW TO BUILD, PRICE, AND BOOK YOUR TRIP —
Contact HOME AT FIRST: (800) 523-5842 (toll-free USA & Canada) • +1 610 543 4348 (worldwide) • info@homeatfirst.com