NEW ZEALAND
A ROAD TRIP OF ENDLESS VARIETY
Milford Sound: iconic World Heritage Site scenery on New Zealand's South Island.
A DOZEN REGIONS OF ENDLESS VARIETY ACROSS TWO ISLANDS
New Zealand Road Trip!
Explore New Zealand Independently via Car, Rail, Boat, & Plane with Quality Lodgings at Every Stop.
Expect surprises in every corner of New Zealand. Discover flightless parrots at the glaciers. Penguins nesting in the rainforest. Caves alight with glowworms. A one-lane bridge shared by cars and trains. Smoldering volcanoes on the North Island. Snowcapped alps on the South Island. Polynesia's largest city with harbors on two oceans. World-class wines: whites (of course) and now reds, too. Microclimates ranging from sub-tropical to sub-antarctic, from maritime to arid to alpine. A tasty, trendy cuisine that sources local and delivers fresh. Expect the extraordinary in New Zealand.
Travelers need good reasons for flying one-third of the way around the globe from North America — a 12-hour flight from the West Coast — to reach New Zealand. Forty-four hundred air miles southwest of Hawaii across the International Dateline, Auckland — New Zealand's largest city and principal entry airport — is closer to (but still far away from) Sydney, Australia (1,340 miles), and the nearest landfall (icefall?) in Antarctica (3,100 miles).
New Zealand straddles a remote corner of the Pacific "Ring of Fire" at the intersection of three Southern Hemisphere oceans. A unique giant fern flora and land-mammal-less fauna has evolved across this isolated island archipelago in niche ecosystems formed by the country's active volcanic geology.
Hot springs on the beach, active & sleeping volcanoes of all sizes, in-your-face geysers, golf courses with boiling mud hazards, and earthquake fault lines regularly trembling its major cities all remind you of New Zealand's tectonic truths. With geothermal wonders found few other places on earth, New Zealand often seems extraterrestrial: dotted with enough other-worldly locations to be cast as the perfect Middle Earth in Peter Jackson's Lord of the Rings films.
If natural New Zealand is astonishing, it's fitting that its human population has many surprises for visitors. All human presence on this archipelago in the far South Pacific is geologically recent. Some time around 1300AD Polynesian people first came to these islands, having somehow canoed across more than 2,500 miles of open ocean from the Society Islands near Tahiti. There is no record of human presence on New Zealand earlier than the bones and artefacts of these first Polynesian arrivals. Likely several waves of Polynesians followed. These tribes became the indigenous Maori and settled throughout the land they call Aotearoa, the largest and southernmost landmass in Polynesia.
Europeans were the next strangers to accidentally "discover" the archipelago. Dutch explorer Abel Tasman was the first European to see the islands he called Staten Landt after the parliament of the Netherlands. When his boats neared the northwestern corner of the South Island in 1642, they were chased away by hostile Maoris in war canoes who killed four of Tasman's crew.
The islands were circumnavigated and mapped by English explorer Captain James Cook in 1769, laying the groundwork for Britain adding Aotearoa to its Victorian empire in 1840, when the Treaty of Waitangi granted full rights of Englishmen to Maori who likely had no ideal what they were getting into.
New Zealand is no longer an outpost of the British Empire. Post World War II immigration brought many continental Europeans and Asians to mix their cultures with the British and Maori establishment while external Australian and American cultural influences affected Kiwi sports, fashion, and music.
Today's New Zealanders (you can call them "Kiwis" if you wish, as you might Australians "Aussies" or "Ozzies" or British "Brits") are typically urban, worldly, youthful, outdoorsy, and committed to keeping their remote islands at once pristine and culturally diverse. Kiwi pride in their nation shows in a unique blend of conservative and liberal viewpoints: protective and insular environmentally and economically, while progressively international socially and governmentally.
That New Zealand consistently ranks high on lists of the world's "happiest" countries is no surprise — Kiwis tend to feel they have an ideal country for escaping many of the world's problems and for promoting a lifestyle that is at once relaxed and active.
Visitors will find that New Zealanders are happy to show you their country and learn from you about yours. But in exchange for a genuinely warm welcome, they want you to promise to spend money, and in no way harm their fragile ecosystems. Kiwis are convinced that if you follow these guidelines New Zealand will be able to maintain its uniqueness, welcome generations of visitors to come, and stay one of the world's happiest nations.
A New Zealand Road Trip leads to Middle Earth, modern life, Maori traditions, and geologic marvels. As you drive, expect significant changes in New Zealand every two hours.
Home At First's

NEW ZEALAND ROAD TRIP

Travel Program in a Nutshell:
Includes trans-pacific flights, lodging in destinations of your choosing, rental cars and domestic flights (e.g. inter-island flights) right for your itinerary. Ground-only option available.
Combinable with stopovers in Hawaii, Tahiti, Fiji, or Australia offered by the airlines at extra cost.
Itinerary Character:
14 Nights or More in
NEW ZEALAND
Explore New Zealand independently on your terms. Choose your destinations & how long you wish to stay at each stop. Move from location to location by rental car. Fly between North & South Islands. Take scenic trains & boats when appropriate.
Lodging Types:
Upscale B&Bs, Boutique Hotels, & Rural Lodges
Locations in up to 12 regions throughout New Zealand: 6 on each principal island. City lodgings close to transport, restaurants, shops, & services. Rural locations convenient bases for seeing attractions. All lodgings come with superb hosting.
On-Site Costs: Food & Activities
$$$
New Zealand can be expensive to travel to, but not as costly to visit, especially if you minimize eating in high-end restaurants. Gas costs more than in the US, but this is a road trip, so get a comfortable car! Organized activities can be pricey, but many adventures can be self-guided.
$$$$
But, excellent Value, thanks to Home At First's
low Full-Package prices.
The long round-trip flights are the most expensive bit. On-site costs can fit most any budget. Because your New Zealand road trip lasts 14-nights or longer, you see New Zealand for a reasonable daily rate.
Language Spoken Most Everywhere:
English
Expect New Zealand English to sound vaguely familiar, more like Australian than British. The most challenging aspects of the New Zealand accent are the unexpected vowels and unique idiomatic phrases. One useful Maori phrase: Kia ora! (Hello!)
Non-Stop Flight Length from
North America
12+ hrs from West Coast;
18.3 hrs from East Coast
Most North American flights arrive
at Auckland (AKL) or (rarely) at Christchurch (CHC). New Zealand domestic flights connect regional airports throughout New Zealand.
Family Friendly?
♥♥
Kids love the activities, the parks, and the food, but may not like an itinerary with long driving hours. Boat trips, ferry crossings, train rides, and animal encounters all appeal to young travelers. Wineries, multi-day hikes, cultural museums, and art galleries not so much.
Foodie Friendly?
♥♥♥♥♥
Not long ago, New Zealand food meant lamb, spuds, and mash peas. No longer! Kiwi cuisine is trendy. substantial, different, and delicious, with the accent on fresh, organic, and local. Seafood is an important part of the cuisine, but does not dominate. Kiwi wines & beers are excellent.
Walkable, Gawk-able
New Zealand is hikers' heaven! You can add guided or unguided multi-day treks on any of the country's 10 Great Walks as part of your New Zealand Road Trip.
In addition to super hiking in New Zealand's national parks, all Kiwi regions including the cities offer scenic tracks for day hiking and casual walking.
Activities

• Car Touring
• City Strolling & Country hiking
• Fjord cruising
• Lake cruising
• Ocean cruising
• Museums & galleries
• Dining: hi-brow & low
• Maori sites in Northland & Rotorua
• Lake Fishing
• Ocean Fishing
• Exploring geo-thermal areas
• The Wine Trail!
• Golf: world-class, and local
• Seeing Glaciers
• Scenic trains.
The Best Times to plan your New Zealand Road Trip:
November to December 15. January 15 to April 15. Avoid the many closings over Christmas. Winter months (June 21-Sept. 21) can bring cold and darkness to the South Island. Best long-distance hiking months: early Dec., late-Feb., March, early-April.
Your New Zealand Road Trip Takes You Here —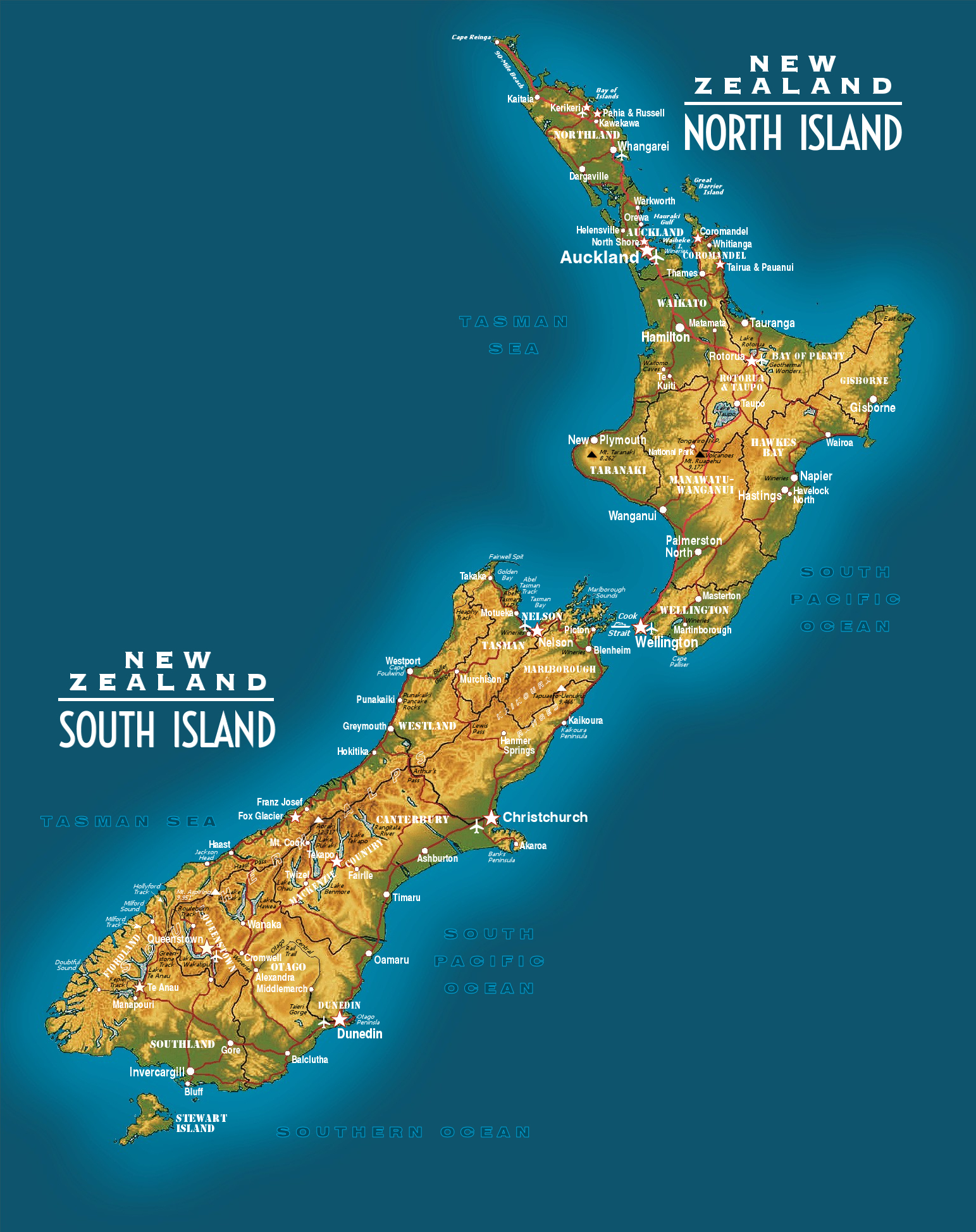 Although an archipelago of hundreds of islands, New Zealand is principally comprised of two similarly-sized islands separated by a narrow (less than 15 miles), if sometimes treacherous, Cook Strait.
Oriented from southwest to northeast, the two islands when measured together are very similar in size to California: nearly 1,000 miles long as the albatross flies, or 1,300 miles long using the most direct motoring routes. And, like California, the islands of New Zealand were formed by tectonic forces that are still at work today.
Active and dormant volcanoes dot the middle of North Island in Auckland, Bay of Plenty, lower Waikato, Manawatu-Manganui, and Taranaki regions. Earthquakes shake many parts of New Zealand, especially along the east coast of both major islands, and have caused major historical damage to the cities of Napier, Wellington, and Christchurch.
Beyond their shared geologic activity, the North Island and South Island have little in common. Closer to the equator, the North Island has a warmer climate, with its subtropical Northland region reminiscent of the Caribbean. Broad, fertile lowlands characterize much of the northern panhandle of the North Island and rim its coasts.
The North Island receives plentiful rain, and is otherwise kept fertile by its many rivers. With kinder weather, more water, more arable land, and several, excellent deep-water harbors, it's only natural that the North Island be the more populous island: home to more than 75% of the population (about 4 million of the country's 5+ million residents).
The slightly larger South Island is more mountainous than the North Island. Its snowcapped spine of Southern Alps acts like the Sierra Nevada in California: wet along the Tasman (west) coast, but arid in the rain shadow east of the mountains, not unlike the mountain west of the U.S.
The lower, flatter, fertile Canterbury plain is the South Island's breadbasket. Alpine and sub-antarctic climates dominate much of the southern half of the South Island rendering it unsuitable for large habitations away from the protected coasts.
Residents of the South Island are quick to counter that their half of New Zealand offers much more of the country's famed geographic spectacle.
That's not to say that the North Island's scenery is ordinary. There are remarkable natural wonders spread lavishly across both islands, and distinct cultural differences worth exploring in every region, regardless of population density. For these reasons we recommend visitors plan to visit multiple regions on both islands.
Although Home At First offers lodgings in many New Zealand regions, we think that travelers should plan to visit not more than 7 or 8 regions during a 14-day visit. Longer stays — 21-days may be optimal — permit a more thorough exploration of New Zealand: visits to more regions (perhaps as many as 10 regions), or longer stays that permit focusing key interests: food & wine, fishing, golf, hiking, cycling, geothermal zones, Maori culture, among others.
HOW IT WORKS—
Home At First's New Zealand Road Trip: Independent Travel with Quality Hosted Lodgings.
First — Request a Free Trip Proposal
• Contact Home At First. Tell us about your travel dream of a New Zealand Road Trip.
— Tell us how many people will be with you, and the ages of all travelers in your party.
— Tell us when you would like to travel, and how many days you have for your visit.
— Tell us what you dream of seeing & experiencing on your New Zealand Road Trip.
— Tell us what, if any, specific activities or adventures you want to pursue in New Zealand.
— Tell us if you have any special requests for organized activities or adventures.
— Tell us if you would like to combine your New Zealand visit with a stopover elsewhere.
— Ask for a Free Trip Proposal with Cost Estimate.
A GALLERY OF NEW ZEALAND ROAD TRIP REGIONS & ACTIVITIES
A PARTIAL SELECTION OF DESTINATIONS & THINGS TO DO ON A NEW ZEALAND ROAD TRIP
Second — We Design Your Dream Trip for You
• Based on you travel dates, interests, and activities preferences, we prepare a proposed itinerary & cost estimate with all the locations, lodgings, & transportation you need for an efficient, independent New Zealand Road Trip. We send our individualized itinerary proposal to you via email and/or postal mail.• You review our proposal; accept it, reject it, or revise it until we have it just right for you. It is, after all, your dream trip, to be done the way you wish.
• Once accepted, we request an initial payment by check along with your signed acceptance.
• We begin putting your plans in place, securing your LODGINGS, FLIGHT RESERVATIONS & TICKETS, RENTAL CAR RESERVATIONS, STOPOVERS, STAGING HOTELS, and any ORGANIZED ACTIVITES your New Zealand Road Trip itinerary requires.
• Payment in full is due 90 days prior to departure, or when you are ready to lock in your included airfares, whichever comes first.
• All travel documents for your trip — including our exclusive "New Zealand Activity Guide" — will be sent to you by 30 days prior to your trip departure date.
Third — Departure Day Finally Arrives
• On Departure Day your journey begins by flying from your originating airport to Auckland, New Zealand. En route you cross the equator and the International Date Line, effectively changing seasons by half a year and losing a day!
• In Auckland you pick-up your rental car and drive to your first lodging location. Or, you may be changing to a domestic flight to get to your first regional destination's airport where you pick-up your rental car and drive to your first lodging location.
• Once you arrive at your first lodging location you will be met by your lodging's host, who will welcome you, show you to your accommodations, explain when and where breakfast is served daily, see to your comfort, and let you get some rest.
• Have a nap. Take a walk to begin getting a sense of your new surroundings and climate. Your host will recommend a nearby restaurant for dinner. The fun begins now as you explore independently from each planned regional location on your New Zealand Road Trip.
NEW ZEALAND ROAD TRIP SCENES & SURPRISES
WHAT COMES WITH HOME AT FIRST'S NEW ZEALAND ROAD TRIP TRAVEL PROGRAM?
HOME AT FIRST BUILDS INDIVIDUAL TRAVEL PACKAGES TO NEW ZEALAND THAT INCLUDE:
Our 12 Regional Locations Enable Efficient Road Trip Stops on Both Islands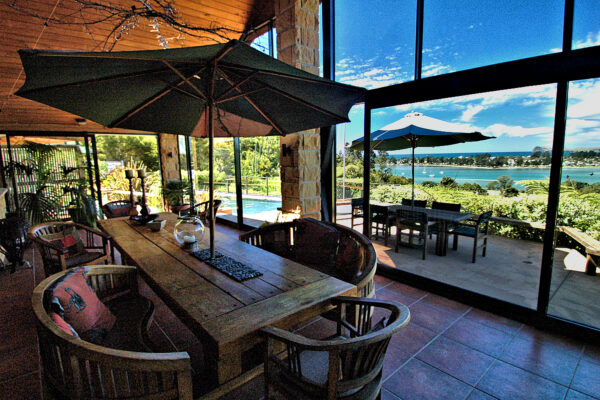 Most Home At First New Zealand lodgings provide comfortable common space indoors & out, as here in the Coromandel region.
A Choice of 12 Regions — 6 Regions on Each Island
  With Home At First's help you choose those regions that interest you to build your itinerary. Build an itinerary that includes stops on the North Island and the South Island. Or, if you prefer, focus your visit on just one island.
  Home At First's New Zealand Road Trip offers lodging locations in 12 regions — 6 stops on the North Island and 6 stops on the South Island — making it possible to experience the great variety of New Zealand in efficient steps.
Each stop is ideally located as a base for exploring its own region.
Each stop is practically located within 2-7 hours drive of the next stop.
While your New Zealand Road Trip can move from one stop to the next each day, you will want to spend 2-4 overnights at several stops in regions of primary interest, especially where you have activities planned.
Our New Zealand travel experts will help you plan a Road Trip itinerary that lets you accomplish your goals efficiently by suggesting which stops are best for you in the time you have.
NORTH ISLAND LOCATIONS:
1. Northland: the Bay of Islands is a semi-tropical vacation paradise: islands, beaches, & kiwis.
2. Auckland: NZ's Big City is also the City of Sails; & largest Polynesian city.
3. Coromandel: scenic peninsula with a unique, laid-back lifestyle on 2 coasts.
4. Rotorua & Taupo: Maori culture & geo-thermal marvels in central lakeland. Great fishing, too.
5. Hawkes Bay: principal wine-making region of the North Island
6.Wellington: youthful Kiwi capitol is NZ's San Francisco & Vancouver
SOUTH ISLAND LOCATIONS:
1. Nelson: kool small city & hot wine region. Plus Abel Tasman Nat'l. Park.
2. Westland: Greymouth to Haast: remote wild west coast – frontier towns & glaciers-by-the-sea.
3. Queenstown: NZ's always-trendy adventure capital, hiking mecca, with Lord of the Rings scenery.
4. Fiordland: world-class Milford & Doubtful Sounds; Milford Track and other Great Walks.
5. Mackenzie Country: Mt. Cook & Lake Tekapo: sheep stations & mountain lakes by the highest Southern Alps.
6. The East Coast: including stops at Dunedin (penguins & albatross), Christchurch (England in the South Pacific), the Kaikoura Coast (whale watching),
LODGING OCCUPANCY NOTES:
• Minimum stay at any lodging location is just one night.
• Minimum travel length: 14 lodging nights in New Zealand are necessary to get to know this wonderfully varied destination.
• Optimal travel length: 21 lodging nights in New Zealand is long enough to explore most of both islands without rushing.
Quality Hosted Lodgings: Bases for Regional Discovery where You Meet the Kiwis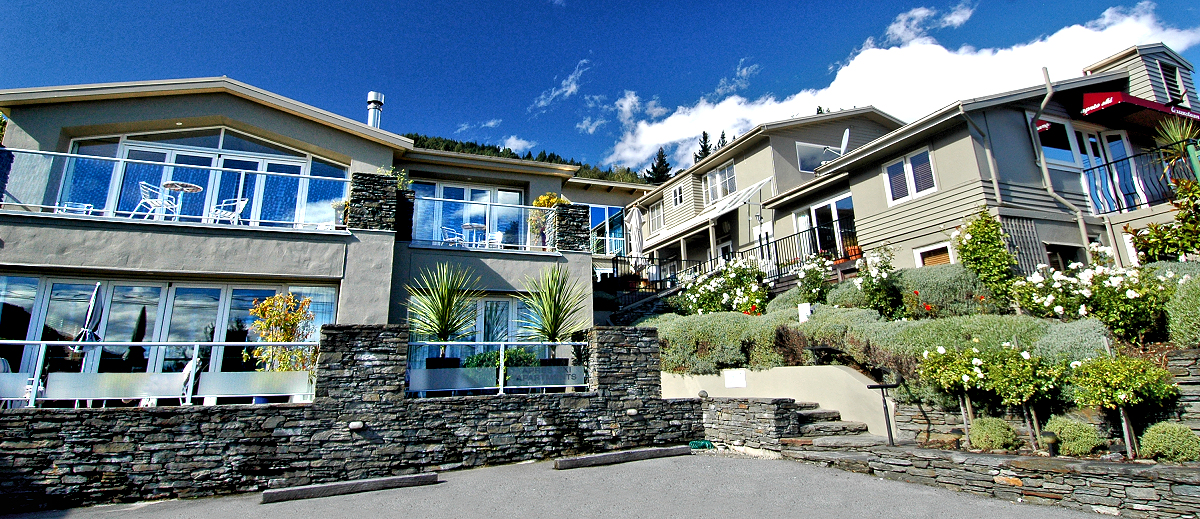 Queenstown Inn — Home At First's boutique hotel in New Zealand's adventure capital.
SMALL, PERSONALIZED LODGINGS & THEIR KIWI HOSTS
  The best travel enables the discovery of a destination and its people. At each stop on your Home At First's New Zealand Road Trip you get comfortable accommodations that come with Kiwi hosts.
You explore a regional destination and are sure to meet New Zealanders as well as other travelers at your lodging.
  Home At First's New Zealand Road Trip lodgings vary as much as does one region from another.
Some are boutique hotels with as many as a dozen guest rooms. Some are historic inns. Some are upscale B&Bs with between two and four guest rooms. Some are country lodges. Some are rural. Some are urban. Some are in towns or villages.
All lodgings are positioned as ideas bases for regional exploration. All but the most remote are a short drive to shops, restaurants, cafés, and other services.
Most offer private, off-street parking. All accommodations are at the least comprised of bedrooms with private baths. Some are suites with lounges.
While each Home At First New Zealand Road Trip lodging is unique, all share two important elements:
• Daily Breakfast: All lodgings provide daily breakfast — usually beautifully presented and cooked to order. Breakfast is almost always a delightful time to speak with your hosts and meet other guests.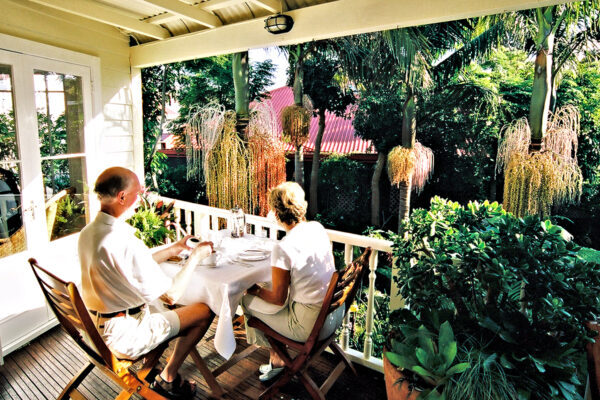 Daily breakfast is a highlight at every Home At First New Zealand Road Trip lodging, as shown here in the Auckland region.
• Helpful Hosting: All Home At First New Zealand Road Trip lodgings come with knowledgeable, welcoming hosts on-site and on-call during your stay for questions, suggestions, problems, or emergencies. Some lodgings offer late-afternoon happy hours when hosts are available.
Many hosts will book restaurants and activities reservations for you. Many — but not all — offer laundry services, too. Expect common rooms in most lodgings: guest lounges with TVs and overstuffed chairs. Expect free WiFi, too. Swimming pools, hot tubs, and saunas are rare.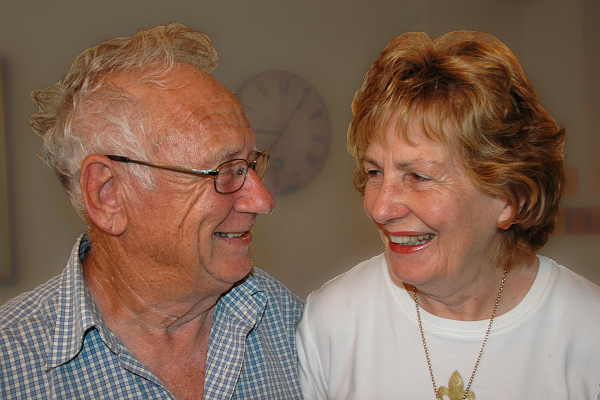 At each stop in New Zealand, your hosts become the unofficial representatives of their regions — eager to help you get the most out of your short visit to their part of New Zealand.
The Right Transpacific & Domestic Flights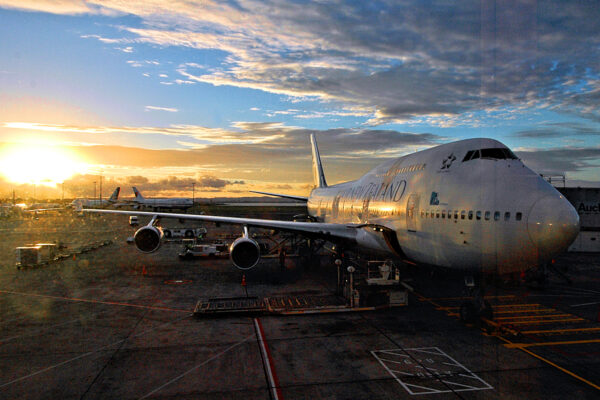 Early morning Air New Zealand flight arrival being serviced in Auckland after completing the 12+ hour transpacific journey.
all the flights you need
  Home At First can expertly handle all the flight planning for your New Zealand Road Trip.
  Home At First's airline experts plan your North American domestic flights, your round-trip transpacific flights to New Zealand, and any necessary New Zealand domestic flights based on a combination of factors: the lowest fare, most-efficient routing, best timing for your needs, using most reliable & comfortable airlines and airliners.
We will make our recommendations based on our research. You can accept our proposal or ask for modifications. Our price chart includes fares based on round-trip transpacific flights from Los Angeles (LAX) USA to Auckland (AKL) New Zealand.
Your best routing may be via a North American gateway other than Los Angeles. Two New Zealand inter-island flights are also built-in. Additional New Zealand domestic flights and any North American domestic flights are extra-cost items.
FLIGHT NOTES:
• Overnighting before/after your transpacific flights: For various reasons, many travelers break their journey for one night before departing North America or after returning to North America from Auckland on their way home.
By request Home At First can make hotel arrangements at your transpacific gateway airport.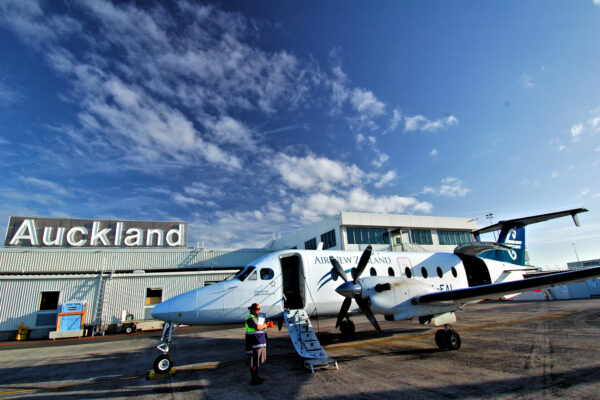 Air NZ Domestic flight to Kerikeri, Northland, boarding at Auckland. Passengers beginning in Northland save drive time via this hopper.
• New Zealand Domestic Flights: Many Home At First travelers who arrive in Auckland continue to their first lodging location region by taking a New Zealand domestic flight. At their first regional destination airport they pick-up their rental car and drive a short distance to their first lodging location.
Almost all Home At First travelers visit both main islands of New Zealand. Although it is possible to connect from from one to the other by ferry (a 3.5-hour trip; can be affected by weather on the sometimes very rough Cook Strait), we recommend flying between the North and South Islands: smoother, shorter, and less prone to disruptions.
Typically, Home At First New Zealand Road Trip travelers have two or three domestic flights built in their itineraries.
• Ground Arrangements Only Option: If you have made your own flight arrangements (e.g. using frequent flier miles), Home At First also offers a special Ground Arrangements Only package rate that includes lodgings and transport in New Zealand, but does not include transpacific flights.
OPTIONAL STOPOVERS:
• Optional Stopovers: En route to or from New Zealand, different airlines offer stopovers in Hawaii, Tahiti, Fiji, or Australia.
While these additional experiences are attractive, they usually require minimum stays at hotels or resorts contracted with your airline, and can be expensive.
Additionally, the timing of landing and departure at the stopover destination can be inconvenient and minimize the actual jet-lag-free, day-time available for enjoying the visit.
Home At First will help you plan a stopover, and make recommendations how to maximize your enjoyment at the lowest cost and disruption.
Explore New Zealand in Comfortable Rental Cars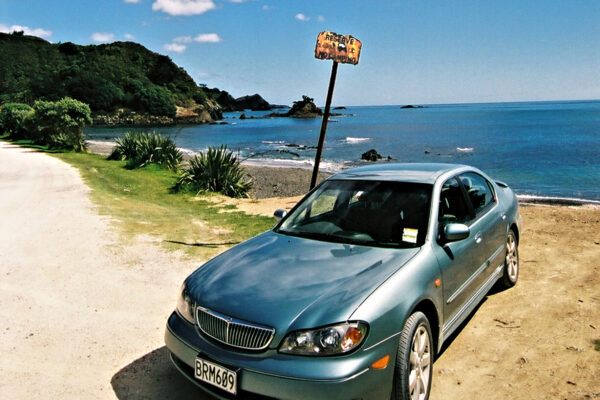 Most of New Zealand has little traffic & lots of parking, like here on Matauri Beach in Northland. Exceptions: the few cities.
NEW ZEALAND CAR RENTAL
  Home At First's New Zealand Road Trip specialists have driving experience up and down both islands. We can tell you what to expect and get your the right vehicles.
  Home At First's New Zealand experts will recommend the appropriate rental cars for your needs: small enough to be fuel efficient and easy to park, but large enough to hold all your luggage and provide passenger comfort for travel days of up to 7.5 hours of driving. Collect your rental car at the arrival airport of your first New Zealand regional lodging location.
Your custom-made Home At First New Zealand Road Trip comes with detailed driving directions to each of your lodgings. If you are visiting both islands, you will turn in your rental car at a logical regional departure airport, fly to the next island, then pick-up your pre-reserved rental car for use on this island.
At the end of your itinerary on the second island, you turn in your rental car at a logical regional departure airport and (if coming from the South Island) fly back to Auckland where you check-in for your transpacific flight back to North America.
GETTING AROUND NEW ZEALAND:
• Left-Side Driving: As in many parts of the old British Empire, New Zealanders drive on the left. If you have never driven on the left, the learning curve is short, but significant. Most drivers become accustomed to the change after about 3 hours.
For this reason, we often recommend not starting your New Zealand Road Trip in Auckland, the most traffic-congested part of the country. Except for the cities of Auckland, Wellington, Dunedin, and Christchurch, traffic congestion is rare in New Zealand.
Away from the cities, winding mountain and coast roads present most of the driving challenges. In some regions — especially on the South Island — you can drive for 5-10 minutes on main roads and not see another car.
• Guidebook Keyed for Your New Zealand Road Trip: Home At First's exclusive "New Zealand Road Trip Activities Guide" helps you make the most out of your visit.
Included are suggestions for touring & sightseeing both islands, scenic rail journeys and boat cruises, fishing, walking/hiking/trekking, cycling, swimming, golf, restaurants, shopping, Maori culture, museums, galleries, and much more.
HOW TO GET YOUR DREAM TRIP FOR THE LOWEST PRICE —
Contact HOME AT FIRST: (800) 523-5842 (toll-free USA & Canada) • +1 610 543 4348 (worldwide) • info@homeatfirst.com