New Zealand's


NORTH ISLAND
AUCKLAND, NORTH ISLAND: Ferry crossing Waitemata Harbour displays New Zealand's maritime flag, the Red Ensign, or (colloquially) the Red Duster. Auckland is New Zealand's largest city, home to about half the population of the North Island and a quarter of the population of New Zealand. With its superb harbors on two oceans (!), and the country's largest international and domestic airports, Auckland is where most visits to New Zealand begin and end.
NEW ZEALAND'S UPPER HALF
THE NOR
T

H ISLAND
LODGINGS: Unique, Upscale B&B's & Boutique Inns
6 REGIONS OF REMARKABLE CULTURAL & SCENIC VARIETY
  New Zealand's North Island competes relentlessly with the South Island. Although only 3/4 the size of the South Island, the North Island has 3.3 times the population of its rival. It has more and bigger cities, more arable land, longer beaches, milder winters, and many more miles of roadways.
When the South Island claims better scenery, North Islanders argue that its geothermal center clusters of active volcanoes, geysers, and trout-filled caldera lakes are unlike anything in the south, and are nearly unique in the world.
When South Islanders brag about vast mountain ranges and high plateau farm stations populated with millions of sheep, northerners counter with their cultural diversity, art, dozens of yacht clubs, and hundreds of golf courses.
During your exploration of New Zealand you will doubtless make caparisons as you move across both main islands. Moreover, as you drive the 600-plus miles length of the North Island, you will compare the regions you pass through. In New Zealand, and especially on the North Island, as you drive from region to region everything changes. Prepare to enjoy the ride.
NORTH ISLAND REGION 1: NORTHLAND
1. NORTHLAND: Home At First's Northland lodgings are upscale B&B's with personable hosting located in the vibrant towns of Pahia and Kerikeri in the subtropical Bay of Islands. Nearby is Waitangi Treaty Grounds, the preserved historic site where colonial New Zealand began in 1840.
Northland is a region known for kiwi orchards, expansive & secluded beaches, and great kauri trees. The weather in Northland is often sunny and warm, and can get hot in January & February. With two ocean fronts, Northland is frequently washed by showers, like Hawaii and the Caribbean.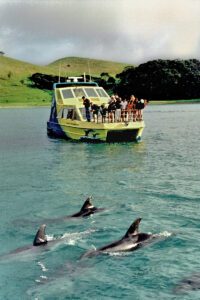 Car touring in Northland explores its two coastlines and crosses a hilly, forested interior. Driving north the route passes 90-Mile Beach and reaches New Zealand's northernmost point near the lighthouse at Cape Reinga.
Activities include day hikes, swimming & snorkeling, deep-sea fishing, boat excursions, and golf.
Visitors can experience Maori culture and interact with native New Zealanders at the Waitangi Treaty Grounds. This experience introduces the nation's parallel communities — indigenous and Pakeha (non-Maori New Zealanders) — at the historic place where the two very different societies first agreed to form a nation and overcome (or, perhaps, institutionalize) the tensions of colonialism.
GETTING THERE: For fresh-off-the-airplane New Zealand arrivals, the Bay of Islands in Northland is best reached by domestic connecting flight from Auckland Airport to Whangarei or Kerikeri. Pick-up your rental car here for the short (15-45 minutes) drive in minor traffic to your Northland lodging.
Those wanting to drive from Auckland should plan for 3-5 hours drive to the Bay of Islands, Northland, depending upon the route taken. The first hour of this trip involves some motorway driving and some urban driving. Expect the heaviest traffic congestion of your trip in/near Auckland.
NORTH ISLAND REGION 2: AUCKLAND
2. AUCKLAND: Auckland is New Zealand's cultural and economic center. Auckland is the country's, and its largest city, as well as Polynesia's most populous city. With a population of 1.66 million, Auckland is home to more than one-quarter of all New Zealanders with more residents than all of the South Island.
Perennially mentioned on "world's most livable cities" lists, Auckland is blessed with a pleasantly warm maritime climate that makes it ideal for a laid-back, outdoorsy lifestyle.
Aucklanders are dedicated golfers, avid beachgoers, enthusiastic barbecue chefs, obsessive flower gardeners, fashionable café society participants, and nouveau wine connoisseurs. Most of all, though, Aucklanders are sailors — among the best in the world — with a location ideal for their passion.
Straddling the North Island's isthmus with dual harbors on the South Pacific and the Tasman Sea, Auckland is home base for New Zealand's superb America's Cup team. This world champion team has won 4 of the last 8 America's Cup challenges, including the 2021 race series. The 2021 championship — held in Auckland's Hauraki Gulf — makes Auckland the current world's sailing capital.
Home At First's Auckland lodgings are upscale B&B's with delightful hosts set in locations in Auckland neighborhoods. Others are a 12-minute ferry ride across the Waitetmata Harbour in charming Devonport village. All are close to an assortment of fine restaurants and make excellent bases from which to explore downtown.
Auckland's CBD (Central Business District) features the iconic Sky Tower (tallest in the Southern Hemisphere), several important museums & galleries, New Zealand's largest concentration of shops, and the city's lively waterfront restaurant row by the historic Ferry Terminal. From here ferries depart regularly to cross the harbor for Devonport.
Other ferries sail to further destinations in the Hauraki Gulf, especially the nature preserve of volcanic Rangitoto Island and the boutique wine-producing Waiheke Island with multiple wine tours.
GETTING THERE: Auckland is 3-5 hours drive from the Bay of Islands, Northland, depending upon the route taken. The last hour of this trip involves some motorway driving and some urban driving. Expect the heaviest traffic congestion of your trip as you enter Auckland.
NORTH ISLAND REGION 3: THE COROMANDEL
3. COROMANDEL PENINSULA: East of Auckland 34 miles across the Hauraki Gulf is the sunny counterculture paradise of the Coromandel Peninsula. About 50 miles long and 25 miles wide, the Coromandel shelters Auckland and the Hauraki Gulf from the South Pacific. The peninsula's north-south spine of mountains rises nearly 3,000 feet above the peninsula's twin coasts: the South Pacific on the east and the Firth of Thames/Hauraki Gulf on the west.
These mountains dominate the peninsula. Crossable by twisting, partially-paved roads in only a couple of places, the forested spine is too rugged for habitations other than isolated homes.
Most Coromandel towns and villages cling to its rugged shorelines, and none have populations greater than 7,500. The torturous peninsular roads ensure the pace of life is slow here.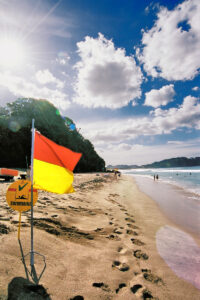 The Coromandel has long attracted folks who want to get away from it all. Its inviting beach communities and remote mountainsides have welcomed hippies, recluses, retirees, summer residents, and Auckland weekenders to a relaxed lifestyle extreme even by New Zealand standards.
Arts & crafts galleries abound. There are a couple of golf courses squeezed onto limited coastal acres. Deep sea fishing boats hire out from several Coromandel towns. Seafood and fresh local produce ensure quality dining.
Digging your own temporary hot tub during low tide at Hot Water Beach competes with the strolling the seductive Cathedral Beach as the Coromandel's best-known activities. Home At First's unique B&B's are on both Coromandel coasts. All feature fine views, superb breakfasts, excellent hosting, and relaxed getaways.
GETTING THERE: The Coromandel requires less than 3 hours drive time from Auckland. Once on the Coromandel roads become narrow, winding, and very scenic.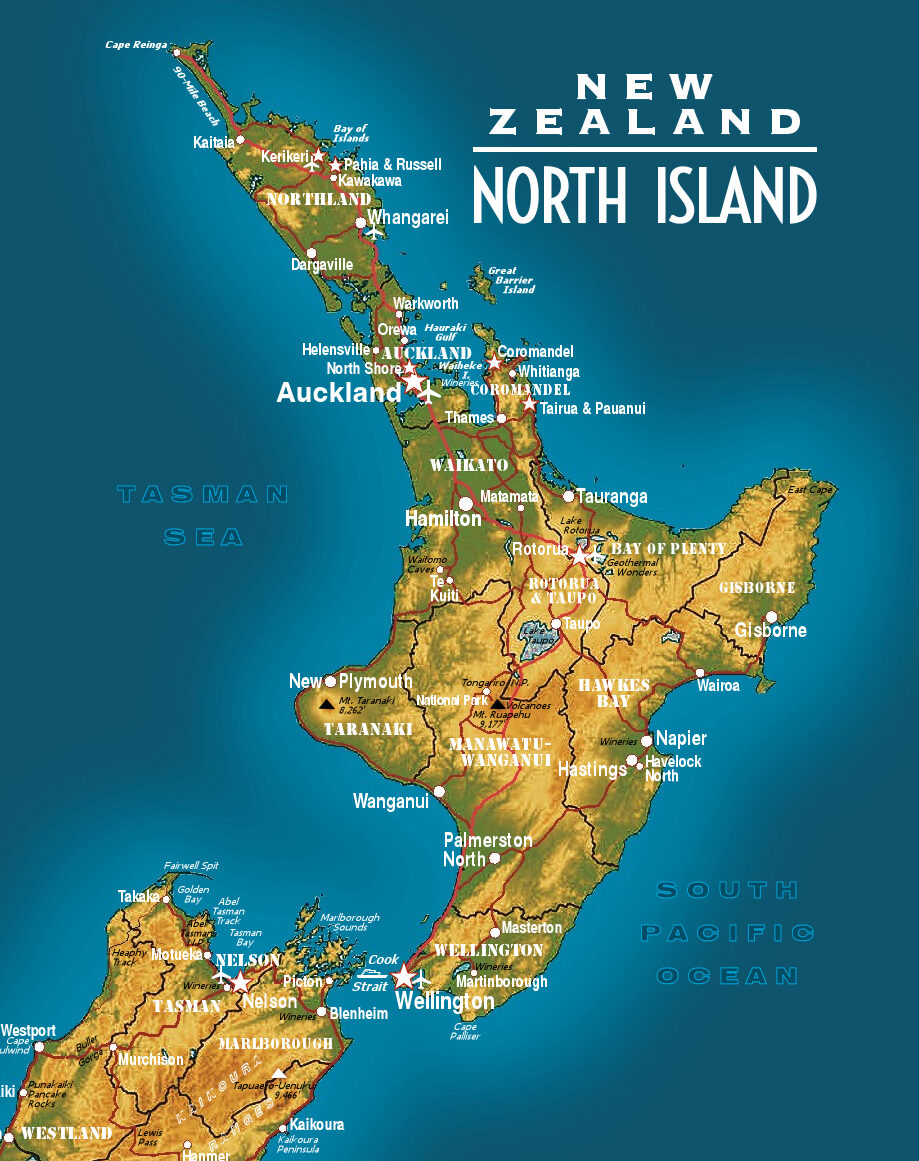 NORTH ISLAND REGION 4: ROTORUA/TAUPO
4. ROTORUA & TAUPO: New Zealand tourism began when visitors first came to Rotorua for the "baths" (geothermal spas) in the late 1800's. In the ensuing 130-plus years, tourism has been more responsible for the economic development of Rotorua/Taupo than any North Island region.
Most of the principal attractions of Rotorua/Taupo are geo-thermal related. Now a nationally important producer of energy and tourism dollars, this tectonic region features hot springs, bubbling mud, geyser fields, trout-filled caldera lakes & other geothermal oddities. Rotorua/Taupo was once viewed as New Zealand's Bad Lands — an ideal concession for "primitive" Maori.
Since the 19th century Rotorua/Taupo's attractions have expanded. Visitors come to fish its many lakes & streams, to play golf at several fine courses (including one that is geothermally active), and to go kayaking on its lakes, rafting on its rushing streams, & mountain biking (Rotorua is a world-class mountain-biking destination).
Of course, visitors still flock to the spas. Rotorua offers several spas, including some that pamper lavishly.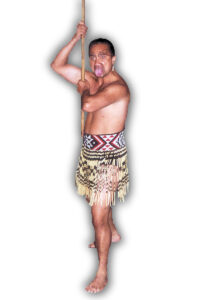 When tourism prospered, Rotorua/Taupo's Maori cashed in. Among the most visited visitor sites in New Zealand are at Rotorua's Whakarewarewa and Waiotapu thermal reserves. Both are owned by local Maori groups.
Walking through these geothermal parks offers experiences (geysers, glopping hot mud, steaming technicolor ponds) found in few other places on earth.
Whakarewarewa also offers entry to a Maori village and the chance to interact with Maori craftsmen, artists, & food-producers. Reserving an authentic Maori hangi supper at the nearby Tamaki Maori Village is another popular way to experience Maori life.
These commercial interfaces in Rotorua (as in Waitangi in Northland) provide the best opportunities for visitors to encounter New Zealand's original settlers. Here visitors gain a fuller understanding of the land the Maori call Aotearoa.
Home At First's Rotorua/Taupo lodgings are upscale B&B's in homes and lodges in locations around Lake Rotorua and Lake Taupo. All have attentive, friendly, knowledgeable hosts, provide delicious breakfasts, and are close to key regional attractions.

GETTING THERE: Rotorua/Taupo Region is 3 hours drive south from the Coromandel Peninsula or from Auckland. En route a convenient stop is at the permanent Hobbiton set installation from the Lord of Rings movies near Matamata 1 hour northwest of Rotorua.
NORTH ISLAND REGION 5: HAWKE'S BAY
5. HAWKE'S BAY: One of the hot-button debates between the North & South Islands is about wine. Hawke's Bay is the North Island's largest wine region and second only to the South Island's Marlborough overall.
Built on its excellent Chardonnay, Hawke's Bay has diversified, now producing a wide variety of wines, including some distinctive reds. Visitors interested in wine will find a stop at Hawke's Bay a convenient addition to any North Island itinerary.
Just 3 hours drive southeast of Rotorua/Taupo, Hawke's Bay's 3 principal cities — Napier, Hastings, and Havelock North — are clustered together on/near the South Pacific coast at Hawke Bay. Home At First's Hawke's Bay lodgings — upscale B&B's or boutique inns — are set near these three small cities.
The Hawke's Bay Wine Trail leading to dozens of regional wineries is accessed here, and may be done by organized tour, or independently by bicycle or car. With Hawke's Bay a lush agricultural region on the South Pacific coast, expect lots of fresh food & seafood available to accompany your wine.
GETTING THERE: Napier is 3 hours drive southeast from Rotorua/Taupo. The route crosses a small, rugged range separating the coastal plain from the central plateau.
NORTH ISLAND REGION 6: WELLINGTON
6. WELLINGTON: New Zealand's capital city is at the bottom of the North Island, in the center of New Zealand, and — oddly — about 50 miles east of the top of the South Island.
Built on the shore of nearly circular Wellington Bay, the city is protected by a range of hills from the Cook Strait, which separates the North and South Islands. The Wellington region is the nation's second most-populated area. New Zealand's government centers here, the world's southernmost national capital.
American visitors point out similarities between Wellington and San Francisco: hilly, bayside cities lined with painted, wood-framed houses; quick access to the ocean; strong youth cultures; lively arts, food, & music scenes. Wellington offers excellent museums — especially the Te Papa national museum, probably New Zealand's best.
Wellington combines both sophisticated/urban chic and a cutting-edge counter-culture vibe. The city's biennial New Zealand Festival of the Arts celebrates high culture while its New Zealand Fringe Festival presents a very irreverent look at culture annually.
Walking along Oriental Bay shore in the center of Wellington reveals that sailing is nearly as important here as it is in Auckland. Driving up to Mt. Victoria overlook displays the city's geography. Taking the old-time cable car from the city center up to its Kelburn end-station travels through the terraces of classic wooden Wellington houses and leads to the exceptional Botanical Garden and Carter Observatory/Planetarium.
Wellington also attracts visitors as New Zealand's film production capital, Wellywood — a magnet for fans of the Lord of the Rings & Hobbit trilogies, and the Narnia fantasies — which offers tours of production facilities film locations.
Driving excursions north from Wellington access the beaches and golf courses of the Kapiti Coast, plus the wildlife preserve on Kapiti Island. Inland the frontier-style town of Martinborough, charms visitors as the sleepy-cool center of a boutique wine region featuring surprising Pinot Noir bottles.

GETTING THERE: Depending on the route taken and intermediate stops made, Wellington is 6-9 hours drive south from Rotorua/Taupo.
South of Lake Taupo the route crosses through New Zealand's largest volcanic region, with three recently-active volcanoes reaching up to 9,200′. Optional flights from Rotorua require an hour to reach Wellington. From Hawke's Bay, the drive to Wellington takes 5-6 hours depending upon the route taken.
Sample Home At First North Island Lodgings
  Shown and described below is a selection of popular Home At First lodgings in four different regions of New Zealand's North Island. They appear here as examples of different sizes and capacities and illustrate the uniqueness of our individual lodgings & locations and the uniform standard of quality and service found in all Home At First North Island lodgings. All have bedrooms with private bathrooms, use of public spaces (lounges, dining rooms, terraces & balconies), private parking, and come with a delightful breakfast daily.
All Home At First lodgings in New Zealand have welcoming, knowledgeable, accessible hosts who see to your comfort, answer your questions, make recommendations for what to see and do in their region, and can help with reservations for dining and activities. The high quality of the lodgings and the hosting ensure the success of your visit to each New Zealand region on your itinerary.
NOTE — FOR BEST VIEWING: each of the following apartment descriptions begins with a slide show.
These slide shows do not advance automatically. You can move from slide to slide (forward or reverse) by clicking on the direction arrows below each slide.
To see any slide in large format on a PC, "right click" on the selected slide and click on the "Open image in new tab" (Chrome) or "View Background Image" (Firefox).
NORTHLAND
BOUTIQUE INNS IN/AROUND THE BAY OF ISLANDS
Towns: Kerikeri, Pahia. Nearest Airports: Kerikeri, Whangarei.
AUCKLAND
BOUTIQUE INNS ON/AROUND WAITEMATA HARBOUR
Auckland neighborhoods & suburbs. Nearest Airports: Auckland.
THE COROMANDEL
BOUTIQUE INNS ON THE COROMANDEL PENINSULA
Towns: Coromandel, Matarangi, Whitianga, Tairua. Nearest Airport: Auckland.
ROTORUA/TAUPO
BOUTIQUE INNS ON/AROUND LAKE ROTORUA
Rotorua & Taupo neighborhoods & suburbs. Nearest Airport: Rotorua.
HOW TO BUILD, PRICE, AND BOOK YOUR TRIP —
Contact HOME AT FIRST: (800) 523-5842 (toll-free USA & Canada) • +1 610 543 4348 (worldwide) • info@homeatfirst.com