New Zealand's
SOUTH ISLAND
PARADISE, SOUTH ISLAND: One could argue that much of the South Island qualifies as paradise. But the broad, isolated, Paradise mountain valley north of Queenstown, east of Milford Sound, and west of Wanaka seems to us to be especially well-suited as the idealized South Island paradise. The mountains are glorious here, and the grazing land nearly lush.
Not too far to the east in Otago the rain shadow of the Southern Alps guarantees arid conditions. To the west the rainforests of Fiordland drip with rainfall. But here in this protected place the Dart River irrigates the landscape with the snowmelt off the nearly surrounding mountains, making this place a paradise for sheep. The extraordinary scenery attracts film makers, too. Parts of the Paradise valley and nearby Glenorchy were used as sets in The Lord of the Rings and the Hobbit movies.
NEW ZEALAND'S BETTER HALF
THE SOU
T

H ISLAND
LODGINGS: Unique, Upscale B&B's & Boutique Inns
6 MORE REGIONS OF REMARKABLE CULTURAL & SCENIC VARIETY
New Zealand's South Islanders bristle at comparisons with the North Island. One-third larger than the North Island, the South Island is home to fewer than a quarter of the Kiwis, has fewer and smaller cities, colder and more extreme weather, less farmland, and vastly fewer paved roads.
   South Islanders revel in these facts. They mean their island has more mountains for skiing, climbing, hiking, and hunting. Streams are wilder, fishing more challenging, the scenery vaster and more dramatic on the South Island. Fewer roads and people impact the South Island's incomparable natural environment (or bother you while you enjoy exploring).
The South Island can be wild. The wild Tasman Sea pounds its narrow West Coast, hemmed in by the great glaciated barrier of the Southern Alps. The wild Southern Ocean lets Antarctic waters invade the far South Coast. East of the Southern Alps nearly unpopulated, arid rain shadow land borders swaths of completely unpopulated rain forest that ranks among the wettest places on earth.
Most know the South Island has Mt. Cook — highest mountain in New Zealand, where Sir Edmund Hillary trained before the first ascent of Everest. Here to are huge, high plateau farm stations populated with millions of sheep. One of the world's great adventure resort towns, Queenstown; and the Milford Track ("the finest walk in the world") draw visitors from everywhere.
   Fewer know about New Zealand's largest wine-producing region, Marlborough, or the country's French colonial history at Akaroa near Christchurch. Visitors are surprised by the gold mining region from Arrowtown (near Queenstown) into Central Otago.
   More surprises include two accessible, temperate zone glaciers — Fox and Franz Josef — along the West Coast. There's a "Scottish city", Dunedin with rare birds. And several other of New Zealand's "great walks" — Routeburn, Heaphy, Kepler, Abel Tasman, Paparoa, and Rakiura — are found on the South Island.
Then there are the little wonders unmatched on the North Island: the albatross colony on the Otago Peninsula; parrots and penguins in the same ecosystem (Fiordland); whale watching, including deep-water sperm whales (Kaikoura Coast); and the Dark Sky Reserve with some of the world's darkest, clearest night skies for stargazing (Mackenzie Country).
On the South Island, as on the North Island, as you drive from region to region everything changes. Prepare to be amazed.
SOUTH ISLAND REGION 1: NELSON
1. NELSON: Home At First's Nelson lodgings are boutique inns and upscale B&B's with personable hosting located in the attractive small university city of Nelson at the top of the South Island.
  Nelson is youthful, with several fine restaurants, many lively cafés, and an active night life. The town is very walkable, with the portions of town center traffic-free.
  The Nelson region features the sunniest weather in New Zealand and a warmer climate than most of the South Island and Wellington at the southern extreme of the North Island. The region is ideal for outdoor activities, and offers some of New Zealand's best:
• New Zealand's Most Popular National Park: Abel Tasman National Park offers guided & catered sea kayaking as well as day and multi-day hiking.
• A Superb Wine Region with numerous wineries offering tastings (and some with light meals) a short drive into the hills to the west of Nelson city. Wine Trail maps are available on-line and at the Nelson Tourist Information Office.
• Sunbathing & Swimming in New Zealand's on some of its best — and emptiest — beaches on Tasman Bay and Golden Bay.
• The Marlborough Sounds offer organized multi-day hiking, kayaking, and mountain biking along the long-distance Queen Charlotte Track, and day cruising with the Marlborough Sounds Mail Boat.
• Car touring from Nelson puts the wineries of New Zealand's largest wine-producing region, Marlborough, within day-trip reach to the east.
  Driving northwest from Nelson along the coast leads to the striking Tasman Bay beaches, the laid-back small town of Collingwood, and the curious sand peninsula, Fairwell Spit at the northernmost point of the South Island.
• A&P Shows: Watch for regional & local
Agricultural & Pastoral (A&P) Shows as you drive throughout New Zealand. These Kiwi country fairs are great fun and excellent opportunities to see New Zealanders at play.
  Several weekend A&P Shows are held in/near the Nelson Region each year: at Blenheim (Marlborough Region) and Richmond (by Nelson) in November; Motueka (by Abel Tasman) in December; Takaka (Golden Bay) in January; and Murchison (south Nelson Region) in February.
GETTING TO NELSON: Coming from the North Island is possible by taking the interisland ferry across the Cook Strait from Wellington, but the journey takes most of a day and the strait is notoriously rough.
It is our opinion that Nelson is best reached by domestic flight from Wellington (35min.), or Auckland (90min.) airports. Pick-up your rental car here for the short (15min.) drive in minor traffic to your Nelson lodging.
SOUTH ISLAND REGION 2: WESTLAND
2. WESTLAND: Much like California's coastal ranges and the Andes in Chile, the great spine of the Southern Alps separates a narrow temperate maritime region — Westland — from the rest of the South Island.
   Westland is the southern portion of New Zealand's Wild West Coast: frequently lashed by incoming storms from the churning Tasman Sea, storms that fill is dozens of coastal rivers and plaster the Southern Alps with deep snow, keeping many peaks permanently snowcapped and feeding rare temperate zone glaciers that nearly reach the sea.
Westland has a frontier reputation like America's Wild West. Learning from the Maori of the region's mineral wealth, British and European prospectors and miners rushed to Westland to strike it rich. Few did and few stayed very long. Those who did often tried farming the few tractable acres scattered between the rivers rushing from the mountains to the sea.
There are few communities. Towns are rare. Greymouth, at the western end of the one railway and one of three roads that cross the Southern Alps, is the West Coast's biggest town, with around 8,300 residents. Originally a Maori stronghold, much of Greymouth and most of Westland passed into the hands of European settlers in 1860. Almost immediately fortune seekers flooded Westland hunting coal, gold, and other valuable minerals.
Although coal and cement continue to be economically important in the northern West Coast, the region's enduring treasures are the extraordinary wonders of its natural setting:
Attractions from North to South in Westland:
• Buller Gorge: the rugged earthquake fault canyon entrance to Westland from Nelson offers New Zealand's longest suspension footbridge, jet boating, gold panning, walking, and zip line thrill rides.
• The Wild Tasman Sea Coast: the cold ocean churns into milky foam by currents and winds: great for surfers and driftwood.
• Paparoa National Park & the Pancake Rocks: northern Westland's own coastal park with views of the strange Punakaiki (Pancake) Rocks.
• Greenstone Jade Jewelry & Crafts: the wild rivers of Westland are a great natural source for Maori greenstone jade. Find it in craft shops up and down the coast, and especially in shops in the town of Hokitika.
• Glow Worm Forests: giving the whole family a new reason to take an after-dinner walk together.
• The White Herons of Okarito Lagoon: eco-tours by boat or on foot through this singular habitat for kotuku — great white herons.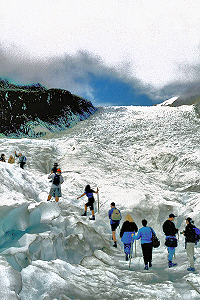 • Westland/Tai Poutini National Park and the Franz Josef & Fox Glaciers: two great glaciers fall from between the highest alpine peaks west into the rain forest and almost to the Tasman Sea. See them, fly over them, land on them, hike and climb them from the sub-alpine villages of Fox Glacier and Franz Josef. Westland National Park is a recognized UNESCO World Heritage Site.
• The High Southern Alps: the great spine of the Southern Alps separates Westland from the rest of the South Island. Helicopters and fixed-wing aircraft offer scenic flights up, over, and on to these snowcapped coastal giants, including Mt. Cook/Aoraki, New Zealand's highest peak (12,218′).
• Haast Pass: Only 3 road routes cross the Southern Alps to reach the West Coast. The highest and most dramatic road crossing of the Southern Alps takes Highway 6 south from Westland across the Haast Pass to Wanaka, Central Otago, and Queenstown.
• Jackson Bay: the coast road ends at this lonely outpost of far South Westland on a grand natural harbor backed by the peaks of Mt. Aspiring National Park. While there's not much to Jackson Bay beyond the grand scenery, the end of the road is graced with the Lobster Pot seafood diner that adds a delicious goal to making the trip.
Activities in Westland: In addition to car touring, visitors come for the outstanding hiking, mountaineering, fishing, hunting, shopping for crafts, bird watching, and gold panning.
Home At First's Westland lodgings are quality B&B's with delightful hosts set in rural locations near Hokitika (30min south of Greymouth) and near Fox Glacier (2hrs south of Hokitika). Restaurants are few and far between in Westland, but guests will find restaurants in Hokitika and Fox Glacier.
GETTING THERE: From Nelson, two routes lead to Westland at Greymouth. Both routes require about 4 hours of driving, and both cross the Southern Alps via the very rugged (and earthquake prone) Upper Buller Gorge. After Buller, one route (using Route 6) heads due west for the Tasman Coast via the Lower Buller Gorge.
Route 6 follows the coast — sometimes dramatically — and passes the Punakaiki (Pancake) Rocks, a geological landmark worth a stop 35 minutes before reaching Greymouth.
Meanwhile, Route 69 diverges from Route 6 just after the Upper Buller Gorge and heads southwest on an inland diagonal that joins Route 7 at Reefton and follows the Grey River valley to Greymouth where it ends at Route 6.
After Greymouth, Route 6 hugs the Tasman Coast for 25 minutes to Home At First's Hokitika area lodgings. Total drive time Nelson to Hokitika: 4-4½ hours non-stop, but more realistically 6-7 hours with stops.
Guests pushing on to Home At First's Fox Glacier lodgings continue south another 2+ hours non-stop. This section of Route 6 is less coastal and more inland, as it must cross the myriad drainage rivers of the highest of the Southern Alps just to the east.
Total drive time Nelson to Fox Glacier: 6½-9 hours depending upon route taken and intermediate stops.
SOUTH ISLAND REGION 3: QUEENSTOWN
3. QUEENSTOWN: Vibrant, trendy, wonderfully walkable, large town in a fabulous setting wedged between a stunning, turquoise lake and rugged, photogenic mountains.
   Queenstown is New Zealand's outdoor adventure capital: home of extreme and not-so-extreme sport. People come to Queenstown to encounter challenge, dare fate, accept risk, and test limits in an improbably beautiful environment that is challenging, daring, risky, and limitless.
More than any other population center on the South Island, Queenstown exists for tourism. Expect lots of visitors, and expect an ever-expanding infrastructure with new things to see and do.
   The original home of bungy jumping has spawned an extreme sport industry second to none. But while Queenstown tantalizes serious adrenaline junkies, it offers much more than extreme adventure. Here's a partial listing of local activities:
EXPLORING QUEENSTOWN ON FOOT: Downtown Queenstown is big enough to provide hundreds of shops, restaurants, and other services, and small enough to be walked easily. Its lakeside park has a beach & a commercial pier. Things to do include:
• Shopping: especially for local crafts & fashions in boutiques throughout Queenstown.
• Restaurants, Bars, & Night Life: Downtown Queenstown offers restaurants and night life for every age, taste, and budget.
• Ride the Skyline Gondola: Take the enclosed cable car that rises steeply from Queenstown to the Skyline complex (restaurant, scenic viewpoints, walking paths, luge runs) on Bob's Peak 1/4 mile above town.
• Sailing Lake Wakatipu: Depart Queenstown's pier on the historic steamship SS Earnslaw for a nostalgic cruise on Lake Wakatipu.

OUTDOOR ADVENTURES & EXTREME SPORTS: Operators of all manner of regional activities have storefront booking offices in downtown Queenstown. Sign up for your adventure and join the group for the bus/van ride to the activity location. Organized commercial activities include:
• Bungy Jumping & Aerial Swinging: more than a half-dozen heart-stopping leaps to choose from.
• Day Hikes: The Routeburn Track, others.
• Flights & Bus Tours to Milford Sound can eliminate the need of the long drive &/or overnighting in Fiordland.
• Horse Trekking amid amazing scenery used in "Lord of the Rings" movies.
• Jet Boating: Shotover Jet, Dart River Jet.
• Cycling: Mountain Biking & touring; day & multi-day trips, like the Otago Central Rail Trail.
• Multiple Day Walking (Trekking): Outfitters and Guided Groups for several of New Zealand's "Great Walks" (Milford Track, Routeburn Track, Hollyford Track & others) operate from Queenstown.
• Parasailing: Suspended from a parachute tethered to a boat on Lake Wakatipu. From Queenstown pier.
• Skiing: Snow is expected on the 4 regional slopes during winter months (July-September).

LESS EXTREME ACTIVITIES IN/AROUND QUEENSTOWN:
• Golf: Four courses — Queenstown Kelvin Heights and Jack's Point in greater Queenstown, and Arrowtown Golf Club and Millbrook Resort in Arrowtown — welcome visitors with friendly members & challenging golf.
• Wine Tasting: Some of the world's southernmost vineyards produce delightful wines within thirty minutes of Queenstown. Gibbston Valley Wines on Rt. 6 east of Queenstown offers wine tours, wine tastings, purchase of fine wines, and delightful luncheons.
• Walking the Routeburn Track: Although the complete trek requires three days and two nights, it is possible to walk the eastern portion of this famous hiking trail as a day-hike across swing bridges and through the temperate rain forest to Routeburn Flats and back (4-5 hours).

GETTING THERE: Queenstown is an unforgettably scenic 6-8hrs drive across the Haast Pass from Westland. Queenstown is just over 2hrs drive southwest to Te Anau in Fiordland, and 3.5hr drive from Milford Sound, which, although west of Queenstown, requires driving 270º clockwise: east, south, then northwest.
• Similarly, Queenstown is just over 3.5hrs west of Dunedin on the Pacific Coast (via the sparsely-settled, frontier-like Central Otago region).
• To the north, Mount Cook is a very scenic 3+ hours from Queenstown, and Tekapo (a little further north past the turn-off for Mt. Cook) is just over 3hrs from Queenstown.
• To reach Tekapo with an intermediate stop at Mt. Cook, you will drive at least 4.5hrs.
• Those wanting to drive to Christchurch or Christchurch Airport from Queenstown need to plan for at least 6hrs in the car.
• Roads in all directions to/from Queenstown are among the most scenic in New Zealand, with little traffic congestion except around Dunedin, Christchurch, and Queenstown itself.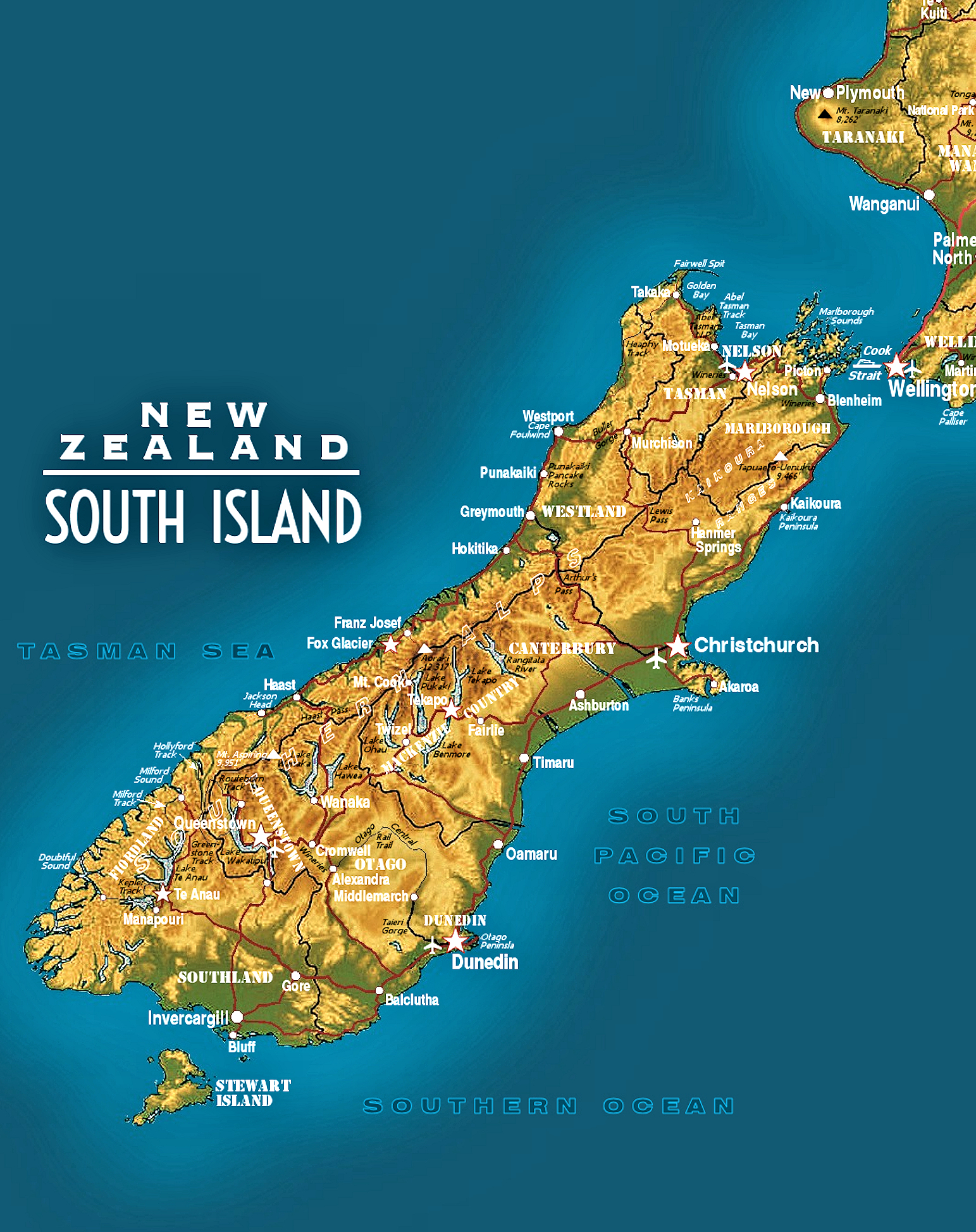 SOUTH ISLAND REGION 4: FIORDLAND
4. FIORDLAND: Experience a unique national park landscape worthy of World Heritage status. Fiordland is the protected, pristine habitat where parrots meet penguins, where deep, clean fingers of the Tasman Sea and Southern Ocean invade the 10,000 foot high Southern Alps.
  Fiordland is a land of unexpected juxtaposition: jungles, oceans, and snowcaps. Here several famed walking tracks explore the mountains and the fiords.
  Most people come to Fiordland for one or both of the two Milfords: Milford Sound and the Milford Track. But many people depart Fiordland having discovered something else: the challenge of modern eco-tourism — protecting the most fragile of environments while sharing its rich treasures with the world.
  Fiordland gives New Zealand its greatest environmental test: can this fragile, unique region be the nation's biggest attraction and not become overwhelmed by the pressures of tourism?
Attractions in Fiordland: Here's a partial listing of local activities that keep travelers from around the world making pilgrimages to the far southwestern corner of New Zealand's South Island:
• Exploring Fiordland by car or bus: For visitors, all Fiordland roads ultimately lead to the water's edge at Milford Sound. Highway 94 travels north 60 miles from Te Anau town to Milford Sound. En route it parallels Lake Te Anau, and passes the trailheads of the Routeburn and Hollyford Tracks. Climactically Highway 94 descends steeply out of the Darran Mountains via the rough-hewn Homer Tunnel from alpine conditions to sea-level at Milford Sound.
• Exploring Fiordland by boat: Visitors to Milford Sound can board cruise boats for trips onto the fjord lasting from an hour to overnight.
  Day cruisers also sail Lake Te Anau. Some take walkers to the trailhead of the Milford Track. An unusual cruise-bus-cruise combination takes visitors across Lake Manapouri by boat, across the Wilmot Pass by bus, then onto Doubtful Sound for day or overnight cruises.
• Exploring Fiordland on foot: Fiordland is the region of New Zealand with the highest concentration of Great Walks.
  Four of these "tracks" — Milford, Routeburn, Hollyford, and Kepler — require multiple days to be experienced in their entirety. Visitors with limited time, energy, or funds can get a glimpse of each of these walks by taking day hikes: commercially organized or on their own.
• Exploring Fiordland by air: Numerous flight-seeing options enable visitors to see the varied terrain of Fiordland from the air by helicopter or small, fixed wing aircraft. Long-distance walkers of the Hollyford Track have an option of flying out from Martin's Bay to Milford Sound.
Activities in Fiordland: Hiking the Milford, Kepler, Routeburn, Greenstone, and Hollyford Tracks. Cruising the region's great fiords: Milford, Doubtful and Dusky. Riding the Kingston Flyer, one of the last great legacies of New Zealand's glorious national steam narrow-gauge rail system.
Home At First's Lodgings in Fiordland: Quality bed and breakfast lodgings in Te Anau, the largest town and activity center for Fiordland.
GETTING AROUND FIORDLAND: Use of a rental car is essential here. Except for occasional bottlenecks at the historic Homer Tunnel near Milford, roads in Fiordland are usually lightly traveled.
GETTING TO/FROM FIORDLAND: Home At First guests arrive in Fiordland by rental car, normally coming south and west from Queenstown in 2.5-3 hours.
Most depart Te Anau for Queenstown, or further northeast to Mt. Cook/Lake Tekapo in 5-6 scenic hours, or east 3-4.5 hours to Dunedin.


SOUTH ISLAND REGION 5: AORAKI MT. COOK & MACKENZIE COUNTRY
5. MACKENZIE COUNTRY: MT. COOK & LAKE TEKAPO. The highest Southern Alps and remotest sheep stations meet on the high Canterbury plain in Mackenzie Country. Arid high plains, rugged alpine mountains, and glacier-fed lakes converge to form the extraordinarily scenic, largely unpopulated outback of Lake Tekapo and Aoraki/Mt. Cook.
Mackenzie Country is named in honor of the alleged Scottish sheep rustler who first dared to graze his purloined flock on this immense, grassy range. The independent frontier spirit of James Mckenzie (as his name was then spelled) is still found among the residents of New Zealand's outback.
   With only a few small settlements in the region, meeting the locals is not easy. But staying at a Home At First lodging in Mt. Cook village or Lake Tekapo village does promise encounters with at least a few rugged individuals who relish the challenges of life in Mackenzie Country. Explore these wide-open expanses by car, by walking, and by alpine flights.
Attractions in Mackenzie Country: Mt. Cook and the Southern Alps and the region's many lakes with their surprising turquoise color.
• Lake Pukaki, Mt. Cook, & the Hooker Valley: New Zealand's highest mountain, Aoraki/Mt. Cook, lords over a turquoise lake and a remarkable glacier valley that invites walking and other outdoors activities.
• Lake Tekapo & Mackenzie Country: the broad expanses of New Zealand's remotest ranch country include dramatic vistas day and night from atop Mt. John. A drive up the mountain promises views of Lakes Alexandrina, McGregor, and Tekapo, with the snowcapped main spine of the Southern Alps and the rugged Two Thumb Range lining the horizon.
Activities in Mackenzie Country: challenging hiking, excellent fishing, the country's top-ranked mountaineering, scenic flights, mountain biking, horseback riding, stargazing.
   Stargazing? Lake Tekapo and the neighboring Mt. John Observatory offer the clearest skies in New Zealand. This area has become the centerpiece of the world's largest International Dark Sky Reserve.
Home At First's Mackenzie Country lodgings are quality B&B's and small inns set in the villages of Mt. Cook and Lake Tekapo. Although restaurants are few and far between in Mackenzie Country, guests will find restaurants in their home village.
GETTING AROUND MACKENZIE COUNTRY: Use of a rental car is essential here. If you explore the back country on its many miles of unpaved roads, expect your car to be covered in road dust, and watch for rabbits (especially) and sheep (occasionally) on these dusty tracks.
GETTING TO MACKENZIE COUNTRY: Guests travel to Mt. Cook and Lake Tekapo by rental car, normally coming northeast from Queenstown — a very scenic 3-4 hour drive. Most depart Mackenzie Country — the Mt. Cook and Lake Tekapo region — for Christchurch, a drive of 3-4.5 hours.
SOUTH ISLAND REGION 6: THE EAST COAST
6. THE EAST COAST OF THE SOUTH ISLAND extends 500 miles from the Southern Ocean at the island's southeastern corner to the Cook Strait at its northeastern corner.
   This region is the most populous portion of the South Island, and home to its two largest cities, Christchurch and Dunedin.
   Unlike the island's rugged west coast along the Tasman, the east coast is relatively devoid of inlets caused by major glaciation. New Zealand Highway 1 parallels the ocean, often hugging the coastline of the western South Pacific nearly the length of the South Island.
   Its journey starts near the town of Balclutha near the Southland Region in the island's southeast. Ultimately, the route reaches Blenheim in the northeastern Marlborough Region across the Cook Strait 50 miles southwest of Wellington.
   En route Highway 1 passes through long stretches of the South Island's fertile, productive coastal plain, visits Dunedin and Christchurch and numerous smaller habitations lining the South Pacific shore. It traverses the eastern limits of Otago and Canterbury regions. Approaching Marlborough, Route 1 dramatically avoids the high Kaikoura Range by crowding the northern Canterbury coast.
After the exciting landscapes of Nelson & the Abel Tasman, the West Coast, Queenstown, Fiordland, and Mackenzie Country & the Southern Alps, the East Coast of the South Island can seem subdued, even anti-climactic. And, for many of you, a driving trip through this region will have the singular purpose of reaching your departure airport in Christchurch or Dunedin. Nevertheless, the sheer size of the East Coast promises a number of worthwhile places to visit:

Attractions along the East Coast from South to North:
• Catlins Forest Park: spread across the southeastern corner of the South Island, this sparsely populated, heavily wooded section is a scenic region with nearly unique flora, fauna, and geography. Yellow-eyed penguins and other rare birds are found here in this protected habitat.
• Dunedin, Otago: The South Island's second city (pop. about 130,000) has associations with Scotland that stem from its original British colony, including its name.
   A university town on scenic, deep-water Otago harbor, protected by equally scenic Otago Peninsula. Dunedin features some grand stone buildings, none more beloved locally than "Gingerbread George" the city's signature railway station.
   But the major attractions of Dunedin lay outside of town, especially on the Otago Peninsula where visitors seek out expansive sand beaches, quirky Larnach Castle, New Zealand's only breeding colony of Royal Albatross, and tours to see yellow-eyed penguins in their seaside habitat.
   Dunedin Railways offers several scenic tourist round-trips from Gingerbread George to points north of town and, especially, inland through the rugged Taieri Gorge, reachable only by rail.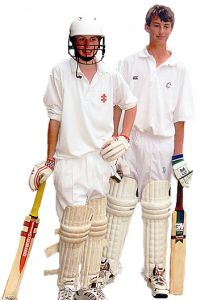 • Christchurch, Canterbury: Some 225 miles northeast of Dunedin is New Zealand's "most English" city, Christchurch. Named after Oxford University's Christ Church college and church, the largest city (pop. 380,000) of the South Island is second in population only to Auckland.
   Originally chartered in 1856, Christchurch is New Zealand's oldest city. Established by a company of resolute and religious Englishmen, Christchurch was deemed to be a piece of England in the South Pacific.
   In significant ways Christchurch maintains ties to its English roots. Many Cantabrians (Christchurch-ers) are keen-to-passionate-even-competitive gardeners. Cricket is still played in the city's properly-English Hagley Park. Punting on the River Avon is as vital a ritual in central Christchurch, as it is in Oxford or Cambridge, England. Very traditional Christchurch Golf Club (1873) claims to be the 7th oldest outside of the U.K.
Curiously, the harborside town of Akaroa on the volcanically-formed Banks Peninsula 1½ hours drive southeast of Christchurch has French roots. The little town is a vestige of an attempt by the Kingdom of France to establish its own New Zealand colony only days after the United Kingdom annexed the islands. Charming Akaroa maintains its provincial French-ness to draw visitors, which it does with great success.
A fine harbor on the South Pacific at nearby Lyttleton has welcomed immigrants to the South Island for 180 years, and, more recently, cruise ships full of tourists. Lyttleton Harbour — which separates greater Christchurch from the Banks Peninsula — also serves as a main export port for the wealth of agricultural products of the fertile Canterbury Plain that extends inland for more than 5,000 square miles.
Christchurch expanded outward from its historic central district centered on 120-year-old ChristChurch Cathedral. Christchurch Airport — which some years offers direct flights to/from North America — was New Zealand's first international airport.
   Christchurch has been an important rail hub, with lines running south to Dunedin and Invercargill, north to the Cook Strait ferries at Picton via the Kaikoura Coast, and west through the Southern Alps via Arthur's Pass to Greymouth on the Tasman Sea in Westland. The line to Greymouth hosts the famed-for-its-scenery Tranzalpine train, a daily round-trip passenger excursion.
Christchurch and its surrounding region underwent a series of devastating earthquakes between 2010-2012. The quakes badly damaged the regional infrastructure, killed upwards of 200 people, and required the demolition of over 1,500 buildings, including many in the center of Christchurch city. Indeed, after being previously damaged by 5 earthquakes, the tower of ChristChurch Cathedral was destroyed by the February, 2011, earthquake.
   After more than a decade the city's population and economy have stabilized. But the city center, including the cathedral, is still rebuilding.
   While we are not advocates of "tragedy tourism", a visit to Christchurch does let one see the resilience of its residents who live in one of the world's most geologically active places. The fresh memories of the Christchurch earthquakes remind us of the challenging realities of living in New Zealand, where earthquakes, volcanoes, and other geothermal forces can suddenly affect life, much like tornadoes, hurricanes, blizzards, drought, wildfires, pandemics, and war do in other parts of the world.
• The Kaikoura Coast & Marlborough: North of Christchurch the Canterbury Plain narrows, becoming wedged between the Kaikoura Mountain ranges and the sea. New Zealand Highway 1 is squeezed east.
   Eventually the highway traces the scenic coastline starting a dozen miles south of Kaikoura, the last town along the Canterbury coast. Kaikoura is a tourist trap, but one with a nearly unique major attraction: deep-water whale-watching. Stopping here permits the possibility of observing rarely-seen toothed sperm whales close to shore.
   Observing dolphins and seals in the wild is also on the tourist menu here, but much less unique, as dolphins can be readily seen in the Bay of Islands in the North Island, and seals can be seen at strategic oceanside pullover points along the Highway 1 between Kaikoura and the Marlborough Region.
Once in Marlborough, Highway 1 turns inland for the regional capital of Blenheim. Here Highway 1 turns north for Picton, the embarkation port for Cook Strait ferries to Wellington. Blenheim is also the start of NZ Highway 6 west for Nelson and the Abel Tasman.
   For oenophiles, Blenheim is the central market town of New Zealand's largest and most important wine region, Marlborough, home of world-famous New Zealand white wines, especially Sauvignon Blanc. The Blenheim area has a Wine Trail connecting wineries open to visitors.
GETTING THERE: Depending on the route taken and intermediate stops made, Dunedin is 4-6 hours drive east from Queenstown or from Te Anau in Fiordland (via Balclutha).
• The drive from Queenstown to Christchurch requires 6 hours (non-stop).
• Dunedin to Christchurch is a 5-hour drive.
• Christchurch is 4 hours from Mt Cook, 3 hours from Lake Tekapo.
• Christchurch to Blenheim requires 4 hours.
• Blenheim to Nelson is another 2 hours in the car.
• Alternatively, the scenic, mountainous inland route from Christchurch to Nelson (via Lewis Pass) is a 5½ hour drive.
Sample Home At First South Island Lodgings
  Shown and described below is a selection of popular Home At First lodgings in four different regions of New Zealand's South Island. They are shown here as examples of different sizes and capacities and illustrate the uniqueness of our individual lodgings & locations and the uniform standard of quality and service found in all Home At First South Island lodgings.
All have bedrooms with private bathrooms, use of public spaces (lounges, dining rooms, terraces & balconies), private parking, and come with a delightful breakfast daily.
All Home At First lodgings in New Zealand have welcoming, knowledgeable, accessible hosts who see to your comfort, answer your questions, make recommendations for what to see and do in their region, and can help with reservations for dining and activities. The high quality of the lodgings and the hosting ensure the success of your visit to each New Zealand region on your itinerary.
NOTE — FOR BEST VIEWING: each of the following apartment descriptions begins with a slide show.
These slide shows do not advance automatically. You can move from slide to slide (forward or reverse) by clicking on the direction arrows below each slide.
To see any slide in large format on a PC, "right click" on the selected slide and click on the "Open image in new tab" (Chrome) or "View Background Image" (Firefox).
NELSON REGION
BOUTIQUE INNS IN/AROUND NELSON
Towns: Nelson & Richmond. Nearest Airport: Nelson.
WESTLAND REGION
B&B's & INNS BETWEEN GREYMOUTH & HAAST
Near the towns of Hokitika & Fox Glacier. Nearest Airport: Hokitika.
QUEENSTOWN
BOUTIQUE INNS IN/AROUND QUEENSTOWN
Towns: Queenstown & nearby towns. Nearest Airport: Queenstown.
MACKENZIE COUNTRY
B&B's & INNS IN AORAKI MT COOK & LAKE TEKAPO
Nearest Airports: Mt Cook, Queenstown, & Christchurch.
HOW TO BUILD, PRICE, AND BOOK YOUR TRIP —
Contact HOME AT FIRST: (800) 523-5842 (toll-free USA & Canada) • +1 610 543 4348 (worldwide) • info@homeatfirst.com