The Lauterbrunnen Valley: regional geographic centerpiece of the Bernese Alps Switzerland — the Heart of Switzerland, and part of the Bernese Oberland World Heritage Site.
Photo looking

south

up

the Lauterbrunnen Valley to the wall of north faces of the Bernese Alps copyright

Home At First

.
Explore Switzerland from Your Swiss Mountain Home in the
Heart of Switzerland — The Bernese Oberland
In this central Swiss region visitors encounter the daunting north faces of the imposing Bernese Alps, glistening mountain lakes, alpine meadows alive with the music of cowbells, and chocolate box villages of geranium-jeweled wooden chalets.
Home At First's Bernese Oberland Region of Switzerland (the "Highlands of Bern") is a mountainous region just west of the geographic center of Switzerland. The region is bordered on the south by an impressive range of vertical mountain walls fronting famous climbing peaks including Eiger, Mönch, Jungfrau, and Blüemlisalp. This line of glaciated high peaks with forbidding north faces comprise the Jungfrau-Aletsch World Heritage Site, a UNESCO-designated landscape of awe-inspiring natural beauty: the formidable 4,000-meter-high Bernese Alps.
Home At First's Swiss Mountain Home Lodgings in The Bernese Oberland are set in two "chocolate box" villages surrounded by snowcapped Alps:
• KANDERSTEG: Easy-walking flat village surrounded on 3 sides by imposing Alps. Its train service makes it an ideal base for touring far & wide, but Kandersteg's stunning setting encourages you to settle in.
• MÜRREN — Car-free alpine village set on a shelf with unmatched views of the great North Faces of the Bernese Alps. Mürren's amazing location provides jaw-dropping views & tranquility.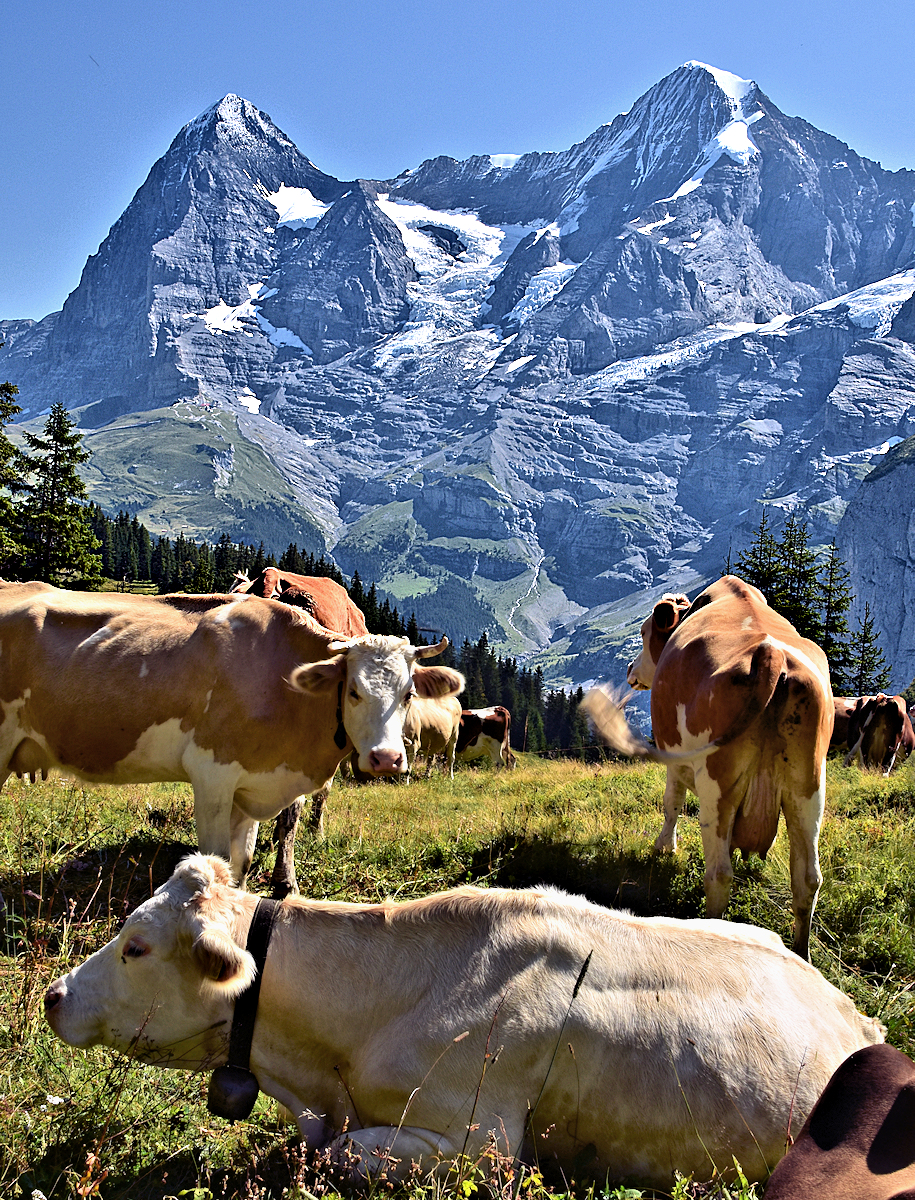 THE BERNESE ALPS ARE CHEESE ALPS. THESE MIGHTY HILLS ARE ALIVE WITH THE SOUND OF MUSIC — COWBELLS.
Swiss Cheese — The mountains of the Bernese Oberland are cheese alps. Their grassy slopes are the prime meadows for grazing Braun Swiss and Simmental cows that famously roam the heights, filling the valleys with the cacophony of their large bells, and producing fat-rich milk that alpine farmers transform into richly-flavored cheese: alpine alchemy.
  The cheese, potatoes, pork, veal, beef, and vegetables of many small alpine farms make up the staple cuisine of the Bernese Oberland and the hearty, delicious fare found on restaurant menus through the region. Cheese is made throughout alpine Switzerland. Here in the Bernese Alps the local mountain cheese can be purchased in local dairy stores and groceries. Visitors also enjoy buying fresh mountain cheese at the source when hiking past alpine dairy farms.
Home At First's Heart of Switzerland — The Bernese Oberland —
How it Works: Locations & Lodgings in Alpine Villages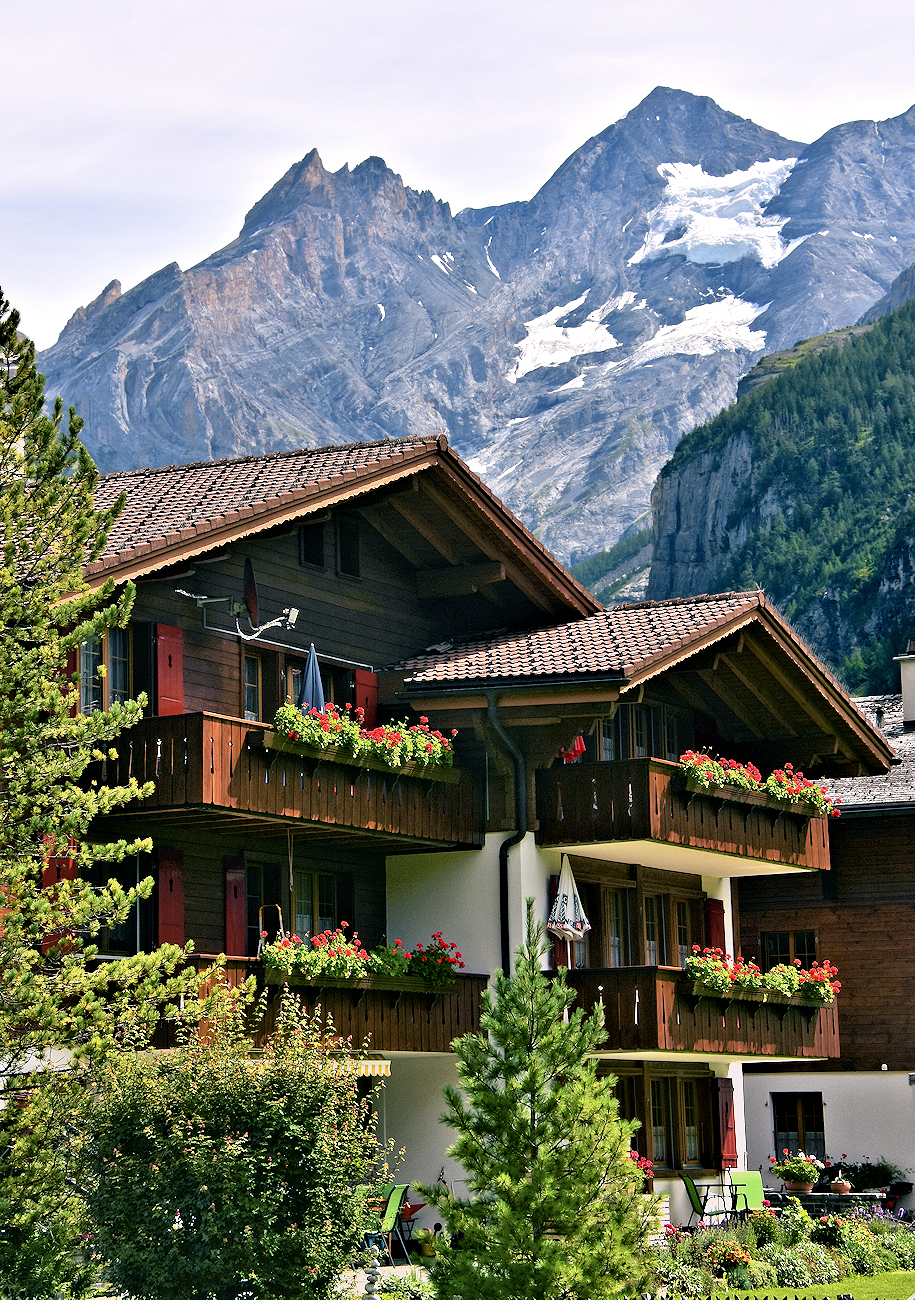 HOME AT FIRST'S BERNESE OBERLAND LODGINGS: CLASSIC CHALET APARTMENTS WITH FABULOUS BALCONY VIEWS, LIKE THESE IN KANDERSTEG.
Explore Switzerland from your own Swiss mountain home in the Heart of Switzerland — The Bernese Oberland.
  Home At First guests in the Bernese Oberland have their own chalet apartments in either of two chocolate-box-pretty alpine villages. Located in the heart of Switzerland, these villages make excellent bases for exploring the Bernese Oberland and beyond into other regions of Switzerland.
  Equipped with our exclusive New Swiss Dream Book activity guide and using the Swiss Travel Pass (valid for transport throughout Switzerland on intercity trains, postal buses, city transit, the lake boats of the Bernese Oberland), you explore Switzerland independently, taking day-trips throughout much of Switzerland and even into northern Italy.
  After full days of exploring and activity, you return to your cozy Swiss chalet apartment in your delightfully homey Swiss village each evening. Our two Bernese Oberland lodging locations are picture-postcard villages providing peace, beauty, transportation, and all the services you need for a safe, independent, relaxing visit to Switzerland.
Where in the Heart of Switzerland are the chalet apartments? What are they

like

?
  Home At First's vacation chalet apartments are located in two chocolate-box-pretty alpine villages in two different areas of the Bernese Oberland in two picture postcard alpine villages sequestered from tourist throngs: Kandersteg and Mürren.
Both locations are outdoorsy: deservedly popular with skiers, hikers, and climbers. Both villages are also cheese producing, their alpine meadows alive with the joyful noise of cowbells and small cheese farms where you can see cheese made traditionally, and buy cheese from the producers.
All Home At First Bernese Oberland apartments have English-speaking hosts either on-site or available nearby for questions, information, recommendations, and help should a problem or emergency arise.
While both villages share many characteristics, there are some key differences that may make one more appealing to you than the other. Click on MÜRREN or KANDERSTEG for greater detail and to see a selection of Swiss mountain home lodgings in each village:

home at first alpine village in the heart of switzerland — the bernese oberland
Mürren — perched high above the Lauterbrunnen Valley with dramatic alpine views — is accessible only by cablecar.
• MÜRREN — Not far southwest of the geographic center of Switzerland, mile-high (5,413′), chocolate box Mürren is reachable only by aerial cablecars. A car-free village of alpine chalets on an alpine shelf a vertical half-mile above the valley floor below, Mürren offers fantastic views of the surrounding peaks and glaciers and features superb walking and hiking possibilities.
  Mürren is ideal for those looking for the romantic Switzerland of Heidi. Despite Mürren's remote eagle's nest setting, the village makes a fine base for exploring the Bernese Oberland and its alpine core, the Jungfrau Region.
  Mürren's popularity as a day-trip destination has much to do with its location along the cablecar route to the 9,742′ high summit of the Schilthorn. With its tourist-magnet revolving restaurant, Piz Gloria, and associations with James Bond and extreme downhill skiing, the Schilthorn ranks with Switzerland's most popular attractions.
  Mürren can be very busy during the ski season and during the high summer (July-August). But even at these times the village — lacking major hotels, bars, & shopping centers — quiets again at dusk. Mürren's town grocery and dozen or so small restaurants — all owned and operated by local families — are sufficient to handle its busiest times graciously.
  Active guests choose from hiking, climbing, mountain-biking, or chancing Mürren's unique via ferrata. Less active guests find Mürren ideal for taking a spa, strolling the traffic-free village streets, or nursing a coffee, a beer, or a glass of wine and enjoying a meal at any of several cafés in the village or along its alpine trails.
  Regardless of the pace of your visit, Mürren promises exceptional beauty and revitalizing peace.

home at first alpine village in the heart of switzerland — the bernese oberland
Kandersteg — an important stop on the Lötschberg Railway Line —
offers hourly express trains between northern Switzerland & Italy.
• KANDERSTEG — Deep in the Bernese Alps near the western end of the Bernese Oberland, Kandersteg village sits on a high (3,852′), flat plain at the southern end of a "hanging valley" carved by Ice Age glaciers.
  Surrounded on three sides by snow-capped peaks, Kandersteg is the end of the line for auto traffic driving south from the Swiss capital of Bern. But the village's setting is greatly enhanced by its placement on a major railway that connects Germany to the north with Italy to the south.
  Hourly modern trains provide passenger service to destinations on both sides of the Alps and throughout much of Switzerland, making Kandersteg Home At First's top lodging location as a base for exploring Switzerland.
  But Kandersteg is no mere base camp for day-trips throughout Switzerland. Visitors enjoy exploring Kandersteg's dramatic alpine setting, framed on three sides by 10,000′ high peaks. Guests soon learn that Kandersteg is blessed with some of the finest grazing alps (and best mountain cheese!) in the Bernese Oberland. And they discover that just outside of the village is one of Switzerland's most stunning alpine lakes, Oeschinensee, and one of its most extraordinary, hidden, natural glacial side valleys, the Gasterntal.
  Kandersteg offers excellent walking, hiking, climbing, exploring, and cheese-tasting. The village features a wide range of restaurants, plus two just-large-enough groceries. A sports center, a via ferrata, and, wonderfully, one of the region's finest cheese shops reward visitors in significant ways. These attractions combine with excellent rail service to other parts of Switzerland (and into Northern Italy) make Kandersteg the ideal alpine destination for independent travelers looking to see the most and the best of Switzerland.
HOW TO BUILD, PRICE, AND BOOK YOUR TRIP —
Contact HOME AT FIRST: (800) 523-5842 (toll-free USA & Canada) • +1 610 543 4348 (worldwide) • info@homeatfirst.com