— special request regions —
glasgow • borders • islands
Balquhidder Glen in Scotland's Central Highlands. Rob Roy Macgregor — Highland Scotland's favorite son — lived, died, and is buried here. Poets Robert Tannahill and Sir Walter Scott romanced this venerable landscape with immortal words. Filmmakers from Hitchcock to Monty Python to Mel Gibson have mixed fact & fiction in this land of majesty, myth, and mystery.
Explore Scotland from the Central Highlands
Mountainous Land of Lochs & Glens
between the Ocean & the Sea
Home At First's Central Scotland destination is set in a romantic landscape of stunning beauty: the lochs, glens, and mountains of the heart of Scotland. You have your own cottage or apartment in the heart of Scotland. Driving your rental car and using our exclusive Scotland Activity Guide, you explore Scotland from the Central Highlands independently, taking driving day-trips and returning to your cozy Scottish lodging each evening. Our accommodations are cottages in or near picture-postcard villages and towns still largely undiscovered by tourist throngs, places you will quickly feel at home in, where you will happily return after each day's adventures.
Home At First's Central Scotland — How it Works: Locations & Lodgings
From your vacation cottage apartment you explore Scotland from the Central Highlands.
Home At First has vacation cottages and vacation apartments in towns and villages near the geographic center of Scotland, inside or just outside the scenic grandeur of Scotland's first national Park, Loch Lomond & Trossachs National Park. Here the Highlands of Central Scotland are the romantic, mountains, glens, and lochs of historical novels and adventure films, a region sprinkled with castles and castle ruins, populated more by sheep and Highland & Angus cattle than people.
Where are the cottages & apartments? What are they like?
Home At First's vacation cottages and apartments are located in several towns and villages along the eastern border of Loch Lomond & Trossachs National Park, including: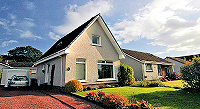 Ailsa's Cottage, Callander
• CALLANDER — gateway town on the eastern entrance of the Loch Lomond & Trossachs National Park. Market town with numerous shops, restaurants, groceries, outfitters, and other services. Closest Central Scotland town to the Lowlands, Glasgow, and Edinburgh. Big enough to offer nightlife at one or two hotels on its main street. Offers 18-holes of parkland golf at its respected Callander Golf Club. Hiking, biking, fishing, and kayaking are popular activities. Callander's central location, quick access to the national park and the Highlands, and easy access to Stirling and points southeast and southwest (including Edinburgh and Glasgow) give the town high marks as a touring base for Scotland.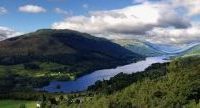 Balquhidder Glen & Loch Voil
• BALQUHIDDER — tiny, scenic, and historic, Balquhidder is a Highland hamlet located inside the confines of Loch Lomond & Trossachs National Park, a pristine gem set among the Braes o' Balquhidder at the head of Balquhidder Glen. Best known as the final home and eternal rest of bad-boy Highlander icon Rob Roy Macgregor, Balquhidder offers beauty and peace, hiking, biking, and fishing in an authentic Highland setting. However, Balquhidder has no stores, shops, restaurants, or any services. Two fine restaurants (one a perennial UK award-winner) are within 5-minutes drive of Balquhidder. Otherwise, the nearest town with a variety of shopping choices, groceries, services, petrol stations, restaurants, and cafés is a 20-minute drive south, at Callander.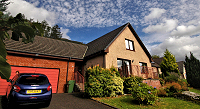 Castleview, Lochearnhead
• LOCHEARNHEAD — village on the western end of picturesque Loch Earn and on the eastern edge of the national park. Two restaurants, a village shop, & petrol station provide local services. A greater selection of stores, restaurants, and services are a 20-minute drive north to Killin, or a 20-minute drive south to Callander. Fine walking, including the Rob Roy Way through Glen Ogle and trailheads to two Munros (Ben Vorlich & Stuc a'Chroin), is accessed just outside Lochearnhead, and fishing, boating, and waterskiing are possible from the shore of Loch Earn right in the village. Importantly, Lochearnhead is the junction of two major routes through Central Scotland — one north/south, and one east — giving the village a very good setting as a touring base.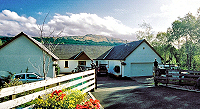 Dochart Cottage, Killin
• KILLIN — Highland town and northeastern gateway to Loch Lomond & Trossachs National Park. Located in the historic Breadalbane district, Killin's setting at the confluence of two wild Highland rivers (Lochay and Dochart) at the west end of 15-mile-long Loch Tay is scenic and central — an ideal base for touring the Highlands as far north as Inverness, to the Cairngorms (east), and to the Inner Hebrides (especially Mull and Iona) to the west. The town is bordered north and south by sizable mountains, including several Munros that attract hikers to Killin. Loch Tay and its tributary rivers are known for excellent salmon & trout fishing. Killin — about 20 miles from any town its size or larger — offers a surprisingly large number of shops, restaurants, pubs, and services.
What are Home At First's Central Scotland lodgings like? Each is unique. They come in all sizes, shapes, and styles. Some are modern. Some are traditional. Some have several bedrooms and baths; others may have a single bedroom and bathroom. Some have terraces or balconies. Others may have furnished patios or gardens. All are secure private quarters with private bathrooms, and must meet certain standards of quality and equipment:
• HOSTING: All Home At First lodgings in Central Scotland have friendly, knowledgeable, helpful, accessible hosts. Hosts may be the lodging owners or their representatives. Hosts will welcome you, show you around the cottage or apartment, explain its workings, and be on-call if questions, problems, or emergencies arise. Otherwise, you can expect to see a familiar, friendly face from time-to-time during your stay, when your host stops by to see how you are getting on.
• KITCHENS: Full kitchens or practical kitchenettes (in studio apartments) with at the very least: fridge, coffee maker, tea kettle, stove top range, oven and/or toaster oven and/or microwave. Most have additional counter appliances. Many have dishwashers as well as clothes washer/dryers. All kitchen and bath towels & linens provided.
• BEDROOMS: Most bedrooms have twin beds. Some twin beds can be secured and made-up together to form a large double bed. Multi-bedroom lodgings often have a queen-size or king-size bed in one of the bedrooms. Larger family-size lodgings often have a bedroom with bunk beds. Studio apartments (these are few) may have a convertible bed (sofa bed or Murphy bed) in the multi-purpose living/dining room.
• BATHROOMS: Most bathrooms have a shower stall or a bathtub with overhead shower. Some few bathrooms may have a bathtub with hand-held shower, or a bathtub for bathing only.
• LAUNDRY FACILITIES: Those lodgings without clothes washer/dryers will have a serviced launderette in the town (a laundromat where you leave your clothes with staff to be cleaned and folded, thereby not needing to trade vacation time to do laundry).
• PARKING: Usually (with rare exceptions) 1 or 2 designated private guest parking spaces, most commonly off-street.
• ELECTRONICS: Lodgings have televisions, usually the flat-screen, cable variety. Most have free WiFi, although service can be spotty in the Highlands. Few come with telephones. Bring or rent a cell phone for your trip, but remember that service is spotty in the Highlands of Scotland.
• PROXIMITY TO STORES & SERVICES: All in-town lodgings in Callander & Killin are within walking or short-driving distance to stores and services. Lodgings in villages (like Lochearnhead) or in rural settings (like Balquhidder) require driving 5-20 minutes to get to town for shopping and services.
Home At First's Central Scotland — How it Works: Touring Scotland
Explore Scotland from the Central Highlands independently by rental car. Public transport exists in Scotland, but, excepting the long-distance and commuter trains to/from Glasgow and Edinburgh, train services are too slow and spotty to be used for any significant exploration of Scotland. And, while local and national buses do travel throughout the country, their services to non-cities are infrequent, slow, and inefficient. That makes exploring Scotland done best by car. And, as a driving trip, exploring Scotland is best done from its geographic center — the Highlands of Central Scotland.
What's the driving like? To explore Scotland from the Central Highlands means car touring that is both challenging and fun. Central Scotland roads — mostly two-lane, but many one-lane ("single-track") roads, and the occasional three-lane road — follow the profiles of the glens (valleys), hugging the shores of the lochs (Scottish lakes, sounds, and fjords), and occasionally climbing mountain passes to reach the next glen. With few people traffic congestion is rare, except on some key mountain pass routes, and on the busy streets of market towns and the winding, narrow streets of antique villages.
How far can we day-trip by driving? Despite the absence of high-speed motorways, Central Scotland's Highlands make a great base for exploring its fascinating region and well-beyond into neighboring regions, two coasts, the larger towns of Stirling, Oban, Ft. William, Crieff, and Falkirk, as well as the small cities of Perth, Dundee, St. Andrews, and Dunfermline. Scotland's biggest cities, Edinburgh and Glasgow, are within day-trip reach but done best by driving to a commuter rail station then taking a train into the city. (We tell you how to do this in our "Scotland Activity Guide".)
Can we hire a driver or even a driver/guide? Driving on the left side of mountain roads and along narrow village streets where finding parking can be challenging is not right for every visitor to Scotland. Home At First has experienced, qualified drivers and driver/guides available who can be contracted to drive you in your rental car or in their vehicle as you explore Scotland from the Central Highlands. You may hire a driver or driver/guide for all of your days in Scotland, or for just some. Our drivers know the scenic back roads, the shortcuts, and the quickest way home. Our driver/guides also know the history, geography, and cultural importance of the places you will visit. For complete information, including rates, contact us via email or telephone.
The Highlands of Central Scotland — Rob Roy Country
Rob Roy Country — The Highlands of Central Scotland is a region of great history, where Britain's civilized south clashed with the Celtic clans of the north. Here you can explore Scotland the brave, Scotland the beautiful. This is the home of Scotland's bad-boy hero Rob Roy Macgregor, and the setting for Scotland's rugged, scenic Loch Lomond & Trossachs National Park.
Rob Roy Macgregor's family gravesite is at Balquidder Kirk (church), with Rob Roy's final rest flanked by the graves of his wife and one of his sons. Because of the Macgregor gravesite, Balquhidder Kirk has become a pilgrimage church for Scottish nationalists, members (real or imagined) of Highland clans, and the readers of historical novels. Even Queen Victoria visited Rob Roy's grave back in 1869.
"MacGregor Despite Them" is the family's famously defiant epitaph. When the ruling Highland Clan Campbell forbade Clan Macgregor from using its family name,
Rob Roy went underground and thumbed his nose at the Campbell chiefs by keeping his Macgregor surname. Eventually cleared of wrongdoing, Rob Roy became the local sheriff in Balquhidder Glen in the shadow of the Braes o' Balquhidder, but never forgot his clan's exile. Highlanders from around the world come to Balquhidder Kirk to witness — and photograph — the defiant epitaph of the Macgregors for themselves.
Home At First's Hiking & Biking Guide suggests dozens of interesting walks of all lengths and degree of challenge here in Rob Roy country. Some of these walks are on trails that Rob Roy would have known, and some that he may have used when, as an outlaw, he rustled the Campbell's cattle.
Explore Scotland from the Central Highlands.
Discover History Amidst Grand Scenery from an Unparalleled Touring Base
From your Central Scotland vacation cottage, explore Scotland from the Central Highlands by Independent Day-trips —
Begin your discovery of Scotland by exploring your home region, the Highlands of Central Scotland. The extraordinary beauty of its hills, glens, and loch will show you why this region was selected to become Scotland's first national Park.
Explore Scotland north of the Central Highlands. Discover the wild, lonesome Munros (peaks above 3,000′ high, including Ben Nevis, at 4,411′ Britain's highest mountain) and moors of the Highlands create a legendary landscape. Visitors explore this majestic, lonesome region hoping to discover the legends and secrets of Highland Clans, Celts, Picts, Scots, Druids, and that greatest of Highland mysteries, Nessie, the reluctant dragon of Scotland's deep, black Loch Ness.
Explore Scotland south of the Central Highlands. The great cities of Edinburgh and Glasgow are each as close as 90 minutes away, and most easily visited by driving to an outlying commuter railway station, parking your car for the day and taking a frequent commuter train into the city center while avoiding driving and parking in city congestion — we will show you exactly how to do this. Midway between Scotland's two grandest cities is the handsome, small city of Stirling, castle-crowned crossroads of Scotland, and site of many important military battles. Stirling is permanently tied to many of Scotland's great historic characters including: Mary Queen of Scots, King James VI & I (of Scotland and of England & Ireland), William Wallace ("Braveheart"), and Robert the Bruce.
Explore Scotland east of the Central Highlands. Two hours to the east, golf's great foundation links courses, including the Old Course, line the Fife Coast north and south of the historic university town of St. Andrews.
Explore Scotland west of the Central Highlands. Two and a half hours west, the closest of the Inner Hebrides islands — picturesque Mull and tiny, ecclesiastically important Iona, its early medieval abbey the font of Scottish Christianity — are reached by ferry from Central Scotland's primary coastal ferry port of Oban.
Central Scotland — A Wealth of Activities Indoors and Out
Explore Scotland from the Central Highlands while pursuing your favorite activities — Central Scotland is a golfer's paradise, and a fisherman's nirvana. Hike the hills and glens. Trace family roots. Attend a Highland Games. Cycle on dedicated, marked bike routes. Explore dozens of castles and discover historic architecture in cities, railways, churches, palaces, and pubs. Shop for tartans and tweeds. Cruise mysterious lochs. Rail-cruise across the moors from the Highlands to the sea. Taste test at single malt scotch distilleries on the Whisky Trail. Enjoy eating & drinking at fine restaurants, cozy pubs, and intimate cafés throughout Central Scotland. Home At First guests in Central Scotland receive our exclusive "Scotland Activity Guide". They find it full of suggestions and maps for day trips and other activities keyed for their visits.
HOW TO BUILD, PRICE, AND BOOK YOUR TRIP

—
Contact HOME AT FIRST: (800) 523-5842 (toll-free USA & Canada) • +1 610 543 4348 (worldwide) • info@homeatfirst.com