— special request regions —
glasgow • borders • islands
EDINBURGH. Early morning visitors arrive at the gates of Edinburgh Castle, one of Scotland's premier visitor sites.
Discover Scotland in Edinburgh
Edinburgh: Scotland's political, cultural, and historical capital
Discover Scotland in Home At First's Edinburgh: Occupying a dramatic natural setting since prehistoric times, Edinburgh, Scotland, is both an ancient and historic royal city and a vibrant, culturally experimental, modern city. Home to the Scottish Parliament, the Queen's residence at the Palace of Holyroodhouse, the massive, imposing Castle atop Castle Hill, a curious cluster of mixed monuments on Calton Hill, and the venerable, often grand northern architecture of the adjoining Old Town and New Town combined as a recognized World Heritage Site. Overlooking all of Edinburgh is its own unique demi-mountain in Holyrood Park, complete with the near-vertical basaltic prisms of the Salisbury Crags, three mini lochs, and crowned with Arthur's Seat.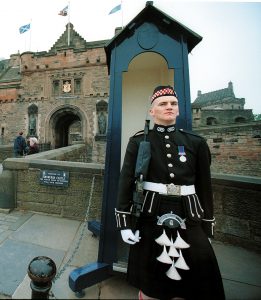 This fractured landscape has been inhabited since long before western writing. Its hills offer defensive protection. Its proximity to the North Sea sheltered Firth of Forth promised transportation and fishing, and an invitation to Vikings, who recognized a fjord when they found one. But the Vikings were only some of Edinburgh's invaders. The Romans were here, although they retreated behind Hadrian's Wall to England. The English came and were repulsed a number of times, with the consequence of Edinburgh becoming more a British city than strictly Scottish. It is this tension that has provided Edinburgh its greatest triumphs, calamities, intrigues, shames, and individual achievements. It is no surprise that you can discover Scotland in Edinburgh, the center of Scottish culture, history, and politics.
A list of prominent individual achievers born, resident, or associated with Edinburgh, Scotland, ranks with any similar list from world cities far larger. Consider this severely culled listing: Tony Blair (popular UK Prime Minister), Alexander Graham Bell (inventor who ranks with Edison), David Hume (pillar philosopher), Adam Smith (pillar economist), Mary Queen of Scots (Queen), John Knox (theologian, Presbyterianism founder), Charles Darwin (evolutionary theory), Robert Louis Stevenson (novelist of Treasure Island and Kidnapped), Sir Walter Scott (novelist & poet and writer of the Waverley novels after which Edinburgh's Waverley Railway Station is named), J. K. Rowling (Harry Potter novels), Sir Arthur Conan Doyle (Sherlock Holmes novels), Thomas Carlyle (philosopher and writer), Sir James Matthew Barrie (author: Peter Pan), Sir Henry Raeburn (portraitist), Sean Connery (the real James Bond), and James Craig (homegrown architect designer of Edinburgh New Town).
For Edinburgh — and for Scotland — the historical tension with England continues. Should Scotland stand independent, free to leave the United Kingdom, free to join the European Union, free of the U.K. Parliament's imposition of taxes, regulations, and restrictions? Or, should Scotland — irrevocably part of the island of Britain — be an intrinsic part of the United Kingdom, a full partner, come hell or Brexit? Or — and this is the current (2021) trend — should Scotland reside in a national purgatory, neither fully British fish, nor independent Scottish fowl, with major say over internal Scotland matters, but subject to Parliament in London for all matters not wholly Scottish? Scotland's place — in Britain, in Europe, in the world — will to some extent be decided in Brussels and in Westminster, but, increasingly, building like seismic rumblings, within the venerable, Craigleith sandstone walls of Old and New Edinburgh. Come to the Scottish capital — discover Scotland in Edinburgh.
HOW IT WORKS—
Home At First's Edinburgh: Independent Travel
with Quality Vacation Apartments.
Explore Edinburgh, Scotland, from your own vacation cottage apartment in the historic heart of the city. Home At First has vacation apartments in the center of Edinburgh, Scotland: in Old Town and New Town, all walking-close to Castle Hill, the Royal Mile, Waverley Station, and Princes Street. On foot and using the city's trams and buses you explore Edinburgh. With your ScotRail or BritRail Pass you travel by train from nearby Waverley Station to destinations in Scotland or in northern England, following day-trip suggestions found in our exclusive Scotland Activity Guide.
Edinburgh Apartments
Sample Edinburgh City Apartments
  Shown and described below are two popular Edinburgh City Apartments enjoyed by Home At First guests. They are shown here as samples of different sizes and capacities, and to illustrate the standard of quality that comes with all apartments regardless of design, size, style, and location. While the range of apartments to choose from is extensive, the standard of quality and service is the same regardless of apartment or location in central Edinburgh, Scotland.
EDINBURGH SAMPLE APARTMENT
GRASSMARKET CLOSE FLAT
Located at trendy, historic Grassmarket below and to the south of The Castle in Edinburgh's Old Town, this modern, second floor apartment is stylish, practical, and wonderfully located. The apartment's window views are of the "close" — the inner courtyard with a gated access from the street. One well-lighted flight of stairs leads to the flat's entry door. A small entry hall has an entry phone and a utility closet. The apartment's full bathroom (with tub/shower) is accessed from the entry hall.
The flat's spacious, open-plan kitchen, living, & dining areas comprise its main room. A large flat-screen TV is visible from everywhere in this room. The dining area seats four. Free WiFi is provided. Maximizing apartment capacity to 3 (or a couple with 1 or 2 children), the sofa converts into a very usable bed that sleeps 1 (or two small children). The very well-equipped kitchen has a large refrigerator/freezer, dishwasher, gas range, oven, toaster, coffee maker, microwave, & washer/dryer.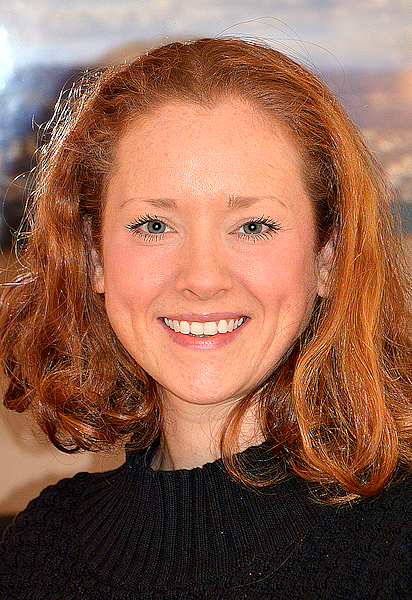 The stylish double bedroom features a king-sized bed and plenty of closet space. The apartment is non-smoking only, and heated throughout.
The delightful hostess, Fiona, is welcoming and informative — ready with suggestions for activities, shopping, and eating. She is also on-call in the event of questions, emergencies, or (unlikely) problems.
The Grassmarket Close Flat is roughly midway between two of Edinburgh's most visited landmarks: The Castle (5 minutes northwest, walking uphill) and Greyfriars Kirkyard (2-minutes walk southeast), final rest of Greyfriars Bobby, local Skye Terrier whose supreme loyal dedication to his owner is the stuff of Edinburgh fact and Hollywood legend. Likewise, 10-minutes walk in any direction leads to remarkable history, fashionable boutiques, over-the-top souvenir shops, fine restaurants, cafés for the young tattooed, regal churches (some still practicing religion), and important cultural landmarks — including Scotland's National Library and National Museum. Waverley Station is nearly in the 10-minute walking circle — Edinburgh's principal railway station (and modern shopping center) is 11 minutes walking from the very convenient Grassmarket Close Flat. Using the Grassmarket Close Flat as your comfortable home base, it's easy to Discover Scotland in Edinburgh.
EDINBURGH SAMPLE APARTMENT
HEATHER'S PENTHOUSE FLAT
Halfway along Royal Mile, midway between The Castle and the Palace of Holyroodhouse, Heather's Penthouse Flat is situated in the epicenter of Edinburgh's Old Town. Located 100 yards south of the Royal Mile on a quiet side street, the apartment is within close walking distance (2-15 minutes) of all major Edinburgh attractions, myriad restaurants, shops, and services. This central location is an ideal base from which to discover Scotland in Edinburgh.
Heather's Penthouse Flat occupies the fourth floor of a nondescript building. A secure, unmarked exterior door opens to a small foyer with elevator access to upper floor apartments. The apartment entry opens onto a hallway that runs the length of the flat, with doors to each room lining the way. An entryphone in this hallway lets guests permit entry to visitors. The decor, colors, and furnishings found throughout the flat — even in the entry hall — reflect an understated Scandinavian style: high quality, yet practical and stylishly sold.
The spotless single bathroom includes a bathtub with shower. Two double bedrooms (one King, one Queen) provide sleeping for 4 persons — optimal occupancy for this spacious apartment. For families with young children, a single bed can easily be added to the large master bedroom. The master bedroom offers excellent storage with large built-in closets and shelves. A sizable wardrobe provides storage space in the second bedroom. Large, flat-screen TVs are mounted on the walls of both bedrooms.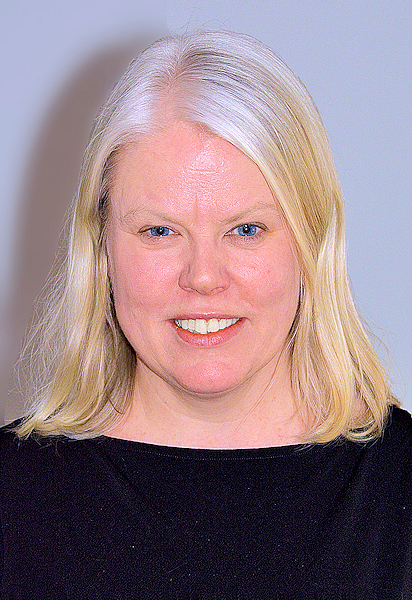 A delightful livingroom-diningroom provides space and comfort for lounging and dining at home. A large, flat-screen TV also hangs on a livingroom wall. The comfy L-shaped sofa converts if necessary to a double bed, giving the flat the possibility of sleeping 6-7 persons. (With a single bathroom, optimal capacity is 4 persons at this apartment.) The solid wood dining room table seats 6 without crowding.
The apartment's eat-in kitchen comes very well-equipped with gas range, oven, large refrigerator-freezer, dishwasher, clothes washer, and breakfast table for four. A utility closet hides the flat's clothes dryer, cleaning supplies, and infant's high chair.
For extra safety, a secure fire door permits exit from the apartment into an adjacent building. The apartment is non-smoking, and heated throughout. The charming hostess, Heather, is welcoming and informative — ready with suggestions for activities, shopping, and eating. She is also on-call in the event of questions, emergencies, or (very rarely) problems.
Home At First's Edinburgh — The Lodgings
What are Home At First's Edinburgh, Scotland, lodgings like? Each is unique. They come in all sizes, shapes, and styles. Some are modern. Some are traditional. Some have several bedrooms and baths; others may have a single bedroom and bathroom. Flat-screen TVs are ubiquitous — expect multiple TVs in larger apartments. A few apartments have terraces or balconies. A few others have furnished patios or gardens. All are secure private quarters with private bathrooms, and must meet certain standards of quality and equipment:
• HOSTING: All Home At First lodgings in Edinburgh, Scotland, have friendly, knowledgeable, helpful, accessible hosts. Hosts may be the lodging owners or their representatives. Hosts will welcome you, show you around the cottage or apartment, explain its workings, and be on-call if questions, problems, or emergencies arise. Otherwise, you can expect to see a familiar, friendly face from time-to-time during your stay, when your host stops by to see how you are getting on.
• PARKING: Some Edinburgh apartments come with designated on-street or off-street parking spots. However, we encourage you NOT to drive in Edinburgh, Scotland. You will only add to the traffic chaos by driving and trying to park in Edinburgh.
• FLOORS & ENTRIES: Although reaching some of our apartments requires climbing a flight or two of stairs, apartments 3rd floor and higher are reached by elevator. All are well-located, safe, and very livable. Building and apartment entries are secure.
• CARE & CLEANLINESS: The apartments have been thoroughly cleaned prior to your arrival, but are not maid-serviced during your stay. Most come equipped with laundry machines. Apartments are non-smoking and do not permit pets. Basic starter kitchen and bathroom supplies are provided.
• BEDROOMS: Most bedrooms have twin beds. Some twin beds can be secured and made-up together to form a large double bed. Multi-bedroom lodgings often have a queen-size or king-size bed in one of the bedrooms. Larger family-size lodgings often have a bedroom with bunk beds. Studio apartments (these are few) may have a convertible bed (sofa bed or Murphy bed) in the multi-purpose living/dining room. All bed linens are provided.
• KITCHENS: Full kitchens or practical kitchenettes (in studio apartments) with at the very least: fridge, coffee maker, tea kettle, stove top range, oven and/or toaster oven and/or microwave. Most have additional counter appliances. Many have dishwashers as well as clothes washer/dryers. All kitchen and bath towels & linens provided.
• BATHROOMS: Most bathrooms have a shower stall or a bathtub with overhead shower. Some few bathrooms may have a bathtub with hand-held shower, or a bathtub for bathing only. Bath towels & linens — although not always face cloths, which Europeans often consider a personal hygiene item — are provided.
• LAUNDRY FACILITIES: Those lodgings without clothes washer/dryers will have a serviced launderette nearby. (A serviced launderette is a laundromat where you leave your clothes with staff to be cleaned and folded, thereby not needing to trade vacation time to do laundry. You go on vacation. Your clothes will be ready to be picked up at the end of the day.)
• ELECTRONICS: All Edinburgh, Scotland, apartments have televisions, usually the flat-screen, cable variety. Most have free WiFi. Few come with telephones. Bring or rent a cell phone for your trip. Cell phone service is good to excellent throughout Edinburgh, but may be spotty in rural areas of Scotland.
• PROXIMITY TO STORES & SERVICES: All Edinburgh lodgings are within short walking distance of restaurants, cafés, pubs, stores and services. You may come to Edinburgh, Scotland, with plans to utilize your kitchen for most meals. We predict you will eat out more often than you had imagined you would. The restaurant choice is that good.
HOW TO BUILD, PRICE, AND BOOK YOUR TRIP

—
Contact HOME AT FIRST: (800) 523-5842 (toll-free USA & Canada) • +1 610 543 4348 (worldwide) • info@homeatfirst.com