Piazza Navona, Rome. 500 years before today's visitors, Renaissance Romans came here to enjoy Bernini's fountains. A millennium earlier, Romans crowded this square for the thrill of chariot racing.
Explore Rome Italy — The Eternal City
Fountain of Western Civilization
Rome Italy — The Eternal City occupies its 7 hills on the River Tiber a few miles southwest of Italy's geographic center. Few places on earth have as long and as significant an importance to human culture as does Rome. With more than 4.4 million residents, metropolitan Rome is western Europe's fourth largest city and third most visited. Most visitors come to see the famed 2,000-year-old relics of the Roman Empire and 400-year-old late-Renaissance architectural glories of Vatican City.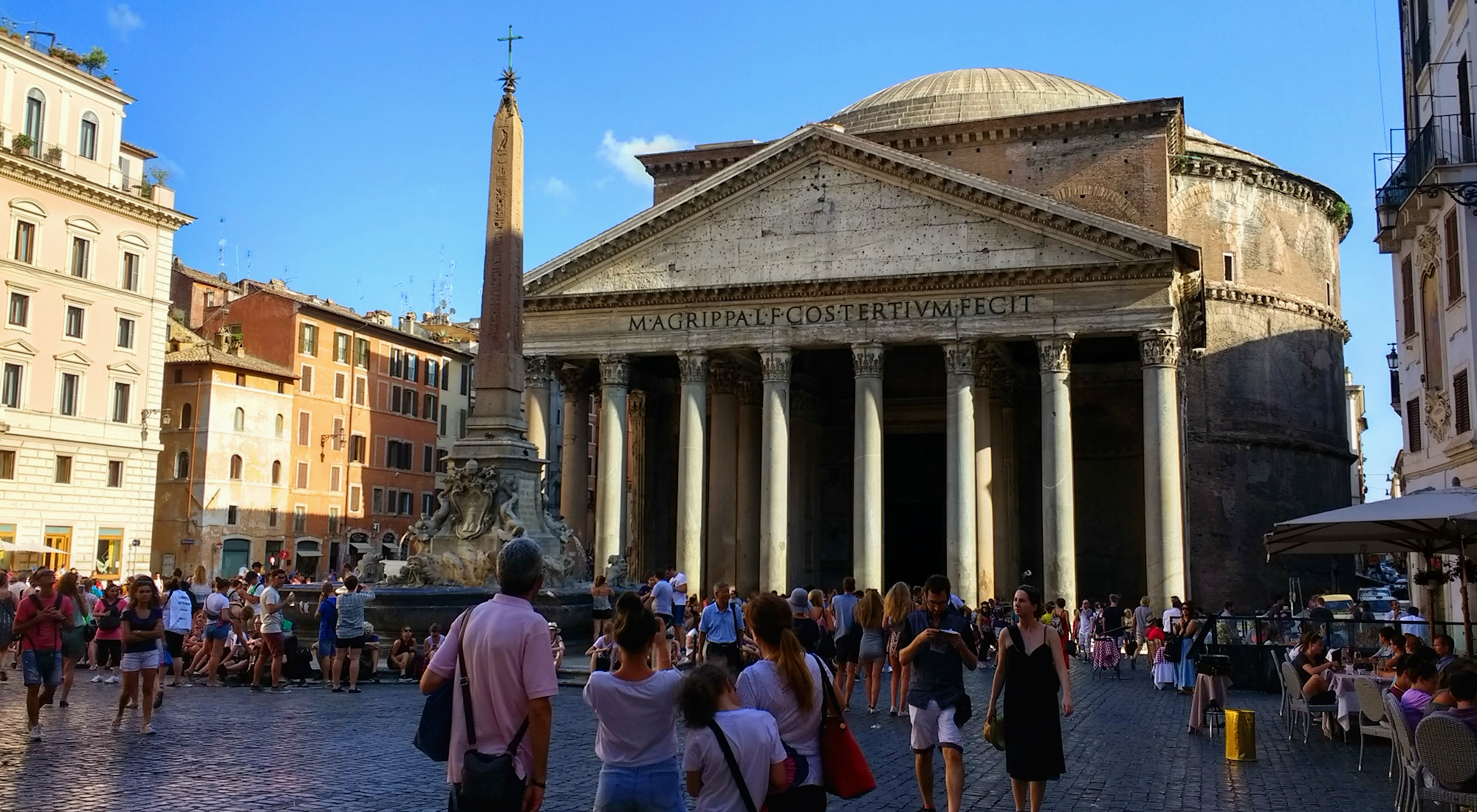 The Pantheon — Roman temple in continuous use for nearly 2,000 years — is one of the best-preserved structures remaining from the Roman Empire. Every year millions of visitors pass through Rotunda Square (Piazza della Rotonda) to see the Pantheon and its impressive fountain. The Pantheon is as close as a 1-minute walk (or as far as 15 minutes walk) from Home At First's Rome Italy apartment locations.
HOME AT FIRST's
Rome Italy — The Eternal City. How it works:
• Contact Home At First. Tell us about your dream of travel to Rome Italy — The Eternal City. We will tell you about getting there, where we stay (you'll love the locations!), and how best to get around (via public transport, taxi, or by walking).
— Tell us how many people will be with you, and their ages.
— Tell us when you would like to travel, and for how long.
— Tell us if you would like to combine a visit to Rome with a visit to another part of Italy or to any other Home At First destination in Continental Europe, Scandinavia, or the British Isles.
— Ask for a Free Trip Proposal with Cost Estimate.
• We prepare an itinerary & cost estimate with all the lodgings & transportation you need. We send it to you via email and/or postal mail.
• You review our proposal; accept it, reject it, or revise it until we have it just right for you. It is, after all, your dream trip, to be done the way you wish.
• Once accepted, we request an initial payment by check along with your signed acceptance.
• We begin putting your plans in place, securing your LODGINGS, FLIGHT RESERVATIONS & TICKETS, CAR RENTALS, and/or any TRAIN TICKETS, TAXI TRANSFERS, OR TRANSPORTATION PASSES required. Most Home At First Rome Italy — The Eternal City guests arrive by air; some come from other parts of Italy with rental cars; some get here by train. Full-Package or Lodging & Ground Transport guests have a choice of included round-trip taxi transfers from Rome's FCO International Airport or a 1-week Rome Transpass valid for the city's buses, métro, and airport trains.
• Payment in full is due 90 days prior to departure, or when you are ready to lock in your included airfares, whichever comes first.
• All travel documents for your trip — including a guidebook appropriate for your destination — will be sent to you by 30 days prior to your trip departure date.
• You follow our directions from your arrival point to your Rome lodging, where you will be met at a pre-set time by your lodging's host, who will show you around, see to your comfort, and let you get some rest.
• Have a nap. Get some groceries for your kitchen. Make supper or go out for a meal. The fun begins now.
SCENES WITHIN WALKING DISTANCE OF HOME AT FIRST'S ETERNAL CITY APARTMENTS
Rome Italy Apartments
Home At First's Rome Italy — The Eternal City Apartments are superbly located in the heart of historic Rome on the east bank of the River Tiber, where they are within 10-15 minutes walking distance west to St. Peter's Square at the Vatican. Located close to the spectacular Piazza Navona and the 1,900-year-old Pantheon, our apartments are within walking distance (or a short cab ride) of the Trevi Fountain, the Spanish Steps, the Roman Forum, and the iconic Coliseum. Our lodging locations are within legions of restaurants and street cafés lining the historic district's largely traffic-free streets, alleys, and plazas. Numerous shops, activities, museums, and galleries are conveniently close by. Minimum lodging in Rome: 3 nights.
Getting Around Rome Italy: Because driving and parking in Rome are notoriously daunting challenges, we recommend guests plan to walk to shops and restaurants, and use taxis or public transport only for distant destinations. As part of their full package, Full-Package or Lodging & Ground Transport guests staying in Rome receive their choice of round-trip, pre-arranged taxi transfers to their apartments from Rome's FCO International Airport, or a Rome transpass valid on the Metro, buses, streetcars, & certain trains for the week they will be staying at our Rome lodgings.
Three Sample Rome Italy City Apartments
  Shown and described below are three popular Rome Italy Eternal City Apartments used by Home At First guests. They are shown here as samples of different sizes and capacities. While the range of apartments to choose from is extensive, the standard of quality and service is the same regardless of apartment or location.
NOTE — FOR BEST VIEWING: each of the following apartment descriptions begins with a slide show.
You can move from slide to slide (forward or reverse) by clicking on the direction arrows below each slide.
To see any slide in large format on a PC, "right click" on the selected slide and click on the "Open image in new tab" (Chrome) or "View Background Image" (Firefox).
SAMPLE APARTMENT 'A'
TIBER
  Located near the Tiber River mid-way between the Vatican and the Pantheon, this modern, 2-level, ground floor apartment is stylish & practical, but lacks any view from its two small windows.
• Lower Level: The flat's open-plan kitchenette, sleeping, living, & dining areas are on the lower lever. There are a flat-screen TV, WiFi, & a small dining area. The large double bed sleeps two. The very well-equipped kitchenette has a large refrigerator/freezer, dishwasher, gas range, oven, toaster, coffee maker, microwave, & washer/dryer.
• Upper Level: A 10-step stair-case climbs to a handsome stone and tile mezzanine bathroom with shower.
  The apartment is non-smoking, air-conditioned, and heated as needed.
SAMPLE APARTMENT 'B'
PANTHEON
  A comfortable, solidly-furnished, studio suite on the 2nd floor, this conveniently-located family apartment is a 10-15-minute walk to the 1,900-year-old Pantheon via pedestrian streets lined with café-restaurants & shops.
• Its sleeping/dining/living room sleeps 2-4 persons on an extra-long double bed & a convertible sofa double bed.
• The enclosable kitchenette has oven, refrigerator, dish-washer, microwave, coffee maker, & washing machine.
• There is a large, flat-screen TV & 4-person dining table.
• The bath has a tiled shower, toilet, bidet, & hairdryer.
• The apartment has with WiFi, air conditioning, & heat as needed, plus windows overlooking a historic street.
Note: Access is via an indoor staircase (12 steps) — no lift.
.
SAMPLE APARTMENT 'C'
VATICAN
  This handsome apartment is on the third floor with window views of the building's historic Roman neighborhood just 15-minutes walk from St. Peter's Basilica at the Vatican.
Its large open-plan kitchen sleeping/dining/living room is quite comfortable for two persons. The bed is an extra-long double. The couch becomes a double sofa bed, able to sleep 1-2 kids. The well-equipped kitchenette has an oven, refrigerator, dishwasher, microwave, coffee maker, & washing machine. There is a large flat-screen TV & dining table for four. Its private bath includes a tiled shower, toilet, bidet, & hairdryer.
This apartment has WiFi, air conditioning, and on-demand heat.
Note: Access is via an indoor staircase (28 steps) — no lift.
HOW TO BUILD, PRICE, AND BOOK YOUR TRIP —
Contact HOME AT FIRST: (800) 523-5842 (toll-free USA & Canada) • +1 610 543 4348 (worldwide) • info@homeatfirst.com