Rural Tuscany's Alta Maremma Highlands — Midway between Siena and the Beaches of the Tyrrhenian Sea
Olive groves lie at the foot of the hill town. In the distance, volcanic Monte Amiata marks the top of Tuscany near its regional boundaries with neighboring Lazio & Umbria.
Discover the Highlands of Tuscany
from the Alta Maremma Estate
Rural Tuscany Highlands: The rugged landscape of the southern Tuscan province of Grosseto appears very different from the prosperous, agricultural, rolling Tuscany plains often portrayed in the sumptuous backgrounds of classical Renaissance paintings. Dotted with walled medieval hill towns and agricultural villages, and noted for its meandering river valleys and high volcanic mountains, eastern Grosseto provides a more dramatic Tuscan landscape than the gentler, pastel farmlands of neighboring Siena province.
Home At First's Alta Maremma Estate apartment lodgings in rural southern Tuscany may appear isolated and remote, yet they are ideal touring bases within day-trip reach of Pisa, Lucca, and Assisi (just over 2 hours); Florence, the Chianti region, Arezzo, the wine town of Montepulciano, and Perugia (under 2 hours); Siena, Montalcino (hill town famed for its Brunello wines), and some of Italy's finest west coast beaches near Grosseto on the Tyrrhenian Sea (under 1 hour).
Tuscany is easily explored from Home At First's rural Alta Maremma Estate in eastern Grosseto province. A stay of a week (or longer) in the rural Tuscany highlands may be readily combined with visits to other locations in Italy and with many other Home At First European destinations.
HOME AT FIRST's
Rural Tuscany — How it works: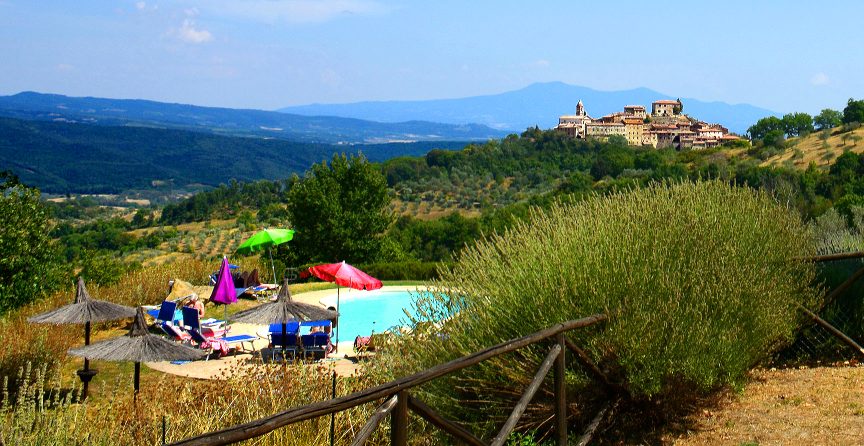 Olive groves separate a classic rural Tuscany hill town from the Alta Maremma Estate. Getting there requires a 5-minute drive or a 20-minute walk.
• Contact Home At First. Tell us about your dream of travel to Italy's rural Tuscany highlands. We will tell you about getting there, where we stay (you'll love this place!), and how best to get around — via rental car.
— Tell us how many people will be with you, and their ages.
— Tell us when you would like to travel, and for how long.
— Tell us if you would like to combine a stay in Rural Tuscany with a visit to another part of Italy or to any other Home At First destination in Continental Europe, Scandinavia, or the British Isles.
— Ask for a Free Trip Proposal with Cost Estimate.
• We prepare an itinerary & cost estimate with all the lodgings & transportation you need. We send it to you via email and/or postal mail.
• You review our proposal; accept it, reject it, or revise it until we have it just right for you. It is, after all, your dream trip, to be done the way you wish.
• Once accepted, we request an initial payment by check along with your signed acceptance.
• We begin putting your plans in place, securing your LODGINGS, FLIGHT RESERVATIONS & TICKETS, CAR RENTALS, and/or any TRAIN TICKETS OR TRANSPORTATION PASSES you might need. Most Home At First Rural Tuscany guests come with rental cars from their point of entry, usually Rome or Milan airports. Some travel by train to Florence and pick-up their rental car in Florence or at Florence Airport.
• Payment in full is due 90 days prior to departure, or when you are ready to lock in your included airfares, whichever comes first.
• All travel documents for your trip — including a guidebook ideal for your exploration of Tuscany — will be sent to you by 30 days prior to your trip departure date.
• After you arrive in Italy, you follow our directions from your arrival point to your lodging on the Alta Maremma Estate, where you will be met at a pre-set time by your lodging's host, who will show you around, see to your comfort, and let you get some rest.
• Have a nap. Get some groceries for your kitchen. Meet at poolside. Make supper or go out for a meal. The fun begins now.

Traditional Tuscan farm buildings have been converted to guest residences on the Alta Maremma Estate in Rural Tuscany.
The Alta Maremma Estate in Rural Tuscany
Alta Maremma Estate Apartments: Home At First's Rural Tuscany apartments are located on an authentic Tuscan estate in the highlands of southwestern Tuscany, approximately 45-minutes drive south of World Heritage city of Siena and 45-minutes drive northeast of the coastal city of Grosseto on the Tyrrhenian Sea.
Home At First offers holidays of a week or longer at a hilltop farm that has been converted into a comfortable southern Tuscany holiday estate. Here are three comfortable vacation apartments in two former traditional stone farm buildings.
The estate's 144 acres include olive groves, forest, and a wild creek with waterfalls, hot springs, and swimming holes. Guests need not hike to the stream to go swimming, however. The estate's kidney-shaped swimming pool is for guest use just a few yards from the three estate apartments. Importantly, all Home At First Alta Maremma apartments come with caring, accessible English-speaking hosts on-site or very close by.
The Apartments
Home At First offers three vacation apartments on an expansive (144 acres) forested estate in the rugged hill country of southeastern Tuscany. A rental car is necessary here. Short drives of 5-10 minutes or so are required to reach stores, services, and the local restaurants. The converted farm estate is accessed only by a private lane leading uphill from a rural secondary road.
Each apartment has secure entry and reserved parking. The three apartments are of different sizes, capacities, and characters. The Alta Maremma estate apartments are homey, clean, comfortable, quality lodgings which, while not opulent, are thoughtfully furnished with the understated elegance of authentic Tuscan style. All come with private views of the estate, and all have use of the pool and the grounds. Discover more about each apartment via the following three slide shows with descriptions:
NOTE — FOR BEST VIEWING: each of the following apartment descriptions begins with a slide show.
You can move from slide to slide (forward or reverse) by clicking on the direction arrows below each slide.
To see any slide in large format on a PC, "right click" on the selected slide and click on the "Open image in new tab" (Chrome) or "View Background Image" (Firefox).
APARTMENT A: 1-bedroom, 1-bathroom bi-level apartment on the ground floor (sleeps 2-3) of the converted farmhouse.
• Lower level: The open-plan kitchen, living & dining room with flat-screen TV, sofa-bed for a third person (by request), WiFi, & small furnished outdoor dining area. The kitchen has refrigerator/freezer, dishwasher, and oven.
• Upper level: Up 3 steps are the bedroom (with twin beds put together as a double) and bathroom with shower. Guests share the laundry facilities in a common area with guests of Apartment B .
APARTMENT B: 2-bedroom, 1-bathroom apartment on the ground floor (sleeps up to 5) of the converted farmhouse. Open-plan kitchen, dining, & living room. Kitchen has oven, fridge/freezer, & dishwasher. The living/dining area has a flat-screen TV, and table for up to six persons.
The two double bedrooms have twin beds put together as double. An extra single bed is available by request. The bathroom has a shower.
The apartment has free WiFi and outside seating and dining near the apartment entry. Its laundry facilities are shared by with Apartment A guests in a common area.
APARTMENT C: 3-bedroom, 2-bathroom apartment on the second floor of the converted farmhouse (sleeps up to 6). Spacious open living-dining-kitchen with large TV, fireplace, sofa , open-beamed ceiling, dining table that seats six; fully-equipped kitchen (oven, refrigerator/freezer, dishwasher).
Three double bedrooms with twin beds put together. Two bathrooms with showers. An extra single bed can be added by special request to increase apartment capacity to 7 persons. WiFi. Private laundry facilities. Guests have private outside seating on the covered terrace with superb views.
HOW TO BUILD, PRICE, AND BOOK YOUR TRIP —
Contact HOME AT FIRST: (800) 523-5842 (toll-free USA & Canada) • +1 610 543 4348 (worldwide) • info@homeatfirst.com